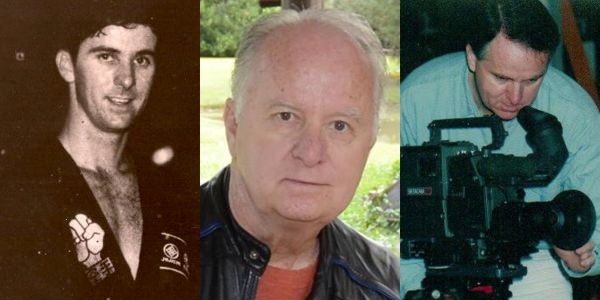 Dave Adam's journey in martial arts began in 1960, in a small Judo school in Charlotte, North Carolina. After obtaining a black belt status, he decided to expand his skills into the study of Karate.
His concentration on Karate was interrupted with a stint in the Air Force, but he continued his training with Rick Ward, a 16-year-old Okinawa stylist stationed on base with his parents. During this time, Dave joined the Hakkaru Martial Arts Federation, headed up by Richard Baillargeon. He began a transformation by developing more of his own style in fighting and form, transitioning from student to teacher.
After an honorable discharge from the military, Dave opened his first dojo in North Carolina, where months later, he and his students competed in the first Tri-State Karate Championships, organized+ by U.S. Marine, Benny Mares. Later, this would seem to be a pre-destined meeting. After Dave won the grand championships in fighting and form, Benny announced that he was leaving the service to return to LA, where he had originally gotten his black belt under Chuck Norris. He extended a personal invitation to Dave to visit their dojo as his guest.
Dave began to gain a reputation. He and his students were winning hundreds of awards from all over the region. The first North Carolina Karate Championships were held in 1967, sponsored by Richard Baillargeon. Dave won both fighting and form. Dave had gained respect throughout the Southeast for both himself and his students. In all, Dave won 67 competitive awards in sparring and form. His demonstrations set the standards for excellence in jumping and kicking.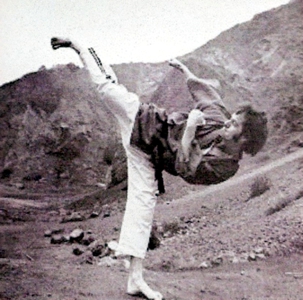 Dave Adams built up five Karate schools that proved to be the most profitable franchise in karate school history. Over 1600 students total. At this point, he felt comfortable leaving them and headed for LA to gain more wisdom in the art and to learn more about the business side. While there, he learned both the Tracy and Chuck Norris Systems. His first Karate class in LA was with Chuck and Aaron Norris. Again, LA seemed pre-destined. John Natividad, Howard Jackson, Duke Tirschel, Pat Johnson, Darnell Garcia, Bob Wall just a few of the talented martial artists surrounded him. Bob Wall was instrumental in Dave's understanding of the business side of promotions and development. Dave credits Pat Johnson as one of, if not the best, Karate instructor he ever studied under.
Dave's life was about to change. While in LA, an opportunity presented itself to attend a fighting choreography workshop for stuntmen. In the class, was a student of Ed Parker, who extended an invitation to Dave to visit their school. Two weeks later, Dave was given a chance to work on Kung-Fu, in a fight scene, choreographed by David Chow. He later visited and became good friends with IKKA founder Ed Parker. He found himself ring-side with Priscilla Pressley and Mike Stone at the Long Beach International Karate Tournament the same year. Later, Dave met and befriended Curtiss Wong (Inside Kung-Fu) and International Kung-Fu form champion, James Lew. Curtiss did an article on Dave and his friend, Thomas LaPuppet, who, at the time, had worked with Dave in a fight scene in a "B" motion picture Challenge, filmed in North Carolina. A year later, both Wong and Lew were guests of Dave at one of his annual tournaments in Charlotte, N. C.
In 1971, Dave organized and sponsored the Southern Coast Karate Championships. It was the first point Karate tournament to offer its grand champion a cash prize. $1,000. Guests included Miss America, Judy Ford, Miss North Carolina, Patsy Gail Wood, Chuck Norris, Thomas LaPuppet, Jeff Smith, and several state senators. It was the first US Southeastern tournament to register over 1,500 competitors, along with 2,200 paid ticket holders for the evening finale. Dave went on to promote 27 karate tournaments over a period of 15 years.
In the late 70's, Dave was asked to teach and mentor Ricky and Randy Smith privately. Both had trained under Gary Basinger to the rank of Green Belt. Two years later, Dave's training and creativity has produced two of the most talented champions in the Southeast. Dave found himself having put together the best kick-boxing team in the South, going undefeated for several years. Another one of Dave's Black Belt Champions was Bill Morrison, Bruce Brutschy, Gaither Brannon, Randy Walden, Von Helton, Maurice Moore, and Warren Graham, Robert Haas, Charles Herron, and Kathy Maney, one of the south's first female champions.
Both Dave's expertise in martial arts and his business acumen increased dramatically. He organized and promoted the 2nd Full Contact Karate event ever held in the U.S. The winner of that event was Keith Vitalli. Dave would later become friends with Yoo Jin Kim out of Atlanta. Mr. Kim promoted Dave to 6th Degree in the 80's. Dave later founded The American Jee Do Kwan Karate Association. An association that represented different styles of fighting and form, but with common grounds in leadership and promotion of the arts.
Dave's career began to follow a new direction. He began working as an active movie stuntman and found himself immersed in movies. His years as a successful motion picture stuntman gave him invaluable insight into movie-making. He founded The Southern Coast Stuntmans Association, teaching numerous workshops in on camera fighting. With a hands-on, on the lot, he gained knowledge that would have been unattainable under any other circumstance. Closing out 13-plus years of hard-fought and body-bruising work, he began to write and direct film and video. A movie-maker was born.
One of his films was completed the same year martial art community lost a great martial artist and person in Thomas LaPuppet. "Angel With A Kick" starred the Gold Dust Twins, Ricky and Randy Smith. Now in DVD release, the film also featured martial artist, Roger Jones.
The challenges that lie ahead for Dave Adams are within the realm of film.
Now a 9th Degree Black, Dave Adams currently travels and conducts seminars upon request, and is the current Grand Master of The American Jee Do Kwan Karate Association.