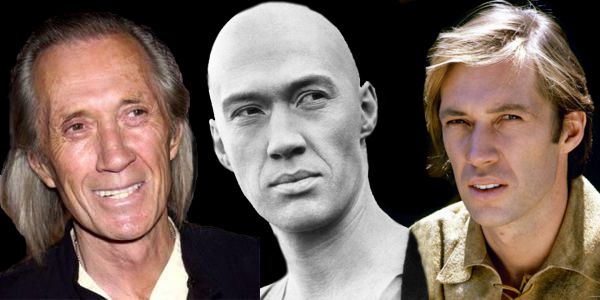 David Carradine
December 8, 1936 – June 3, 2009
David Carradine passed away on June 3, 2009. He was born John Arthur Carradine and he was an American actor who is best known for his work in the 1970s television series Kung Fu and Kung Fu The Movie and more recently in the Kill Bill films. Carradine appeared in more than 100 feature films and was nominated four times for a Golden Globe Award.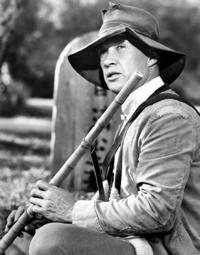 Carradine was born in Hollywood, California, and was the son of Ardanelle Abigail and noted American actor John Carradine. He was the half-brother of Bruce, Keith and Robert Carradine, as well as the uncle of Ever Carradine and Martha Plimpton. Carradine had Irish, English, Scottish, Welsh, German, Spanish, Italian, Ukrainian and Cherokee ancestry. Carradine attended Oakland Junior College, and then attended San Francisco State College to study drama before working as an actor on stage, in television and in cinema. After starting his acting career, he changed his given name to David.
Carradine starred on Broadway in the play The Royal Hunt of the Sun, and in 1995 he won a Theatre World Award for Best Debut Performance. He became widely known for his role as Kwai Chang Caine in the 1970s television series Kung Fu. He later starred in the 1990s spinoff Kung Fu: The Legend Continues as the grandson of his original character.
In films, he starred as 'Big' Bill Shelly in Martin Scorsese's Boxcar Bertha (1972), folksinger Woody Guthrie in Bound for Glory (1976), Abel Rosenberg in Ingmar Bergman's The Serpent's Egg (1977), and as Bill in Quentin Tarantino's Kill Bill, Volumes 1 and 2 (released in 2003 and 2004, respectively).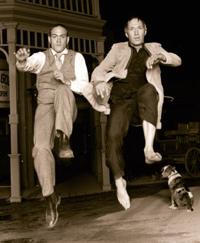 Other notable roles included the lead in Shane (the 1966 television series based upon the 1949 novel of the same name) and a gunslinger in Taggart, a 1964 western film based on a novel by Louis L'Amour. More recently, he portrayed Tempus, a powerful demon with the ability to manipulate time, on the popular television series Charmed, as well as Conrad in the television series Alias. Carradine twice played a supernatural being with the power to control time: "Tempus" on Charmed and "Clockwork" on Danny Phantom.
Carradine appeared in an episode of the Disney Channel series Lizzie McGuire (in which his half-brother Robert was a series regular), and also provided his voice for the King of the Hill episode, Returning Japanese, in which he voiced the character of Hank's Japanese half-brother. He provided the voice for Lo Pei, the ancient warrior who was responsible for Shendu's petrification in the animated series Jackie Chan Adventures.
In 1972, Carradine had a son named Free with Barbara Hershey, with whom he lived from 1972 to 1975. Free later changed his name to Tom.
Carradine married five times. I 1962 he had a daughter Calista with his first wife Donna, and a daughter Kansas was born in 1978 with second wife Linda. He had three other daughters—Amanda, Madeline and Olivia—and another son, Max.
Each of Carradine's first four marriages ended in divorce, but on December 26, 2004, he married Annie Bierman at the seaside Malibu home of his friend, Michael Madsen. The ceremony was performed by Carradine's attorney and his wife's longtime friend, Vicki Roberts.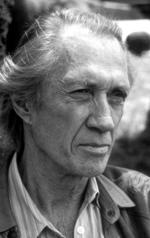 On June 4, 2009, Carradine was found dead in his room at the Swissotel Nai Lert Park Hotel on Wireless Road, near Sukhumvit, in central Bangkok, Thailand. A police official said Carradine was found hanging by a rope in the room's closet, and the Bangkok Post reported that his body was found curled up in the wardrobe with a shoelace tied around his genitals and neck.
Khunying Pornthip Rojanasunand, a Thai forensic pathologist and Director of Central Institute of ForensicScience, stated the incident may have been accidental death caused by autoerotic asphyxiation as it met four criteria for such a death. Closed circuit television installed within the hotel supported the theory that no other persons were involved with the death remarked Police Lieutenant General Worapong Chewprecha, Commander of the Metropolitan Police. Carradine's representative and family members told the press that they believed the death to be accidental and not a suicide, because the family was told that Carradine's hands were immobilized behind his back by the rope. Chuck Binder, Carradine's manager, indicated neither suicide nor accident was the likely cause since.
Carradine was in Bangkok to shoot his latest movie, Stretch. Normally he would join the film crew for dinner, but on June 3, the crew noticed his absence when going out to eat, but they assumed he was taking the night off.