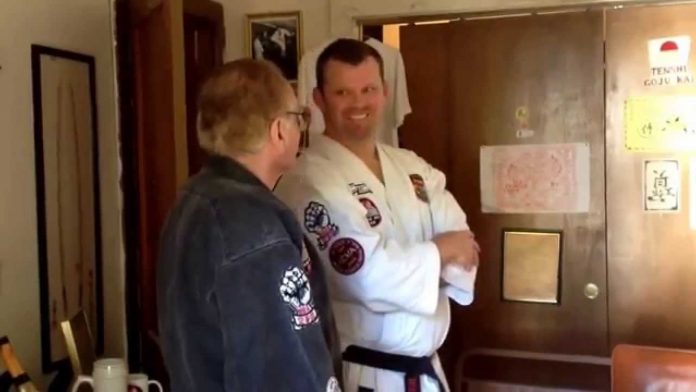 Having studied Judo, Jiu-Jitsu, Isshin-Ryu and Shokotan karate, Lou Angel was introduced to Grandmaster Peter Urban in 1959. He was so impressed with the USA Goju system of karate that he chose to study it for a lifetime. Lou Angel's first school opened in 1960 in Brooklyn, New York under Peter Urban. The school was successful, but when Lou Angel realized that there were no USA Goju schools in the Midwest he decided to travel to Oklahoma and open the first USA Goju school there.
In 1961, Lou Angel opened a new dojo in Tulsa, Oklahoma. This was the first school in Oklahoma, and possibly the first school in the Midwest. Like his teacher, Master Urban, Hanshi Angel traveled to Japan in 1963 to study under Master Yamaguchi. Master Yamaguchi awarded Lou Angel the rank of San Dan, 3rd Degree Black Belt, and made him the Southwest Branch Instructor for the Goju-Kai.
Under Master Urban, Lou Angel was awarded the rank of 4th Degree Black Belt in 1967, which he wore for over twenty years as a leader in the martial arts while he continued to pioneer karate in the Midwest both through his teaching and by promoting tournaments. Many notable American martial artists attended Lou Angel's competitions, some competing there for the first time. One such individual is the legendary Mike Stone who competed for the first time in 1963 at Lou Angel's First American Karate Tournament in Tulsa, Oklahoma. In 1987, after forming the Tenshi Goju Kai, Lou Angel was awarded the title of Hanshi, with the rank of 10th Dan.
Hanshi Lou Angel founded his international governing body for martial artists of all styles and backgrounds called the National College of Martial Arts in 1989. Members of his organization come not only from the United States, but from as far away as Canada, Australia, Saudi Arabia, Europe, and the Philippines. Hanshi Angel not only used his organization to spread his own method of Karate, Tenshi Goju, but he also helped other members of the martial arts to spread their knowledge as well. The most prestigious Grand Masters Society in the world, The World Soke Council, awarded Lou Angel the title of Founder and Head of Family and they named him Grand Master of the Year in 1996. Hanshi Angel is a member of the Martial Arts Hall of Fame and in 2007, Hanshi Angel was chosen as "Black Belt Magazine's Man of the Year". Hanshi Angel continued to head the National College of Martial Arts and teach a few select students in his style of Tenshi Goju until his death on June 8, 2020. His death is a great loss to the entire martial arts community.