Joe Fiorentino is a 14-year Cook County Sheriff Department veteran, volunteer, Defensive Tactics instructor, and a Shidokan Black Belt.
On Sept. 19, 2009, he took first place in the heavyweight division at the North American Grappling Association (NAGA) Midwest Championship. He has won twelve NAGA matches and in 2008 was ranked the #1 Director Division Grappler in the nation. Joe is a three-time heavyweight champion of the Mid West Jiu-Jitsu Tournament.
A native of Chicago, Fiorentino was an All-City football player at Roosevelt High School, where he is a member of the Sports Hall of Fame. He received a scholarship to play for the University of Evansville. His martial arts training began in 1977 and in 1983 Fiorentino began training for his black belt at Shidokan Chicago under Shihan Eddie Yoshimura, who is the highest-ranking Shidokan practitioner outside of Japan.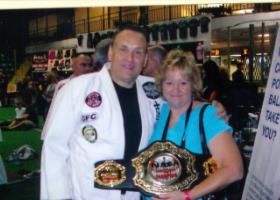 Fiorentino has won more than 50 fights and was inducted into the United States Martial Arts Hall of Fame this past August. In 2008 he received the President's Volunteer Service Award, signed by President Obama, for his 100-200 hours per year of volunteering to teach self-defense to officers, clubs, and Boy Scout troops.
Joe was inducted into the United States Martial Arts Hall of Fame on August 1, 2009. On May 11, 2010 Joe was honored to receive The 2010 Illinois State Bar Association Law Enforcement Award for heroism and community service. The Award was presented by ISBA President John O`Brien, also in photo Robert Whitfield and ISBA member Richard Caifano. He also received a Congratulations phone call and letter from Chicago Mayor Daley`s Office.
Even though Deputy Fiorentino was ranked the #1 grappler in the director division (senor division ) in the nation in 2008, he strongly emphasizes to his fellow LEOs, "Mixed Martial Arts, Submission Grappling, and Ju-Jitsu are sports with rules, time periods, and officials governing the action. They should not be confused with the real life combat situations that Law Enforcement Officers face every day."
A Little More About Deputy Joe Fiorentino – Cook County, Illinois
Deputy Fiorentino wins NAGA 2010 on April 24
Deputy Fiorentino won "1st place Director Advance Heavyweight Division" – 2009 NAGA Indiana Grappling Championships on September 19, 2009.
August 15, Dallas, Texas, "2009 1st Place Director Expert Division" at the "NAGA Europa World Grappling Championships."
"Certified as a Defensive Tactics Instructor"
Inducted into the Italian American National Hall of Fame May 1, 2010, in Atlantic City, NJ.
Induction into "The United States Martial Arts Hall of Fame"
Upcoming Fights, Training, and Events (plus upcoming volunteer events).
Volunteerism to Fellow Cook County Officers and Community Clubs and Chicago Schools.
Member of UNICO National Chicago South, IL Chapter
Awarded the 2010 Illinois State Bar Association Law Enforcement Award.
Receives congratulatory letter from IL Governor Pat Quinn
Receives congratulatory letter from Michelle Obama
Teaches self defense to Cub Scouts 3250 Den 4 in Chicago in December, 2009.
Teaches self defense to CubScout Pack 79, November 2, 2009.
October 29, 2009 – Joe meets the students and Judo Team of the Chicago Public School Peterson Elementary as Chicago Principal For A Day. Joe and Sensei Ken Keith of Chicago's Takeo-Ryu Dojo sponsored the school's Judo team.
Joe Donates Blood – In the spirit of volunteerism, Deputy Fiorentino is first in line.