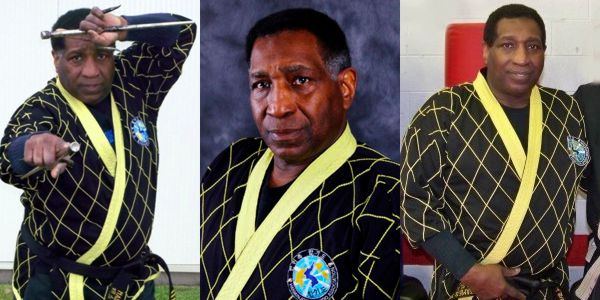 Grandmaster Jimm McMurray, 9th Degree Black Belt, is the Founder and Director of the House of Discipline Martial Arts Group based in Harker Heights, Texas, founded in 1983. He formulated the United Taekwondo Military System and the Moo Hap Sool Hapkido Society, both of which are currently being taught in Afghanistan, Canada, Germany, Iraq, Japan, Panama and the United States. Grandmaster McMurray's martial arts' style has been deemed by many martial arts, military and police organizations to be one of the most effective hand-to-hand combat systems in the world.
Grandmaster Jimm McMurray began martial arts training in 1962 when he was 12 and received his first black belt at 20. For almost five decades he has studied several martial arts and trained with many renowned teachers including: Sensei Ralph Linquist and Grandmaster George Dillman in Isshinryu, Grandmaster Jimmie Brown in Moodukkwan/Nammokwan Tangsoodo, Sensei Lorraine Lewis in Shoreiryu, Master Michael Echanis in Hwarangdo, Master Owen McDonald in Okinawa-Te Weapons, and O-Sensei Philip Porter in Judo/Jujitsu.

Grandmaster Jimm McMurray is also a former Special Forces / U.S. Ranger Combat Instructor who served two consecutive tours in Vietnam and Southeast Asia with the 5th Special Forces Group at B-52 (CCC), and later TF2AE. He is a qualified sniper, an expert in unarmed self-defense, and adept at unconventional warfare. He also specializes in silent-sentry takeout via pressure points, strangulation and bladed weapons.
Photo: Date: 1975, Location: Fort Bragg, N.C. , Subject: Sgt Jim McMurray, 5th SFG, conducting martial arts training to a whole company. Grandmaster Jimm McMurray was one of the first 12 martial artist certified by the U.S. Army to teach its soldiers combative techniques which has seen a great evolution in today's military.
Although he has advanced rank in many martial arts, Grandmaster Jim McMurray calls the Korean martial arts his home. In 1972, he met Grandmaster In Sun Seo and felt his awesome power through the "ki strike". The power that he possessed in one technique was something that GM Jim McMurray wanted. Almost ever seminar that the Grandmaster gave in the United States McMurray would attend. Each time taking away something to practice with and develop. He became the second African American to be a certified Grandmaster in the World Kido Federation under 10th Degree Supreme Grandmaster In Sun Seo of Korea, and is the Texas State Co-Representative for that organization. In addition, Grandmaster Jimm McMurray currently serves as a senior member of the World Kido Federation Hanminjok Hapkido Association.
Grandmaster Jimm McMurray confesses that he loves investigating the inner power techniques of Hwarangdo and Hapkido called "Nei Gong," the art of advanced mind control that can directly affect the life force of human and animal bodies. He has demonstrated this technique by making his body as hard as metal as military vehicles rolled across him, snapping metal tipped arrows that were pushed against his throat, and exploding slabs of stone under his powerful blow as well as demonstrating the soft break of cinder. He continues to seek mastery of himself and his art through the knowledge of acupressure and acupuncture techniques.
Several magazines rate Grandmaster Jimm McMurray as one of the top weapons experts in the United States, including Karate Illustrated, Black Belt, Official Karate, Taekwondo Journal, Traditional Taekwondo and Taekwondo Times. He has been inducted along with notable martial artists Chuck Norris, Abel Villareal, Pat Burleson, Roy Kurban and Linda Denley into the Texas Martial Arts Hall of Fame.
Several military units and police departments have benefited from Grandmaster McMurray's "reality-based" training in unarmed and "personal armed" self-defense and "suspect control" techniques. Among others, he has trained: the Bell County Law Enforcement & Correctional Facility Personnel, the Fayetteville Police Department, the German Polizei, the Harker Heights Police Department, the Killeen Police Department, the North Carolina Highway Patrol and the U.S. Army Military Police. For fifteen years, he was the U.S. Military Martial Arts Coordinator and Advisor to III Corps & Fort Hood.
Grandmaster Jimm McMurray has also developed restraining techniques for medical personnel to deal with unstable patients. He has trained over 25,000 United States soldiers and their family members in self-defense, and in 1973, the National Organization of Women (N.O.W.) has used his techniques to teach anti-rape/anti-abuse classes.
Concerned about the direction and options for today's youth, Grandmaster McMurray constantly teaches martial arts, life skills and leadership to children and teens. For more than 30 years he has coached several youth and youth teams to win state, national and international martial arts titles.
Grandmaster Jimm McMurray constantly shares his vast knowledge of martial arts, life skills and leadership through his exciting and thought-provoking seminars and serves at the pleasure of Grandmaster In Sun Seo.