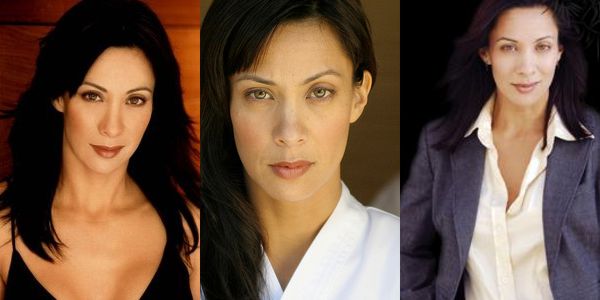 Diana Lee Inosanto is as close to martial arts royalty as you can get. She's the daughter of living martial arts legend, Dan Inosanto, and the honorary "niece"/god-daughter of global icon, the late Bruce Lee. The writer-director-producer/ co-star of the critically successful and popular festival film, The Sensei, has worked with Asian American theater companies East West Player and Lodestone Theater Ensemble evolving as an actress and martial arts choreographer.
Diana Lee Inosanto combined her love of acting with the martial arts and wound up working as a stunt-actress on film and TV shows like FACE OFF and BUFFY the VAMPIRE SLAYER doubling for actresses, Margaret Cho and Sarah Michelle Gellar. But eventually she tired of this kind of work, and taking her inspiration from her "Uncle Bruce" and Edward Burns with BROTHER"S MCMULLEN, seized control to create her own film projects.
Making the most of her stunt work, Diana Lee Inosanto learned about the directing process by watching and absorbing the craft from such A-list directors, like Ang Lee, John Woo, Barry Sonnenfeld, Chris Columbus and Dean Devlin and Clint Eastwood.
By the end of 2008, as an emerging director, producer and writer on The Sensei, Diana Inosanto would win awards and accolades at film festivals like LA Femme International, Hoboken International, Philadelphia Asian American Film Fest, San Francisco"s Frameline, Germany"s Verzaubert Film Festival and New York"s Newfest to name a few.
Diana Lee Inosanto released her movie, The Sensei (2008), commercially. The film stars Louis Mandylor (My Big Fat Greek Wedding), and Keith David (Crash). Official release date is March 9th.
In addition, Diana Inosanto was the Associate Producer and co-star in the independent feature film THE PRODIGY which received "4 stars" out of "5" from FILM THREAT magazine.
She co-produced with her husband, Ron Balicki, the action thriller "Sinners & Saints" starring Johnny Strong (Black Hawk Down), Oscar Nominee Tom Berenger (Platoon), Sean Patrick Flanery (Boondock Saints), Costas Mandylor (SAW III-V) Kevin Phillips (Notorious), & Method Man from George Lucas" upcoming film RED TAILS. Release date will be sometime in the Fall 2010.
Recently, Diana Lee Inosanto has hand the honor of being accepted into the Alliance of Women Directors, sharing membership with other notable women directors like Catherine Hardwicke (Twilight), Kimberely Peirce"s (Boys Don"t Cry) and Mimi Leder (Deep Impact, The Peacemaker).
Visit the Diana Inosanto Website