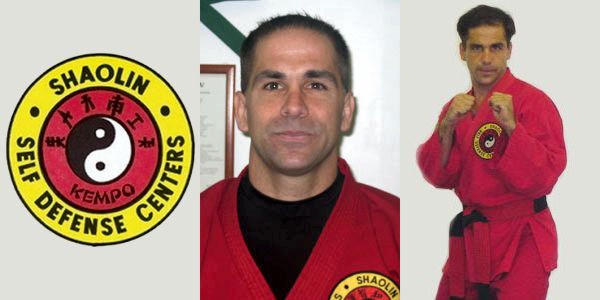 Tom Ingargiola has been teaching the Martial Arts for over 17 years, at his West Babylon, NY location which also serves as the Long Island Headquarters for Shaolin Self Defense Centers; with a dozen locations across the USA. His Shaolin Kempo Karate System is a unique blend of traditional material and reactionary activities, which has been designed to give a well rounded experience. The curriculum is designed to constantly challenge the students physical and mental abilities, by using written tests along with the physical aspects for achieving New Belt Ranks. The System is highly regarded and sought after due to it's high standards and thorough Curriculum, many Black Belts and Instructors from various styles have sought to be certified by Master Tom Ingargiola for this reason.
Mr. Tom Ingargiola many accomplishments include a series of Belt Rank Videos based upon his Shaolin Kempo Karate System, these videos are available from any Shaolin Self Defense Center, or directly through our website and his Annual OPEN tournament held every November at the West Babylon High School which includes: Continuous Sparring, Self Defense, Weaponry, Kata and Breaking.
The Strike Master
Mr. Tom Ingargiola developed a device for helping learn focus and proper striking technique, called "The Strike Master", He was also instrumental in developing a new child alarm system, called: "Kidd-pro-tek", to help locate missing or abducted children. He also helped develop a computer program (TIA System). For running a martial art school, creating a paperless office system.
In 1998, he competed in full contact kickboxing matches; with a record of 9 wins, 1 loss, 1 draw, many of these matches appeared on cable-TV channels and as well as ESPN. He has had write-ups in several national Martial Art Magazines.
In 1999, Professor Tom Ingargiola was inducted into the "United Martial Artist Hall of Fame" for his contributions to the art of "Shaolin Kempo Karate" and was also placed on their evaluation board to evaluate future inductee's. Master Tom Ingargiola extended his record to 12 wins 2 loses and 1 draw during 1999 on November 19, 1999 at "Superfights IX" He ended his professional competing with an outstanding challenge. He agreed to fight in 2 matches back to back. The first fight was a 4 round full-contact kickboxing bout and the second match was a 8 minute submission grappling bout. Master Ingargiola won both of these matches, to a standing ovation from the sold out arena.
On November 19, 1999 he won the "Professional UKBA Welterweight NYS" Title Belt and the "Lightweight Grappling Submission" Championship. Competing in these 2 matches back to back with "no break" was a first in the Martial Arts World.
Since retiring from competing professionally, Professor Tom Ingargiola still keeps his skills honed with daily training and keeps up on his progress of Shaolin Kempo Karate.
Curriculum Vitae:
KI Family Gathering 2004, New York USA
Action Martial Arts Magazine Hall of Honors 2007, Atlantic City USA
Action Martial Arts Magazine Hall of Honors 2009, Atlantic City USA
KI Family Gathering 2009, New York USA