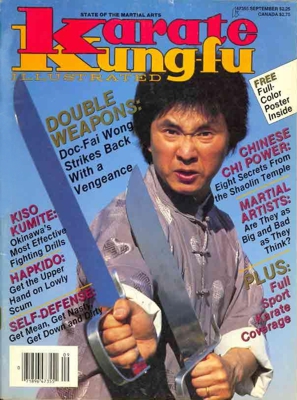 Grandmaster Doc-Fai Wong was born in Wangshan village of Wushan area, Doumen district of Zhuhai City, Guangdong province on July 16, 1948 (lunar calendar 6-10-1948). In April 1960, when he was 11 years old, he immigrated to San Francisco with his mother to be reunited with his father. Because of obvious language difficulties in his first few years in this country he was taunted, teased and bullied. It is because of those difficulties that he sought out his first kung fu teacher, Great-Grandmaster Lau Bun, the founder of the Hung Sing Kwoon of Choy Li Fut kung fu in America. After Lau Bun passed away in 1967, he opened his own school when he was 19 years old.
Grandmaster Doc-Fai Wong has been teaching martial arts in the San Francisco Bay Area since 1968. Today his Plum Blossom International Federation has over one hundred schools world wide, making it one of the largest Kung Fu organizations in the world. Branch schools are located throughout the USA, Canada, Central and South America, Europe, Asia, Middle East, Africa, Philippines and even Tahiti! Now, Grandmaster Wong has certified instructors from his students down to the fourth generation teaching in his international federation. He was the Tai Chi Chuan instructor at San Francisco City College from 1974 to 2003. In 2004, he became the Head Instructor of the Tai Chi Club of the Telegraph Hill Neighborhood Center in San Francisco. He is a contributing editor of INSIDE KUNG FU Magazine.
In 1975, Grandmaster Doc-Fai Wong went to Hong Kong to search for high ranking masters to improve his martial arts knowledge. He became the first disciple of the Great-Grandmasters of Yuen-Chou Hu and Gong Wong. He traveled to Hong Kong for his senior advanced level martial arts training each year from 1975 to 1997 during the summers and winters consecutively. From 1989 on, he invited his teachers to come to the U.S. to teach seminars to his students and his students' students as well. Now, he is the Grandmaster and President of our federation, making him one of the highest ranking Choy Li Fut masters in the world. In 1987 he became the inheritor of the Kong Chow branch of Choy Li Fut having been promoted to Grandmaster status by his teacher Great-Grandmaster Gong Wong and has attained Grandmaster status in other branches as well. He is also a second-generation disciple of Yang Cheng-Fu, having studied under Hu Yuen-Chou, a closed-door disciple of Yang Cheng-Fu. Yang Cheng-Fu was the grandson of the founder of the Yang-style Tai Chi Chuan. Hu Yuen-Chou ranked Doc-Fai Wong to be the Grandmaster of his federation before his retirement in 1987.
Doc-Fai Wong is also a high level Chi Kung practitioner, being a longtime disciple and adopted son of Professor Peng-Si Yu and Ou-Yang Min, two of China's greatest Chi Kung and Yi Quan teachers.
Doc-Fai Wong was the coach for the United States team competing in the Republic of China International Tai Chi Chuan Federation's World Championship Push Hands competition – an international tournament held every few years in Taiwan. In 1987, his team was the first and only U.S. team to win anything at this tournament, placing second only to Taiwan. The next time the tournament was held in 1990, Doc-Fai Wong's team again placed second. In October 2004, Grandmaster Wong took a largest U.S. team of 40 people to compete in the First World Traditional Wushu Tournament held in Zhengzhou, China. Doc-Fai Wong and his son Sifu Jason Wong each won gold and silver medals which brought home a total of 72 medals, 20 gold, 38 silver and 14 bronze medals from his team.
In 1991 Doc-Fai Wong was awarded the Kung Fu Artist of the Year by Black Belt magazine. He has also been featured on the covers of martial arts magazines more than 20 times, and has written over 200 articles produced several books and over 40 instructional videos. He has been a monthly columnist for Inside Kung Fu since 1986. Featured in Who's Who in California, Doc-Fai Wong is a recognized leader in American martial arts.
Doc-Fai Wong was selected as one of the top 50 most influential martial arts personalities in the world by Inside Kung Fu magazine in 1986, along with Bruce Lee and Jackie Chan. In 2003 Grandmaster Doc-Fai Wong was inducted into the Martial Arts History Museum's Martial Arts HALL OF FAME. In the August 2005 issue of Inside Kung Fu magazine Grandmaster Doc-Fai Wong was picked as one of the Top 18 Greatest Sifus in America.
In addition to martial arts, Doc-Fai Wong also practices Traditional Chinese medicine and in 1977 became a California state certified acupuncturist and holds a doctorate degree in Allied Health Sciences.