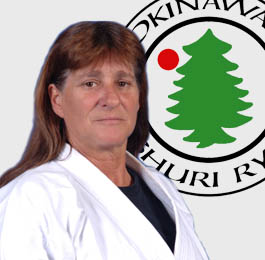 Donna Judge began her karate career in 1973 at the age of 17. She is a direct student of Hanshi John Pachivas, 10th Dan, Shuri Ryu.
Kyoshi Donna Judge is one of the most respected instructors in Karate today. Throughout the years, Kyoshi Judge has achieved national and international recognition in Karate tournament competitions. She has won the following 11 titles Light Contact Women's Fighting Champion 1982, 1983, 1988, and 1989 thru 1992; Team Semi Contact Fighting Champion 1987, 1988; Individual Semi-Contact Fighting Champion 1988, 1989. Additional honors include being named Sportswomen of the Year and Top Female Fighter of the Year in 1992.
In 1987, Ms. Judge was honored by Grandmaster Robert Trias when asked to become Team Captain for the women's USKA team. This team fought in the Japan Goodwill Karate Championships, and under Kyoshi Judge's leadership, the team returned that honor by bringing home the gold medal.
Ms. Judge has earned many other high honors over the years including being Inducted into The World Martial Arts Hall of Fame in 1995. She was the recipient of the Living Legends Sport Karate Award on October 18, 2003 in Charlotte North Carolina. She is a Certified International instructor by the International Shuri-te Yudanshakai and she was appointed as the Florida State Representative of the International Shuri Ryu Association by Hanshi Bowles in 2001.
Kyoshi Judge feels incredibly fortunate to have been instructed by Hanshi John Pachivas. This relationship enabled her to travel, meet and train with those whom she considers the top instructors in the country. These instructors included the late Grandmaster Trias, Hanshi Robert Bowles, Kyoshi Ridgely Abele and Shihan Dale Benson.
Kyoshi Donna Judge has devoted herself wholeheartedly to training and sharing her Karate knowledge. She now has Shuri Ryu Karate being taught by her Black Belts at two of the high schools in Sarasota as a credited physical education class.
Kyoshi Donna Judge has worked security since 1997. She also was head of security for a local club for five years and maintained a crew that provides security at events for the Sarasota Entertainment Center. Due to her years of experience in security, she has witnessed many fights and has utilized her self defense training often.
Kyoshi Donna Judge is the founder and senior Instructor of Suncoast karate Dojo in Sarasota, Florida. She offers Shuri Ryu knowledge with authenticity and experience. Her instruction is a classic example of traditional training in keeping with the highest traditions of Okinawan Shuri-Ryu Karate-do.
Ranks of Donna Judge:
8th Degree in Shuri Ryu Karatedo
Competed in The Martial Arts World Games in 2010, 2012, 2014 taking Gold medals in Kumite and Kata
Coach of the US Martial Arts team and official training facility for the Olympics
Florida State Representative of the International Shuri Ryu Association
Suncoast Karate Dojo on the Martial Arts Schools and Businesses Directory
For more information about Donna Judge and Suncoast Karate Dojo visit their listing on the Martial Arts Schools and Businesses Directory by clicking on the image on the left.