The terms master and grandmaster are overused in the martial arts. Shihan, Hanshis, Sokes. Professors and Doctors abound in our ranks. Some are deserving of those titles, some not. Some have earned the degrees and honorifics, some haven't. Some titles are honorary and some earned. When you see the titles attached to someone's name there is no explanation to go with it. I shouldn't complain. I am referred to most of the above by my students and peers and I have been thusly recognized by several organizations and various governing bodies. My degrees are earned and as such are authentic but I have several honorary degrees to go with them. Whether or not I'm deserving of the titles I wear would be according to who you asked. Since I don't put much store in titles anyway it's no problem with me. Those who accept any of us accept us. Those who believe in us believe in us. In the end it is our skill, ability and knowledge that describes and justifies us.
Aside from the many titles floating around there are some who are more than worthy of the titles they wear. I have had the opportunity in my martial art career to study with several well thought of and celebrated masters. Several of those that I have been affiliated with are not as well known and less appreciated by most of the martial arts community. Some have shed the limelight and some have been steeped in controversy. More often than not the controversy had nothing to do with their ability or validity. These men are masters and grandmasters in their own right and are as accomplished as the more decorated of their brethren. That makes them no less worthy of their titles or the rank that they have achieved.
Some of you have heard of the death of one of the martial arts luminaries and unsung heroes.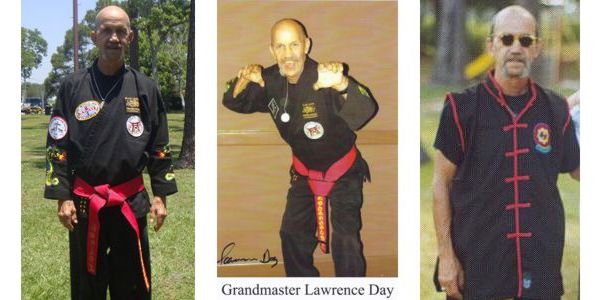 Those of you who haven't will hear of it in the days to come. I speak of my senior Grandmaster, teacher and friend, Dr. Lawrence Day. Dr. Day has worked quietly in the realm of the martial arts seeking little fame, fortune or recognition. He was just satisfied to do what he did, namely to study, train and teach.
Dr. Day studied under some of the best martial arts masters available. His initial training was with the old World Karate Federation, The United States Karate Association and the Black Dragon Fighting Society. His teachers in those august organizations were Jim Konservic, John Keehan, Robert Trias, Don Madden and Master Tanaka, all sensei, masters and grandmasters in their own right. Later he studied with several Chinese kung fu, chi kung and chaun fa instructors such as Sin The and Yuzee Yeh and was expert in northern shaolin kung fu and several of the internal Taoist systems such as Tai Chi, Hsing I and pua kua.
Dr. Day was a superlative martial artist and a philosopher and historian. He taught and mentored many martial artists, myself included. Dr. Day and I came up through the ranks together and though we started with the WKF and the BDFS at the same time he was older than me and was able to test for his black belt sooner. Black belts weren't given to students under eighteen and dan level students were privy to techniques and training that weren't available to kyu level students. Thus Dr. Day became one of my seniors. I was blessed to know Dr. Day from our involvement with the WKF and BDFS in the mid sixties. We have been friends, associates and brothers in the arts since that time. Though I branched out into other areas of study I still consider Dr. Day of my seniors, teachers and mentors. In my martial art career I have only called one man sensei and two master. Dr. Day was one of the former. I am richer to have known him and I'm proud of the years of association with him. Dr. Day was the IFAA
Official Black Dragon Fighting Society's head grandmaster and keeper of the flame. When others of us had gone in our several ways he retained and maintained the vision of the BDFS founder John Keehan, AKA Count Dante. Without his faithfulness there would be no BDFS today.
At our reunion in October, Dr. Day said that I was the 'Head of Family' because of my more lengthy association with our founder but in all truth that position was his and rightfully so. I bow to him and the seeds that he has sown into my life and the life of many others.
Aside from being one of the Patriarchs, original members and senior grandmasters of the IFAA BDFS I am its chaplain and counselor. I am also a licensed and ordained minister and pastor. In that capacity and at the behest of the family and the BDFS organization I will have the honor of performing Dr. Day's memorial service and funeral. I will be doing that with my colleague, fellow pastor and BDFS member Dr. Sam Lonewolf. We will come together not to mourn the death of a friend and comrade at arms but to celebrate the life and the time we were privileged to share with him. My brother has entered into the next phase of his life career and has been called home to his eternal reward. God bless you and rest in peace, my beloved brother and friend. OSS.
Rev. Dr. Donald Miskel
Details of the service for Dr. Lawrence Day are below. He will be eulogized and laid to rest in Lexington, Kentucky.
To my fellow BLMAA and BLMAA members, associates and friends:
Dr. Lawrence Day's Funeral and Memorial Service
Thursday December 27, 2012
Viewing 11:00 to 1:00
Service 1:00
Rev. Dr. Donald Miskel Officiating
Address
River of Life Church
757 Wilderness Road
Lexington, KY 40509
Rev. Jessie Acosta, Pastor