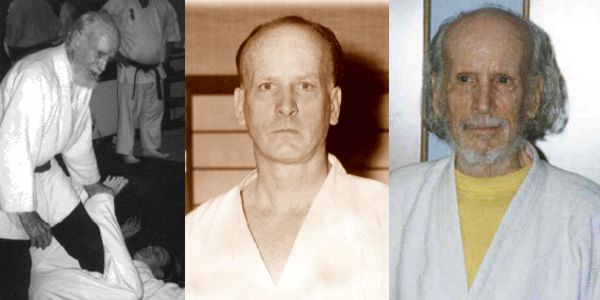 Duke Moore was born in San Francisco on April 19, 1915 and passed away on February 25, 2003. Even as a child Duke loved were boxing and wrestling. He began boxing in 1932 during high school, traveling from gym to gym to train. He was also training in wrestling at the same time.
In 1941 Duke became a Judo and Ju jitsu student of Ray Law's and his wrestling skills were of great value to him in judo competitions.
In 1943, having learned the requirements for a Black Belt degree from Ray Law including Yawara, Shime, Oku, and Shinin, Duke Moore traveled to New York to study Judo randori under George Yoshida. While Duke was there, he studied Aiki-Ju Jitsu under the renowned Henri Nikai. After winning his judo Black Belt in competition, Duke returned to San Francisco and opened up his first martial arts school (dojo) located on Divisidero St. It was the largest school of it's kind in the United States and many Black Belt Judo and Ju Jitsu practitioners visited the school.
These men and women helped further Duke's knowledge of both Judo and Ju Jitsu. Nationally famed Mitz Kimura introduced himself to Duke in 1946. He had recently been discharged from the LA detention camps where most of the people of Japanese ancestry were constrained for the duration of World War II. Kimura was immediately hired by Duke as his associate; but more important, as Duke's teacher. Over one third of Duke's Aiki Ju Jitsu course is comprise of Kodokan jujitsu taught to Duke by Prof. Kimura. Great teachers from all over the world were visiting Duke's school, which had now moved up to upper Market St. where it became the fountain head of Black Belts graduated by Duke during during the next 20 years.
In 1947-1948, Duke Moore and Ray Law founded the American Judo and Ju Jitsu Federation. Co-founders were Bud Estes, Johnny Cahill Sr. And Dick Rickets. In 1950 Duke Moore resigned because a motion was passed to restrict membership to Black Belt graduates of Henry Okosaka system. Duke founded a system opened to all advocates of the martial arts and produced many judo champions like Vince Larat, Tony Trouche, Dick Blattes, Bill Godfrey, Del and Dino Esposti, Ivo Rejo and Don Buck.
In 1957 the legendary Mas Oyama was hired By Duke Moore and Don Buck, one of his Black Belts, to teach the Oyama's Kyokushin system of Karate.
In 1962, Duke invited Professor Nishiyama up from Los Angeles to teach he, and 20 of his Black Belt's, the Shotokan system of karate. Duke, together with Richard "Biggie" Kim, Walter Todd, and Del De Esposti, formed the Northern California Karate Federation which later sponsored Nishiyama Shotokan tournament held at S.F. Kesar Pavilion.
In 1965 Duke and Biggie Kim trained 20 of Duke's Black Belts, eventually awarding them their Black Belt degrees in Shorin-gi-ryu karate. Biggie Kim also trained Duke Moore privately, helping him earn his 7th dan in Aiki-Ju Jitsu, 4th dan in Judo, and 4th in karate in 1966.
In 1973 Duke moved to Mountain View California and began teaching mixed Judo, Ju Jitsu and Karate at Stanford University. Two of his outstanding students graduated to become high ranking professors of the martial arts, Tim Delgman and James Moses. In 1981 Duke left Stanford to form the American Teachers Association Of The Martial Arts (ATAMA) which grew into an international organization.
American Teachers Association of the Martial Arts
The American Teachers Association of the Martial Arts was founded in 1981 in San Francisco, California. Paradoxically, it became a viable organization only because of an "afterthought." The original plan was to expand Zen Budokai, a credentialing organization founded by me in 1960. Its purpose was to promote members of the top ten blackbelters to the ranks of Masters and Professors.
Because it became apparent to me that many of the masters of the various systems were either retiring or going into semi-retirement by not even wearing their gi while in their own dojos, I felt that it was time for the Budokai instructors to begin assuming the responsibilities commensurate with the ranks of Master and Professor. I called for a meeting of all interested black belters then teaching in the San Francisco Bay Area to discuss and solidify these views.
The meeting was held at the Sutro Cliff House Restaurant in San Francisco. It was attended by not only active members of the Zen Budokai, but also by instructors of independent schools scattered throughout the bay area. They liked what they heard and I liked what I saw – a conglomeration of martial arts systems: Kenpo, Kempo, Tai Kwon Do, Shotokan, Zen Budokai, Aiki Budokai, and self-defense schools who taught a mixture of karate, Kung Fu, and Juijitsu.
Budokai diplomas were awarded to all teachers attending the meeting, including Rick Alemany, 8th Degree, Jerry Streeter, 8th Degree, John Pereira, 7th Degree, Leroy Rodrigues, 7th Degree, Jerry Kunzman, 7th Degree, Harold Gets, 7th Degree, James A Moses Jr, 5th Degree, Harry Sherman, 5th Degree, Art Buckley, 5th Degree, Don Jordan, 5th Degree, Bill Grossman, 5th Degree, Sonny Allen, 5th Degree, and Marge Alemany, 5th Degree.
After awarding the diplomas, I then proposed that all the charter members now form an entirely new organization with an entirely new concept – the concept of teachers of every system of the martial arts working together to disseminate all elements of the martial arts through the media of local and national seminars. It was to be a democratic teachers organization whereby the arts and techniques of each school would be mutually shared.
Two weeks later, the name of this organization became ATAMA – American Teachers Association of the Martial Arts. It was born on the 19th day of December, 1981, nurtured through the early '80's, and reached maturity as of 1992, when the Sacramento chapter was founded. Bernie Weiss founded the Southern Counties chapter and was elected its first president. From this state-wide size ATAMA rapidly grew to national prominence with the establishment of the Mid-America and High Plains chapters in 1994. The Mid-America chapter being founded by James Copeland and Mike Smith of Missouri, Howard High of Kansas, and Elmar Schmeisser of Kentucky, whereas the High Plains chapter was established by Don Phillip, Chuck Smith (both of Colorado) and Mel Griggs of Nebraska.
At the time of this writing, (1995), the North Atlantic chapter has recently been formed with Harold Glackin as President, Jose Guzman as Vice-President, and Russell St Hillaire as the Secretary. Chapter organization activities are currently in progress in Puerto Rico (Bill Solano), El Salvador (Milton Navarro), and Australia (Barry Bradshaw and David Vaughn). In fact, ATAMA's growth towards international proportions is clearly indicated by the first ATAMA formation seminar to be held overseas in Sydney, Australia in July of 1995. To reflect this the National Board has adopted the ITAMA name and logo for our non-U. S. members.
Raymond Duke Moore, Judan
The above history of ATAMA was written by Professor Raymond "Duke" Moore, and can be found on page VI of the 1995 edition of Who's Who in ATAMA. It is copied above in its entirety.
About Duke Moore From JUJUTSU Our History
by Russell St. Hilaire
Second Edition, 1993
Duke Moore began his many years of Martial Arts study in 1941 with Raymond Law at Law's American Judo & Jujutsu School in Oakland, California.
He also studied Kodenkan Jujutsu under Merlin "Bud" Estes at the Chico, CA dojo where Estes Sensei founded the American Judo And Jujutsu Federation. Moore Sensei received his Jujutsu Blackbelt in 1944 from Law Sensei. Also in 1944, Moore Sensei received his Blackbelt in Kodokan Judo from Sensei Gerogre Yoshida in New York City, NY. In 1957 he received his Blackbelt in Kyokushin Karate from Master Masutatsu Oyama (10th dan Kyokushin Karate). In 1965 Moore Sensei received the rank of 7th Dan (Shichidan, Prof.) in Aiki-Jujutsu from Master Richard Kim, representative of the Dai Nippon Butokukai of Kyoto, Japan. Master Kim also awarded Moore Sensei 4th Dan (Yodan) in both Kodokan Judo and Karate. In 1975 Duke Moore was awarded the rank of 9th Dan (Kudan, Kyoshi) in Aiki-Jujutsu by the Zen Budo Society. Sensei Moore also studied other aspects of the Martial Arts with Mits Kimura (6th Dan Judo) [Kimura was actually 7th Dan — DFG], Walter Todd (4th Dan Karate), Takahashi Sensei (5th Dan Karate, 4th Dan Aikido), and Yosh Ajari (4th Dan Karate). Raymond Moore opened his first dojo in San Francisco, CA in 1944. The school was called the Zen Budokai and eventually established six branches throughout the San Francisco area. In 1955 he was hired by the state of California to set up self-defense training programs for all guards, officers and civilian employees of the eight California prisons. He personally developed and trained the teaching staff. During his 46 years as a teacher of Zen meditation and the martial arts he has graduated over 300 Blackbelt instructors in Jujutsu and Karate. He has taught Jujutsu to dozens of police departments, colleges, Marine, Army and Navy reserve units. Moore Sensei founded the Holistic Meditation Society in 1979 and wrote two books on Zen meditation, The Fighting Spirit of Zen and Holistic Meditation.
On 25 October 1980, The Zen Budo Society awarded Raymond V. "Duke" Moore the rank of 10th dan. He was given a certificate which reads as follows:
Whereas he has mastered, taught and demonstrated in his life and work the philosophical truths and spiritual forces of Aiki and Budo; and in recognition of his being a Master Sensei and practitioner of over forty-five years experience in the martial art of Aiki Jujutsu, the Zen Budokai hereby awards to its founder Duke Moore the title, rank and honor of hanshi-judan (10th degree).
Moore Sensei was the chief instructor of the Stanford University Self-Defense Club with a staff of 12 Blackbelt assistants. He was counselor assistant to the chief instructor, Sensei John Pereira, the founder of the San Francisco Karate-Do School of Martial Arts.
Chief instructors under Moore Sensei were Sensei John Pereira, Sensei Leroy Rodriguez, Sensei James Moses, Sensei Jerome Kunzman, and several others.
Hanshi Raymond V. "Duke" Moore passed away at 4:40 pm PST on February 25, 2003 in Sacramento, California. He was a practitioner of JuJitsu for more than 60 years. He was the founder and leader of the ZenBudo-Ryu system of Self Defense and the founder of the Martial Arts Organization ATAMA. He is sorely missed!