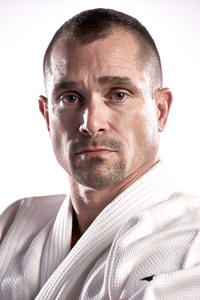 Nicklaus Suino Sensei has studied and practiced martial arts since 1968. He began teaching at the Asian Martial Arts Studio in Ann Arbor, Michigan, in 1983, where he spent a decade in the Instructors Training Program. He spent four years in Japan, learning from renowned martial arts masters such as Sato Shizuya Sensei, 9th dan Nihon jujutsu and 8th dan judo, and Yamaguchi Katsuo Sensei, 10th dan Eishin Ryu iaido.
Nicklaus Suino Sensei was four times the all-Kanto sword forms champion at his rank level and represented his region in the national tournament in 1991, only the second non-Japanese ever to do so. He has taught students from all walks of life, including children, adults and senior citizens, military personnel and police officers, in dojo all over North America. He teaches iaido, judo, and jujutsu in seminars all over the United States and Canada. Information about Mr. Nicklaus Suino's seminars can be found on his website The Art of Japanese Swordsmanship.
Nicklaus Suino Sensei also studied judo under the late Walter Todd Sensei. Todd Sensei trained at the famed Kodokan Judo Institute in Tokyo, and he was a direct student of Mifune Kyuzo Sensei (tenth dan) and Ito Kazuo Sensei (tenth dan). Todd Sensei, one of the original members of the SMAA, received his eighth dan in judo from the Kokusai Budoin, a worldwide traditional martial arts federation that is headquartered in Tokyo.
Nicklaus Suino Sensei is the author of the books The Art of Japanese Swordsmanship (1994), Practice Drills for Japanese Swordsmanship (1995), and Arts of Strength, Arts of Serenity (1996). Budo Mind & Body: Training Secrets of the Japanese Martial Arts (2006). He has also written numerous articles for martial arts magazines including the Journal of Asian Martial Arts, Inside Karate and the Iaido Newsletter.

Nicklaus Suino Sensei Current Rankings
7th Dan – Iaido Division: Shudokan Martial Arts Association (SMAA)
6th Dan – Muso Jikiden Eishin-Ryu Iaido: Eishin-Ryu Traditions Association
6th Dan – Judo Division: Shudokan Martial Arts Association (SMAA)
5th Dan – Iaido Division: International Martial Arts Federation (IMAF)
4th Dan – Jujutsu Division: International Martial Arts Federation (IMAF)
3rd Dan – Judo Division: International Martial Arts Federation (IMAF)
3rd Dan – Karate Division: Shudokan Martial Arts Association (SMAA)
1st Dan – Aikido: Shudokan Martial Arts Association (SMAA)
1st Dan – Kyudo: Yokohama Wakabakai