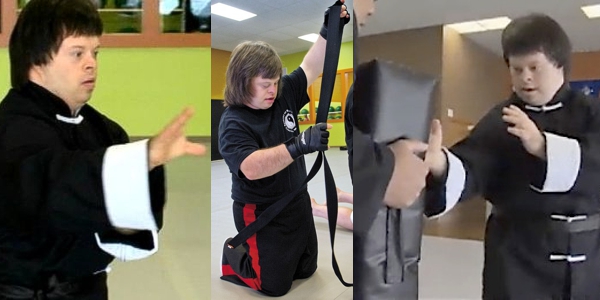 KOMO News Longview, WA. ~ Dustin Bean's story has the making of a great movie, but nobody could have scripted it.
For most of his life, Bean has had just one hero.
"I can feel Bruce Lee's presence," he said.
Even when he was a little kid, Bean knew all the words to Lee's movies and would practice kung fu in front of the television for hours.
"I just want to follow his techniques," Bean said.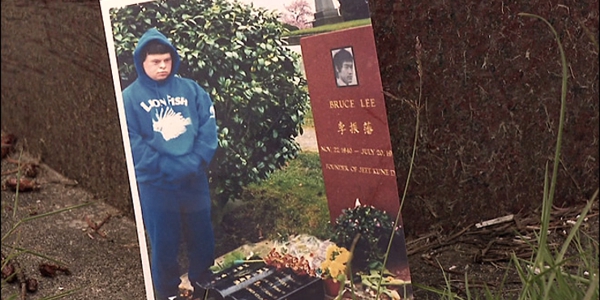 Then one day Bean asked his mom to take him on a field trip to Seattle to visit Lee's grave.
"When they got there, he kind of looked at her and said, 'Ok, mom, can you give me some time here? Man to man with Bruce Lee?'" said Bean's sister, T.J. Frey.
The trip turned out a be a life-changing experience for Bean.
"I said, 'Thanks for your teaching,'" he said of the visit. "I just opened my heart to him."
On that day, Bean made a graveside promise that would take him 13 years to fulfill.
"Someday he would earn his black belt in Bruce Lee's honor," Frey said of her brother's promise.
Bean's family was supportive but skeptical. As he grew into a man, he endured years of grueling kung fu training, advancing at a rate about half as fast as most students.
"He's always ready to go to class, never wants to miss it, even when it's hard," Frey said. "He was fully focused, never complained."
Then, after 13 years of training, the day finally arrived when Bean would test for his black belt. The grueling test lasted more than three hours with Bean sparring more than 10 rounds.
"He was sweating and very tired and I just knew how physically challenging that was for him," Frey said.
Exhausted, Bean fell to the floor.
"I said, 'Dusty, you have to get up. If you want that black belt you have to stand up," Bean's instructor said.
In that moment, Bean emulated his hero, never giving up and fighting to do his best. He got up, and his instructor said that was the moment he earned his black belt.
"It brought tears to my eyes, and I was just so proud of him," Frey said. "I thought, what an inspiration, that he's accomplished this."
Bean's kung fu instructor said despite his pupil's limitations, he earned everything he has.
"Dustin has down's syndrome," he said. "Did I give Dustin a break? Obviously, we didn't. I would put Dustin in the room with any other black belt. He can hold his head high compared to any other black belt in the world."
For most people, earning a black belt would be the accomplishment of a lifetime, but Bean's personal reward was yet to come.
Bruce Lee's widow, Linda Lee Cadwell, heard of Bean's accomplishment and how her husband inspired him, even decades after his death. She wanted to meet him.
"He has had an intense desire to achieve his dreams," Cadwell said.
Bean never gave up following his heart, and in doing so he captured the hearts of countless others.
"We all doubt ourselves at times, but what I've learned from Dustin is you can really accomplish anything if you put your mind to it and find your inner strength," Frey said.