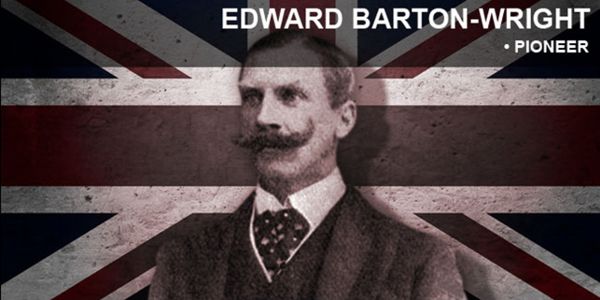 He was born Edward William Wright on November 8, 1860 in Bangalore, India, the third of six children of railway engineer William Barton Wright and his wife Jane (called Jessie).
After returning to England with his family during the 1880s, Edward William Barton-Wright was educated in France and Germany.
Following matriculation, he worked as a railway clerk before embarking on a career as a civil engineer and surveyor.
He worked for railway and mining companies in locations including Egypt, Portugal, Malaysia, Singapore and Japan. In April 1892 he legally assumed the name Edward William Barton-Wright.
He was tall and very strong man who loved martial arts. In 1895– travelled to Japan to work as a railway engineer while living in Kobe he studied Shinden – Fudo Ryu ju-jitsu.
Later, Barton-Wright also studied with Professor Jigoro Kano, the founder of Kodokan Judo.
In 1898, Edward William Barton-Wright, who had spent the previous three years living in the Empire of Japan, returned to England and announced the formation of a "New Art of Self Defence".
"I have introduced a new style of self-defense, which can be very terrible in the hands of a quick and confident exponent" E.W. Barton-Wright (in 1899 – Pearson's magazine ).
This art, he claimed, combined the best elements of a range of fighting styles into a unified whole, which he had named – BARTITSU.
He defined bartitsu as meaning "self defense in all its forms", the word (bartitsu) was created by connecting parts of his own surname with that of ju-jitsu.
Barton-Wright had previously also studied boxing, wrestling, fencing, savate and later in Japan ju- jitsu and judo.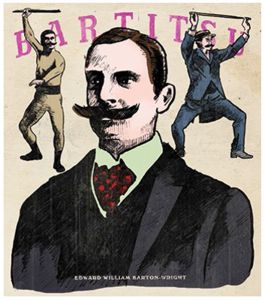 Between 1899 and 1903, he established a school called the Bartitsu Academy of Arms and Physical Culture, known informally as the Bartitsu Club, which was located at 67 B – Shaftesbury Avenue in Soho (London). Also, he set about publicizing his art through magazine articles (Pearson's magazine, Sandow's magazine etc.), interviews and a series of demonstrations at various London venues (various Clubs and Halls – St. James's Hall, Oxford Town Hall, Mechanics Institute Hall etc.).
Via correspondence with Professor Jigoro Kano, and other contacts in Japan, Barton-Wright arranged for Japanese ju-jitsu practitioners K. Tani, S. Yamamoto and Yukio Tani (and later Sadukazu Uyenishi) to travel in London and serve as instructors at the Bartitsu Club.
Swiss master-at-arms Pierre Vigny (Savate and La canne) and wrestler Armand Cherpillod (Schwingen wrestling) were also employed as instructors at the club.
In addition, the Club became the headquarters for a group of fencing antiquarians (historical fencing enthusiasts) led by Captain Alfred Hutton.
In addition to martial arts and fitness classes, the Bartitsu Club offered a variety of heat, light, vibration and even radiation therapies.
Barton-Wright also created a method of cross-training (modern concept of cross, circuit- training) between French (Swiss), Japanese and English styles of self-defense.
Barton-Wright champions competed in challenge matches throughout London.
He was a pioneer in MMA (Mixed martial arts), and also a pioneer of women's self defense classes.
The Bartitsu Club prospered between 1900 and 1902, but then began to struggle. It was said that the fees were to high. Then, Barton-Wright had an argument and a physical fight with his "star" Yukio Tani. Shortly thereafter (in march 1903), the Club closed its doors for the last time.
Tani, Uyenishi and Vigny all established their own self defense schools in London.
Barton-Wright expanded his electrotherapy business and retired from self-defense instruction.
Soon, the fame of jiu-jitsu completely eclipsed that of Bartitsu.
Bartitsu might have been completely forgotten if not for a cryptic reference by Sir Arthur Conan Doyle in one of his Sherlock Holmes mystery stories. In 1903 Conan Doyle had revived Holmes for a further story – The Adventure of the Empty House, in which Holmes explained his victory over Professor Moriarty in their struggle at Reichenbach Falls by the use of "baritsu, or the Japanese system of wrestling, which has more than once been very useful to me".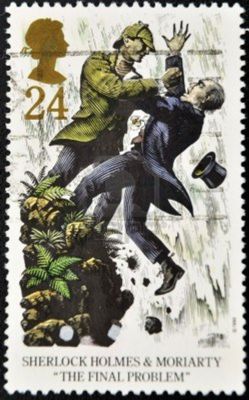 Although Doyle misspelled Bartitsu as "baritsu", this was enough to intrigue Holmsian scholars for the rest of the 20th Century. Nowadays, many movies about Sherlock Holmes contributed to the popularity of art – Bartitsu; The lost Martial Art of Sherlock Holmes.
Edward William Barton-Wright spent the remainder of his career working as a physical therapist specializing in innovative forms of heat, light and electrotherapy.
By the year 1950, Barton-Wright had fallen on hard times.
He was "rediscovered" by British (Japanese) judo master Gunji Koizumi, who interviewed (Budokwai newsletter) the founder of Bartitsu and presented him to a large judo gathering in London. Sadly, Barton-Wright was virtually destitute when he died in 1951, at the age of ninety.
He was buried in an unmarked, "pauper's grave", in Kingston Cemetery, Surrey.
In many ways, Edward William Barton-Wright was a man ahead of his time.
Edward William Barton-Wright had been the FIRST known European (Westerner) to teach the Japanese martial arts, the first man to combine Asian and European forms of self defense and the first to promote contests between jiu jitsu and Western wrestling (first MMA). He hed been a creator of cross-training (he involved a type of circuit training in which students would rotate between small group classes taught by each of the specialist instructors), and also a pioneer of women's self-defense classes, and one of the first pioneer in electrotherapy.
Nowdays, at the beginning of 21st century, many fans of martial arts rediscover the story of Edward William Barton-Wright and his art of BARTITSU – The gentlemanly art of self defence.
By David Stainko
References;
The New Art of Self Defence I – Pearson's Magazine 1899 , Article by E.W.Barton-Wright
Savate- New book of sports, published by Vigny,Pierre 1896
Boxing – by R.G.Allanson- Winn , published 1897
Jiu – Jitsu : A comprehensive and copiously illustrated treatise, published 1904 by Capt.Skiner, H. Harry
The Bartitsu Society – Bartitsu Compendium volume I : History and Canonical Syllabus, published by Lulu publications 2007
The Bartitsu Society – Bartitsu Compendium volume II: Antagonistics , published 2008 by Wolf, Tony
The cane as a weapon – by Cunningham Chase, Andrew , published 1912
A System which he Termed Bartitsu , from the Journal of Manly Arts, published 2006
Bartitsu – by Wolf, Tony , published 2010
Martial arts of the world – an Encyclopedia of History and Innovation, published 2008
Raising cane – by Ramos,Octavio , published 2008
Bartitsu – Canonical Bartitsu – by Marien,Chatherine, published 2009
Bartitsu – by Allmond, Kevin , published 2010
Bartitsu – the New Art of self defence – by Amdur, Elis, published 2011
The Bartitsu – Royal Arts Sport fencing Academy by Richey, Julia, published 2001
Bartitsu -Electronic Journals of Martial Arts and Sciences (EJMAS) – website, published 2001
Historic Recrudescence Guild – Bartitsu program, published 2010 by Cacy, Matthew
The Sherlock Holmes school of Self – Defence, published 2011 by Amazon.com
The Bartitsu & Antagonistics forum by Mc Nulty, Duncan, published 2012
Bartitsu – by Mamatas, Nick ,published 2012
United Kingdom Bartitsu Alliance , website , published 2015
The History of Martial Arts – by David Stainko, published 2015
Source -Wickipedia
With this article, the Historical Ninjutsu Research Team aim to provide a brief introduction to the fascinating story of the Japanese ninja, giving the reader an insight into the world of the Japanese spy and their abilities.