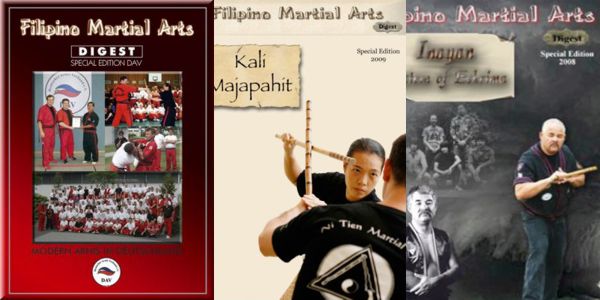 USAdojo.com shares published by Steven K. Dowd's FILIPINO MARTIAL ARTS DIGEST VOLUMES with our readers. FILIPINO MARTIAL ARTS DIGEST provides articles, information, events, news, seminars, techniques, and more information pertinent to the Filipino Martial Arts and the Philippines.
---
STEVEN DOWD THE MAN BEHIND THE FMA DIGEST
---
Filipino Martial Arts Digest 2009 Christmas Card
---
FMA DIGEST VOLUME 7 NUMBER 5
Grandmaster Gonzalez of Decuerdas Eskrima
– Reflection of Grandmaster Gonzalez and DeCuerdas Eskrima
– Respect
An Interview with Adam James
Types of Arnis de Mano
In Search of Filipino Martial Arts
Farewell, Grandmaster Ben T. Largusa (1926 – 2010)
Remembered, Master Christopher Ricketts (1955 – 2010)
Great Grandmaster Ernesto Presas (1945 – 2010)
FMA Past Events
Voices of the Masters: Warrior Arts of the Philippines
---
FMA DIGEST VOLUME 7 NUMBER4
"Learn to Fight, Not to Fight" – The Sanano Philosophy
Crisostomo Brothers of Ultimate Eskrima
Master Zack Taco – Original Teovel Balintawak International
Guro David Ducay – FMA Instructor Helps Spread the Art
---
FMA DIGEST VOLUME 7 NUMBER 3
LAHUKA Eskrima – Guro Jovelyn Minoza
Martial Ethics: Defang the Snake
Balintawak My Way . . .
The Singing Sticks of Ciok
Will Someone Please Take the Lead?
---
FMA DIGEST VOLUME 7 NUMBER 2
Master Eddy Velez
Guro Jason Cruz of the Legacy Martial Arts Studio
Carin's Doce Pares
Split Second Deadly Movements of Mink Mongoose
The Origins of Big Stick Combat
Pagbunyag
---
FMA DIGEST VOLUME 7 NUMBER 1
Grandmaster Christopher "Topher" Ricketts
Offensive Use for Defanging the Snake
5 Things to Consider Before Buying a Self Defense Knife
The Main Role of Senior Students
Reflection of December 11, 2009
---
FMA DIGEST VOLUME 6 NUMBER 4
Filipino Combatives: A Method of Stickfighting Excellence
Tres Flores Eskrima
Master Chuck Gauss
PIGSSAI
Amara Arkanis: A System of Systems
The Tactical Blade
Dinuguan for Brunch
---
FMA DIGEST VOLUME 6 NUMBER 3
Filipino Martial Arts in the States
Life and Tiomes of Grandmaste Alfredo Bandalan
Grandmaster Ver Villasin of Balintawak
A Devoted, Loyal Practitioner of JENDO
A Journey of Experience
Learning HIstory and Culture Through Martial Arts
Ryan Buot – Music and Balintawak
Dinuguan for Brunch
---
FMA DIGEST VOLUME 6 NUMBER 2
Tabimina Balintawak
Galius Martial Arts School
JEDOKAN
Grandmaster Cristino Vasquez and the Art of Ipit Pilipit
Beware of Aggressors and Rapists . . . Kombato Mind Set
Modern Arnis: The Art With-in Your Art
Tatang and the Teachers of Kalis Illustrisimo Part II
Dinuguan for Brunch
Roland Tango Pintoy Dantes
---
FMA DIGEST VOLUME 6 NUMBER 1
Tatang and the Teachers of Kalis Ilustrisimo
Yaw Yan Hybrid
A.K.E.T.S.
Serrada Eskrima Counter (Block) List
Tai Chi Equation in Stress Management
Rash Actions Can Bring Misfortune and Regret
A Flash of Lightning: Modern Filipino Combat Systems Knife Fighting Concepts
Be Prepared!
The Honorable Warrior
Dinuguan for Brunch
---
FMA DIGEST VOLUME 5 NUMBER 4
Paclibar Bicol Arnis
Master Frank AycochoIsmael "Boy" Garcia: Yaw-Yan Champion
A Glimpse of the Man: Guro Maning Bonsa
A General View of Serrada Concepts in Lightning Arnis
Grandmaster Mike Vasquez: Modified Tapado / Modified Karate
Manong Ireneo "Eric" Olavides
Rizal the Budoka?
The Subconscious and Super-Conscious Mind and the Flow in the FMA
Meeting the Masters in the Philippines
Filipino Martial Arts in Arizona
Dinuguan for Brunch
FMA Past Events
FMA Forum
FMA Future Events
FMA Educational Depot
Concept of Aycocho Arnis Korambit (AAK)
Christmas Shopping
---
FMA DIGEST VOLUME 5 NUMBER 3
Grand Pasantis Birador Rogelio 'Roger" Solar
A Study of the Locking Arts – Part II
Kuntaw with Stick and Daga
Hari Osias C. Banaag
Palo-ManoTodo Terreno Style Mexicano
Guro Limuel "Maning" Bonsa
Master Michael Giron
Kali Majapahit
Spreading Arnis in Saudi Arabia and Jordan
Understanding Imua Tamaraw Escrima Kuntao
Dinuguan for Brunch
---
FMA DIGEST VOLUME 5 NUMBER 2
VAC – Visayan Athletic Club
The irth of Marcial Tirada Kali
Practice vs. Preservation
The Way of the Flow
A Study of the Locking Arts – Part 1
Emptying Yourself Can Make You A Better Fighter
Simplicity The Lock – Intent the Key
Mandala Mandirigma Kali-Eskrima (MMK)
FILTACDO
Master Dacayana Jr. Visits the UK
Fil-Am Vince Soberano: 2007 WPMF Lghtweight Champion
Interview with Guro John Brown
---
FMA DIGEST VOLUME 5 NUMBER 1
Dekiti Tirsia Siradas Kali
Sikaran Grandmaster Meliton Geronimo
Grandmaster Bert Labaniego: Eskrima Labaniego
Grandmaster Benefredo "Bebing" Mamar Lobrido
WEDOSCAMAI
The Unknown Brother: Grandmaster Roberto A. Presas
New Concepts in Filipino Martial Arts Training
Breaking Barriers Through Arnis
The Way of the Blade
The Battling Barung of BaHad Zu'Bu
The Great Pinoy Boxing Era
Visiting the Philippines
Black Belt Magazine: Weapons Instructor of the Year
Passing of Master Robert M. Du
---
FMA DIGEST VOLUME 4 NUMBER 5
Agos Kamay Style
Train with the Master of Kalis Illustrisimo
Master Jerry M. Evangelisan
Punong Lakan Garitony Carlos Nicolas
Old Practice Techniques
Master Ariel F. Moses: MSI and Lameco SOG
Psychology of the Blade
Teh Secret of the Philippine Sword Cane
The Way of the Frustrates Warrior
Yaw-Yan Kicking and Bolo Punches
Bagong Katipunan
Mink Mongoose
Ultimate Goal: Black Belt
Bokers EFK: Escrima Fighting Knife
Sterling Modern Arnis Club
Kuntaw, Philipine Martial Art on Web TV
An Interview with Grandmaster Rene Latosa
Grandmaster Gerardo "Larry" Alcuizar
---
FMA DIGEST VOLUME 4 NUMBER 4
Amara Arkanis
Balintawak Arnis Cuentada
Warriors Eskrima: An Overview
The Quiet Master of Illusion Kali
Interview with Romy " Bebing" Lisondra
Siling Labuyo Arnis
Interview with Professor Amante P. Marinas
Reviews of Grandmaster Atillo Seminars in PA
PUnong Guro Mark Santos – ARMAS in the Philippipnes
Sport Arnis
---
FMA DIGEST VOLUME 4 NUMBER 3
International Rutano Estokada and Haribon Dumog Federation
The Bad-Ass Blows of Balintawak
"Downward" from Momoy Canete's San Miguel Eskrima Form
Maestro Ed Ferris
Master Christopher "Topher" Ricketts
Master Vince Palumbo – Cebu Eskrima Society Award
Sadiq Warrior Arts
Master Roger Agbulos – ASTIG Lameco
Passing of Legends
The Creation of Filipino Martial Art Logo
---
FMA DIGEST VOLUME 4 NUMBER 2
The Evolution of Babao Arnis
Interview with Grandmaster Rob Castro
Guro Louie D. Lindo – katan Kali
Punong Taga-Pagturo Scott Kendrick
Master Instructor Roger Hudson
Guro Mariano Bermodes
Phillipine Martial Arts Combat Aikido
The Halo Halo Man
Sonny Umpad: One More Goodbye
Grandmaster Roland Dantes
Master Noel Penaredondo
---
FMA DIGEST VOLUME 4 NUMBER 1
Carlito Bonjoc, Jr.
World Nickelstick Eskrima Club
Senior Instructor Jose Valencia Tan
Strength In Motion
The South Australian Stickfighting Alliance
Crow's Martial Arts Academy
Ola'a – Nalo Eskrima
akland Eskrima Club
DAMAG – INC.
Martial Arts, A Tool To Educate People
The British Council of Kali Eskrima Arnis Instructors
---
FMA DIGEST VOLUME 3 NUMBER 4
Eskrima De Campo JDC-IO: Top Instructors and Training Methods
Vasquez Modified Tapado
Lapu-Lapu Viñas Arnis
Jendo
Garrote Larense
World Sikaran Arnis Brotherhood Of The Philippines
Philippine Council of Kali Eskrima Arnis Masters
Cultural Awareness – mandirigma.org
---
FMA DIGEST VOLUME 3 NUMBER 3
Rene Latosa's: The Escrima Concepts
Interview with Grandmaster Richard Bustillo
Interview with Master Wilson R. Ceniza
Filipino Martial Arts in the Work Place
International Arnis de Leon Federation
High Blocks: Cross and Umbrella
Building Blocks
Silent No Longer
StickArt.com
BMAS – Art Within Your Art
Guro Grande George Brewster
Cultural Awareness – mandirigma.org
---
FMA DIGEST VOLUME 3 NUMBER 2
Arnis Defense Silat
Rapido Realismo Kali/Arnis
Physical Education Teacher in the Philippines
Master Jorge V. Penafiel
Master Vicente Ferrer
ARMAS [Kombatan – Lakan Lima]
CKIUSA
Lapu – Lapu – Filipino Instructors Federation [Update & Additions]
Cultural Awareness – mandirigma.org
---
FMA DIGEST VOLUME 3 NUMBER 1
Robas Otsotiros Baston Arnis System
The Sangot: Original Ilonggo Weapon
Teovel Balintawak Self-Defense Club, Inc.
The Endless Journey
Yaw Yan
Kuntaw Kali Kruzada
Grandmaster Tanique
Book Review – A Tooth from the Tiger's Mouth
---
FMA DIGEST VOLUME 2 NUMBER 4
Tapi Tapi – The Heart of Modern Arnis
Interview with Master Epifanio "Yuly" Romo Jr.
Mig-Sune-Do Eskrima
The Silent Art of Luisianan, Laguna Eskrima
Grandmaster Ramiro Estalilla Jr. DMA
Cabales Serrada Escrima
Ama Maestro Saturnino Quinto Fabia
Grandmaster Jose G. Mena
---
FMA DIGEST VOLUME 2 NUMBER 3
Kalintaw
Neo Tribe Kali
Philippine Sport Blowgun Association
Principals Of Filipino Empty Hand Fighting
Grandmaster Romeo C. Mamar Sr.
Tipunan sa Disneyland
3rd WFMAA Expo & Laban Laro
Int'l Modern Arnis Federation Philippines
World Eskrido Federation – Saudi Arabia
---
FMA DIGEST VOLUME 2 NUMBER 2
DULAC Martial Arts Consanguinity
Five Strike Espada y Daga Drill
The Blowgun – an interview with
Sensei Dr. Hironori Higuchi, Dr. Amante P. Marinas, Sr., and Mr. Michael D. Janich
Escrima-Kenpo-Arnis Goes to College in New York
FMA Future Events
---
FMA DIGEST VOLUME 2 NUMBER 1
Master Cristino Vasquez
Master Godofredo Fajardo
Master Rodel B. Dagooc
Guro Ariel B. Ramos
---
FMA DIGEST VOLUME 1 NUMBER 4
Master of the Balisong – Master Nilo Limpin
The #1 Martial Arts Magazine in the Philippines
Music Teacher, Arnis Practitioner & Businessman
Filipino Martial Arts Magazine – Eliot Shearer
---
FMA DIGEST VOLUME 1 NUMBER 3
Grandmaster Vicente Sanchez – "A Magical Tour of Learning"
Punong Guro Henry Espera – The Art of Rapido Realismo
Maestro Elmer Ybanez
Train the Stick to Learn the Blade? 2nd Filipino Martial Arts Festival – in Dortmund
---
FMA DIGEST VOLUME 1 NUMBER 2
Andress Bonifacio – The Founding of the Katipunan
The Basics Stick to Sword
Breaking Barriers
---
FMA DIGEST VOLUME 1 NUMBER 1
Philosophy of Estrella System Reality Based?
Guro Mike Davis Speaks on Grandmaster Angel Cabales
---