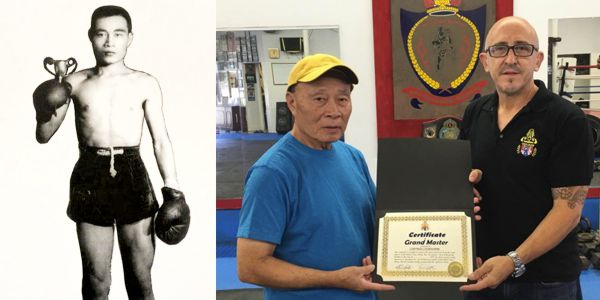 MUAYTHAI NEWS 8/10/2016 – A ceremony was held at the first Muaythai school in the USA, North Hollywood Muaythai Academy in Los Angeles, on August 10, 2016. It honored Grand Master Kim with the first ever Grand Master Muaythai Award given in the USA for his incredible service to Muaythai in the United States. Kru Kim Kongkriangkai was the first Thai Bangkok Stadium Champion to teach in the United States and to expand the promotion of the beautiful art of Muaythai.
In Thailand, under the name Lertnol Looksurin, Kim Kongkriangkai had 137 fights with 115 wins by knockout, 12 wins by decision, and only 2 losses by knockout. In Mexico he also holds a very reputable fight record under the name Roberto Li. Kim Kongkriangkai fought his first fight in 1954 in Rajadamnern Stadium and became the Joalannathai Champion in the late 1950's. He was a trainer for Julio Cesar Chavez for 4 years and trained many other champions in Thailand and in the United States. Kim Kongkriangkai was one of the most fearsome fighters of his day.
The United States Muaythai Association has chosen to recognize Grand Master Kim with the Grand Master Muaythai Award for his incredible life long commitment to the Muaythai way of life not only for his incredible ability to fight like a champion, and because he is a true Pioneer, but also because he humble and full of history and stories that are part of the Muaythai culture. He is a great Master (Arjhan), and a great teacher, and he is loved and respected by all.
As the Vice President of the USMTA, Paulo Tocha spoke of his pride in knowing Grand Master Kim who is an incredible human being and friend, full of Heart and Spirit, a true Nakmuay warrior and Teacher.
Congratulations Grand Master Kim on being the first recipient of the Grand Master Muaythai Award. Long Life!!!