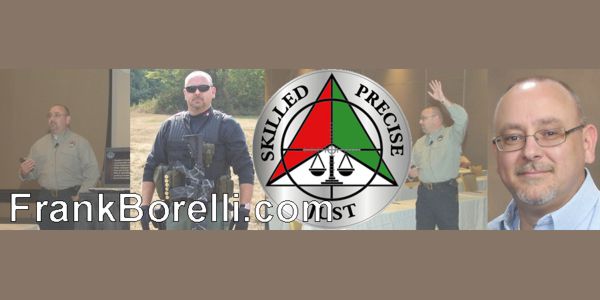 Frank Borelli began his law enforcement career as a Military Police Officer in the United States Army. At the age of four he had declared his desire to become a police officer. In junior high school he admitted his desire to be a writer.  Just prior to enlisting in the army he knew he wanted to become a police trainer. Along with having a family, those were his goals.
Having begun his law enforcement career as an MP, and upon receiving his first Honorable Discharge, Frank became a civilian police officer. His 30+ year career includes assignments in patrol, training, youth services, investigations, task force assignments, administration and more. In 1989 Frank become a certified police instructor and had, at that point, made two of his goals come true.
In addition to his police and military service, Frank began a writing career in 1999, finalizing (or actually just beginning) his third goal. With several hundred articles now published internationally, ten books and two research papers published (so far), Frank is the Editorial Director for the SouthComm Law Enforcement Media team which runs Officer.com, Law Enforcement Technology magazine and Law Enforcement Product News magazine.
Having made all three of his career goals a reality by the age of 35, and demonstrating a positive, motivated lifestyle, Frank was approached by several friends and work mates to become a motivational speaker.  Having been the keynote speaker at several professional police events and having produced, with Steve Forgues, a book about motivational thoughts and philosophies (Above Dirt), Frank finally kicked off a motivational teacher/coach/speaker career.  If you'd like Frank to speak at one of your events, send an email to frank@frankborelli.com.
And last, but far from least, in 2015 Frank and his wife, Debbie, launched a non-profit (501(c)(3) public charity) organization called Patriotic Jeeps Supporting Public Safety, Inc., or Patriotic Jeeps for short.  Patriotic Jeeps is an organization that leverages the Jeep owning social community to raise funds for public safety entities in need.  For information about it, to donate, to buy products, etc., please visit www.patrioticjeeps.com.