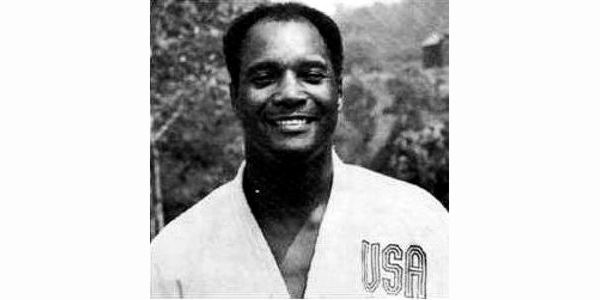 On January 7, 2011, George Lee Harris passed away after a long battle with prostrate cancer.
George Harris was born on January 15, 1933 in Kittrell, North Carolina. He became a 9th dan in Judo, but was an amateur boxer from the age of 12 through his high school years. George didn't begin studying Judo until after joining the Air Force in 1952, He was a member of the 10-man AUU-Air Force team with whom he visited 6 Japanese cities competing in 16 events, winning all 16. In 1956, as a 2nd dan, Harris took 3rd place at the AAU Judo Tournament in Seattle, Washington. He won the US National Championships in 1957 and 1958 and it was then that the military realized that he should be teaching and training military personnel so he was transfered to the physical fitness unit where he continued to study judo along with karate, Ju jitsu and aikido. It became his job to help the Air Force flying personnel to stay physical fit. He also taught hand to hand to Strategic Air Command bomb crews.
As a 3rd Dan, Harris was a two-time gold medalist in the Pan American Games, in 1960 and in 1963. He was four-time US National Champion starting in 1957. He was also six time Air Force Champion. Harris trained at the Kodokan in Japan during a 10 year period and was sent by the Air Force to compete Europe and South America..
George was a member of the first US Olympic judo team in 1964. The 1964 American Olympic judo team consisted of a Jew, Jim Bregman, a Japanese-American, Paul Maruyama and a Native American, Ben Nighthorse Campbell, and George Harris, an African-American.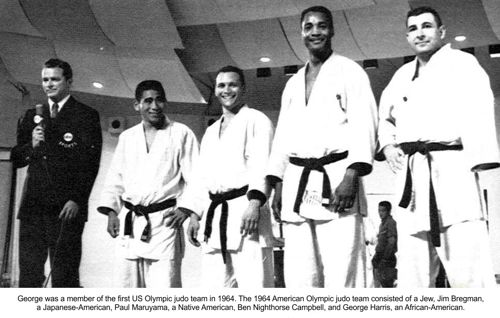 In 1968 he helped begin the United States Judo Association and became its president.
George Harris starred in a feature film called "Judo's Gentle Tiger" or "The Year of the Gentle Tiger". Shot in the late 1970's, this movie was a predesessor to "The Karate Kid" and it became an NBC daytime program. Harris also appeared on talk shows and was twice a guest on "To Tell the Truth".
On January 7, 2011, George Harris died after a long battle with prosrtate cancer. He will be missed by all. A quote from and interview done in 2000 by Rebecca Barnett, (later published as an article in the Masters, Judo For Adults), says it all about George Harris. He is quoted as saying,
"Everything that happens in life shapes your values and whether you'll be an honorable person . . . I've tried to be a good person, to touch other people's lives, to impact them to live honorably . . ."