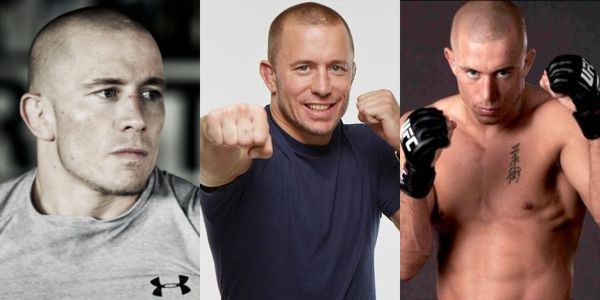 Georges St-Pierre is a Canadian professional mixed martial artist and MMA world champion. He was born on May 19, 1981 in Saint-Isidore, Quebec. He is also known as Rush or GSP. St-Pierre received his brown belt in BJJ from Renzo Gracie on July 21, 2006 and September 2008, he earned his black belt in Brazilian Jiu-Jitsu under Bruno Fernandes.
At age 7, GSP decided to learn karate to defend himself against a school bully, but it was watching Royce Gracie fight in 1993 at UFC 1 that inspired him to work toward becoming a UFC champion. He began training in boxing, wrestling, and Brazilian Jiu Jitsu, and competed in his first amateur bout at the age of 16. He won that match, and continued competeing.
Georges St-Pierre made his UFC debut at UFC 46: Supernatural, where he defeated Karo Parisyan by unanimous decision. His next fight in the UFC was against Jay Hieron at UFC 48. St-Pierre defeated Hieron via technical knockout in only 1:42 of the first round. His first title shot was against Matt Hughes at UFC 50 and inspite of a competitive performance, Georges was tapped out by armbar with 1 second remaining in the first round. This was the first loss in St-Pierre's career.
In 2006 he became the UFC Welterweight Champion when he fought in UFC 65: Bad Intentions against Matt Hughes, winning by TKO (head kick and punches). He lost the title at UFC 69: Shoutout in 2007 against Matt Serra who won by TKO punches, but regained it in front of his hometown fans of Montreal in 2008 at UFC 83: Serra vs. St-Pierre 2 where he won by TKO (knees to the body). St-Pierre is known for the strategic approach he uses in developing his gameplans against his opponents. He draws on skills he learned through competing in local chess tournaments while growing up in Montreal. St-Pierre fought and won against Jon Fitch by unanimous decision in UFC 87. He fought against B.J. Penn and won by corner stoppage in UFC 94. On July 11, 2009 at UFC 100 he won against Thiago Alves by unanimous decision. On March 27, 2010 at UFC 111 he fought Dan Hardy and won by unanimous decision. On December 11, 2010, in UFC 124 he fought Josh Koscheck and won by decision. On April 30, 2011 he won UFC 129 against Jake Shields by decision. He won UFC 154 by decision fighting against Carlos Condit on November 17, 2012. On March 16, 2013 he fought Nick Diaz at UFC 158 and won by decision. He won against Johny Hendricks by decision on November 16, 2013 at UFC 167.
On December 13, 2013, Georges St-Pierre, decided to take time off from fighting and vacated his title for no determined period of time. He tore his ACL on March 27, 2014 and required surgery. He began negotiations with Dana White to return to the cage, and is set to fight UFC Middleweight Champion Michael Bisping in 2017.
Georges St-Pierre was Black Belt Magazine 2008 MMA Fighter of the Year. He was named Fighter of the Year in 2009 by Sports Illustrated, MMAPayout.com, Inside MMA on HDNet, MMAJunkie.com, and at the Fighters Only World MMA Awards held at the Hard Rock Casino on December 30, 2009. He was the recipient, for the second time, of Sportsnet's Canadian Athlete of the Year. Georges St-Pierre was runner-up for the Lional Conacher Award, the first time a MMA fighter has ever been nominated for the award.  He was a Finalist  for Best Fighter 2008, 2010, 2011 at the ESPY Awards and was Most Dangerous Man of the year 2010 at the Spike Guys Choice Awards.