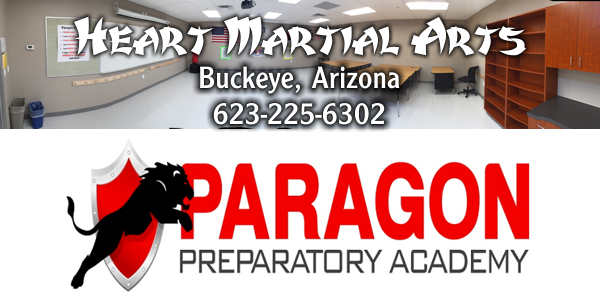 Update: Paragon Preparatory Academy would like to pass on to the public information about our Physical Education (PE) program and how it is doing! Here at Paragon we teach Tang Soo Do (TSD) for our PE program. The first 6 weeks has been an awesome experience for both the students and the instructor, Master Harrison. The students have been instructed on techniques and forms (hyungs) that will help them pass their first written and physical test.
The students were given a Gup manual to study the information they need to know about TSD and the history about Korea. Before they took their physical test, they had to take a 10 question written test and pass it with a 100% (they were allowed to correct their mistakes with the right answer to get it a 100%). After passing that test we moved on to the physical test. I am proud to say that every student passed their physical test too!
Now that their first test is over, they are eager for more. We will have more hyungs to learn along with some hands, feet, and self-defense techniques for their orange belt. For right now, we have a bunch of happy white belts with a stripe!
Teaching Martial Arts in the Public School System
This is really exciting news and we would love to see this happening in every school district in the United States, actually, in the world.
Master Rick (Eric) Harrison along with Heart Martial Arts just announced their partnership with Paragon Preparatory Academy so they can bring martial arts to the public school system. Master Harrison will be teaching Tang Soo Do to 6th, 7th and 8th graders at the school. Paragon Preparatory Academy is a FREE charter school for 6th – 8th grade scholars located in Buckeye, Arizona. The school focuses on higher learning in the classroom. Paragon Preparatory Academy has a dedicated staff working together to motivate students to be principle-centered individuals.
Why is Paragon offering Martial Arts as our PE program? At Paragon we believe in creating principle-centered individuals. By teaching Martial Arts, we are developing mature scholars who combine their minds, bodies, emotions, and spirits in their everyday life – especially when making tough calls. Our Martial Arts program allows us to encompass all five of the principles we focus on at Paragon: hard work, service in the community, respect, integrity, and responsibility.
Through this endeavor Paragon Preparatory Academy hopes to be the start of many good things between the martial arts community and proper training of martial arts in the school systems.
Paragon Preparatory Academy officially open August 22, 2016 and we are glad they did. Let's hope martial arts in the public school system spreads like wild fire!!!
Contact Heart Martial Arts at 623-225-6302 or email Rick Harrison at sahbuhnim (at) hotmail (dot) com.
Heart Martial Arts is located at 2000 S. Apache Rd., Lot 280, Buckeye, AZ 85326 United States
Hearts Martial Arts on Facebook
Hearts Martial Arts on the Martial Arts Schools Directory
ParagonPreparatoryAcademy AZ on Facebook
Contact Paragon Preparatory Academy at 623-455-6212 or email paragonprepinfo (at) gmail (dot) com