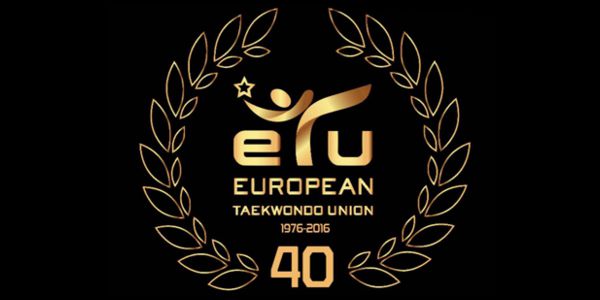 Media Announcement- Accreditations ETU 40 Years Anniversary Gala
Athens (August 26, 2016) – The Olympic Games of Rio 2016 have come to their successful completion, and they have delivered the Olympic flag to the successor city of Tokyo, but for the European Taekwondo the celebration has just begun! The European Taekwondo Union will host the 40 Years Anniversary Gala in Bucharest, Romania, on the evening of Friday, September 9, 2016. The Gala dinner will be held in DAIMON Club (10 Calea Piscului st., Bucharest, Romania), where the TOP European athletes will be awarded.
1. Gold Olympic Medalists from Sydney 2000 until Rio 2016:
Mouroutsos Michail (GRE) – Sydney 2000
Molfetta Carlo (ITA) – London 2012
Tazegul Servet (TUR) – London 2012
Mandic Milica (SRB) – London 2012
Gonzalez Bonilla Joel (ESP) – London 2012
Isaev Radik (AZE) – London 2012 while Jade Jones (GBR) will be endowed with a special honor award for its double gold Olympic title. (London 2012, Rio 2016)
2. Top female/male athlete in the European Senior Championships (most gold medals)
Coral Bistuer (ESP) 5 MEDALS
Geremia Di Constanzo (ITA) 5 MEDALS & Servet Tazegul (TUR) 5 MEDALS
3. Top female/male athlete in the European Senior Championships (most medals)
Gwladys Epangue (FRA) 7 MEDALS (3 Gold/3 Silver/1 Bronze)
Magomedov Seifula (RUS) 7 MEDALS (4 Gold/1 Silver/2 Bronze)
4. Top athletes in Poomsae Championships
Kim Kim Laura (ESP)
Joel Van Der Weide (NED)
5. Unique Records
All-time Record: Zaninovic Lucija and Ana (CRO)
For first time in taekwondo history, twin sisters managed to win gold medals in the same sport event. (European Taekwondo Senior Championships BAKU 2014).
Mouroutsos Michail (GRE) earned the 1st Gold Olympic Medal in the history of Taekwondo (Sydney 2000) and he was the only Gold Olympic Medallist in Europe for 12 years, until London 2012.
Delegates, partners and personalities who contributed to ETU evolvement will also be awarded.
Media representatives may be accredited for this event by ETU. Due to limited seats of availability, all media will be served on a first come-first served base. Because of time restraint, you are kindly requested to complete and send the application form http://taekwondoetu.org/media/documents/ACCREDITATION_FORM_ETU40YEARSGALA_2016.doc to mediaetu@gmail.com until Friday September 2, 2016. Media material will be also available during the event.
Proud Gold Sponsor of the ETU 40 Years Anniversary is DAEDO INTERNATIONAL.
Effie Zikouli
Chairwoman
TV & MEDIA COMMITTEE
Mail: ezikouli@gmail.com
Tel.: +30 690 965 46 90
Media Operations of ETU in Bucharest:
Stavroula Katsoula
Mail: mediaetu@gmail.com
Tel.: +30 698 20 43 581