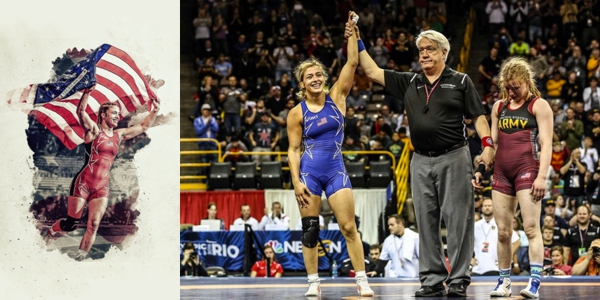 Team U.S.A.'s Helen Maroulis upsets three-time defending gold medalist Saori Yoshida from Japan to become the first U.S. woman to win an Olympic wrestling gold medal in the 53-kilogram freestyle. The win took place on Thursday, August 27, 2016, in Rio De Janeiro. Maroulis defeated Yoshida 4-1. Maroulis attributes a large portion of her success to the coaching of Valentin Kalika.
Helen Maroulis celebrated her big win by holding the United States Flag around her shoulders, letting it fly behind her as she ran around the mat in a circle.
Helen Maroulis was born on September 19, 1991 in Rockville, Maryland. She is an American freestyle wrestler who competes in the women's 55-kg and 53-kg categories. She was a gold medalist at the 2015 World Wrestling Championships in Las Vegas, Nevada and a gold medalist at the 2011 Pan American Games in Guadalajara, Mexico. At the 2016 Summer Olympics in Rio de Janeiro, Brazil she became the first-ever American to win a gold medal in women's freestyle wrestling at the Olympic Games.
As a freshman at Magruder High School, Helen was the first female wrestler to place at the Maryland state wrestling championships. She was named Most Outstanding Wrestler at a tournament where she pinned the senior male student who had won that title the year before. She went on to win 99 high school wrestling career victories.
After three years at Magruder High, Helen moved to Marquette Senior High School in Marquette, Michigan and then joined Missouri Baptist University women's wrestling team in Saint Louis, Missouri. She ultimately transferred to compete for Simon Fraser University in Burnaby, British Columbia, Canada.
Helen Maroulis trains at the U.S. Olympic Education Center at Northern Michigan University.
In August 2017, Maroulis won her third consecutive gold medal at the world championships defeating Olympic bronze medalist Marwa Amri of Tunisia in the finals of the 58-kilogram/128-pound weight class with an 11-0 technical fall.
Pooja Dhanda defeated Maroulis in the Pro Wrestling League on January 16, 2018.
Helen Maroulis was defeated in the first round by fall by Azerbaijan's Altona Kolesnik, a shocking upset for the defending world and Olympic champion. The defeat has been attributed to a serious head injury (concussion from a tournament in January 2018.
In a post-match interview, Helen Maroulis stated, "I'm so used to telling someone, hey, don't touch my head."
Her head injury was so significant as to cause Helen to delay her world team qualifier match. The injury significantly limited her ability to live spar prior to the competition and she was only able to return to live practice about 10 days before her rescheduled qualifying series.