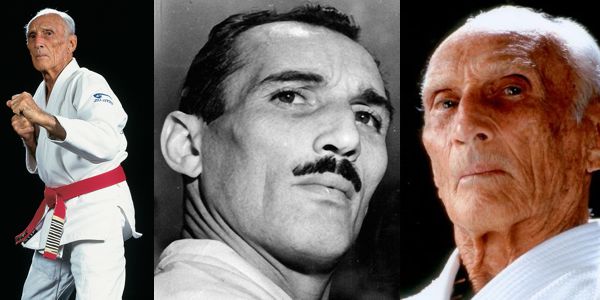 Helio Gracie
October 1, 1913 – January 29, 2009
The co-patriarch of the legendary Gracie clan that popularized Brazilian jiu-jitsu and originated the now-burgeoning sport of mixed martial arts, Helio Gracie passed away at 95. Gracie, who died Thursday morning at his ranch in Itaipava, in the mountain region of Rio de Janeiro, Brazil, helped revolutionize martial arts along with his older brother Carlos. Helio and Carlos Gracie learned the sport from Japanese teacher Mitsuyo Maeda, who had settled in Belem, Brazil. Though Carlos was allowed to learn the art, Helio, who often suffered from dizziness and fainting spells as a youth, was not allowed to participate, although he would often attend classes to watch. One day when Carlos was absent from teaching class, Helio filled in as the instructor and began what would become a life spent in the jiu-jitsu world.
Helio, built slightly at just 5-foot-7 and around 140 pounds, quickly realized that many of the long-held techniques relied on brute strength. Because he was often outsized in competition, he worked to adapt existing Japanese jiu-jitsu to rely on physics and leverage rather than power.
The resulting art, Brazilian jiu-jitsu — now called Gracie jiu-jitsu at the family's many schools — became the family's calling card.
Gracie fought many times, and won nearly all his bouts often beating wrestlers and boxers to prove the superiority of the Gracie fighting style, but ironically, his most famous bout ended in a loss. Competing against Japanese judoka Masahiko Kimura in front of a reported 20,000 fans, the two fought furiously for over 15 minutes. Finally, Kimura applied an arm lock that caused Carlos Gracie to throw in the towel for his brother. In tribute to the victory, the technique is now referred to as a Kimura.
Gracie had nine children, the most famous of which, Royce, became the best-known fighter in the early days of the Ultimate Fighting Championships, when the sport was still known as vale tudo (Portuguese for "anything goes") or No Holds Barred (NHB). The 6-foot, 170-pound Royce Gracie won the first two UFC tournaments despite routinely fighting men who outweighed him by nearly 100 pounds. He is considered a legend of the sport. It was another son, Rorion, who conceptualized the sport of MMA as an original founder of the UFC.
Rorion Gracie designed the sport with the belief it would showcase his family's fighting strategies, and picked Royce to fight, believing that Americans seeing the small fighter emerge repeatedly victorious would captivate audiences and open up the lucrative U.S. market.
Though Rorion Gracie later distanced himself from the UFC claiming sanctioning and rules additions ruined the integrity of the competition, the UFC went on to establish itself as the premiere combat sports league in the world, and to date has hosted over 100 events.
By Mike Chiappetta NBCSports.com