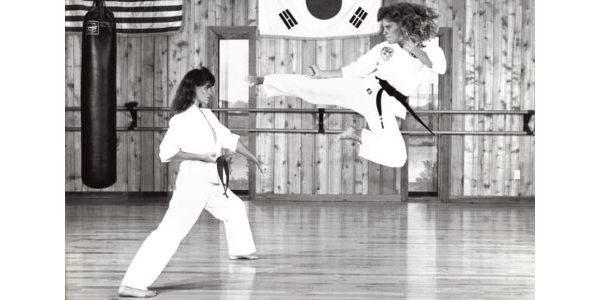 Master Jennifer Branch recently earned her 7th Degree Black Belt, or 7th Dan, in Taekwondo. The United States Taekwondo Grandmaster Society awarded her 6th Dan in 2008, and 7th Dan in 2014, under the aegis of Grandmaster Won Chik Park, 9th Dan, and Grandmaster Roy D. Kurban, 9th Dan. Master Branch's rank has also been recognized and certified through the American Karate Black Belt Association, Chin Sook Hage Kwan.
Twenty-five years of dedicated training has earned Master Branch many accolades including being ranked as a Top Competitor in the Southwest Region by Karate Illustrated Magazine (1986), a nationally accredited publication.
During her training for 5th Dan in 1996, she returned once again to competition and received Gold and Silver medals at the Texas State T.K.D. Championships in Dallas, TX. Winning at the state level resulted in the opportunity to compete in the 22nd U.S. National T.K.D. Championships in Colorado Springs, at the esteemed U.S. Olympic Training Center (Silver Medal – Forms).
Her competitive resume includes a corporate sponsorship by Meridian Service Corp. which provided funding for national and international competition such as the International Tournament of Champions in Bermuda, L.A. Internationals, Battle of Atlanta, Fort Worth National Pro-Am, National Karate Open Finals, Gulf Coast Nationals, and the United States Karate Championships, the latter at which she earned Black Belt Forms Champion in 1985 and 1986.
Master Branch founded the Taekwondo programs at The Las Colinas Sports Club at Four Seasons and the GTE World Headquarters in Irving, TX. Both programs grew rapidly and produced 4 Traditional Karate League Eagle Winners and 3 State Medalists in Olympic Style Taekwondo competition.
Jennifer Branch Martial Arts Training and Commendations:
1974- Began Taekwondo training under Grandmaster Roy Kurban at the American Black Belt Academy in Arlington, Texas.
1975-2010 – Competed in local, national, and international events
1981 – Top 5 Jr. Fighter in Texas, A.O.K.
1982 – Top 10 Jr. Competitor – Southwest Region, Official Karate Yearbook
1984-87 – Top 3 Adult Competitor, Forms & Fighting, A.O.K.
1985-87 – Regionally Ranked Forms and Fighting, Karate Illustrated Magazine
1990-95 – Top Competitor, Eagle Award Winner, Traditional Karate League
1996 – Texas State TKD Championships, Gold & Silver Medalist
1996 – First Female to perform Demonstrations at Ft. Worth International TKD Championships
1996 – US National TKD Championships, US Olympic Training Center, Silver Medalist
1996 – Awarded 5th Dan Master Certificate under the aegis of Grandmaster Kurban and Grandmaster Won Chik Park, World TKD Federation
2008 – Battle of Atlanta, 1st Fighting, 2nd Forms
2008 – Awarded 6th Dan under Grandmaster Kurban and Grandmaster Won Chik Park, USTKD Grandmaster Society
2009 – W.T.F. US National Qualifier, Sport Poomsae, Gold Medalist
2010 – 42nd Annual US Karate Championships, Texas Legends Team Match
For more information about Jennifer Branch visit Team Zen