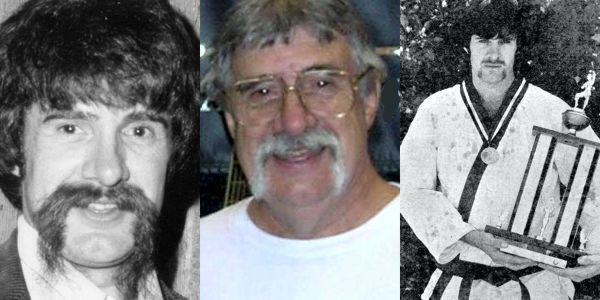 Mr. Larry Ritchie has been the chief instructor of American Black Belt Academy since he began the school in 1985.
"Larry Ritchie began training in Tae Kwon Do, at J. Pat Burleson's Korean Ways martial arts school in January, 1965. At that time, the Korean Ways school was located in the World Health Studios, on East Belknap, in Fort Worth, Texas. Next door, in the same building, was an "after hours" club, called the Eastside Club. This club was well known around Fort Worth as a very rough place. It provided an interesting backdrop and an exciting atmosphere for a karate school. Ritchie saw his first practical application of martial arts in the parking lot of this club. Some of those "demonstrations" actually took place inside the club. Of course, no one from Korean Ways was ever involved. (Don't believe that.)
At the time Ritchie joined Korean Ways, most of the classes at the Belknap location were taught by Mr. Ronnie Moffett, one of Mr. Burleson's Black Belts. Mr. Moffett was a fine instructor, and a demanding taskmaster and Moffett's influence was the foundation on which Larry Ritchie's martial arts skills were built.
About the time Ritchie made blue belt, the classes were taken over by Mr. Chuck Loven. Mr. Loven was a tough black belt. His classes were brutal. He and Mr. Burleson had many things in common, but one thing stood out above all the others. They were extremely tough men, and they thought everyone was like that, but some were not. Never-the-less, Ritchie and the other students were pulled along as if they were as tough as Loven and Burleson. Some thought that Mr. Burleson, and his black belts, were intentionally cruel, but according to Ritchie, this was not the case. Loven and Burleson were simply clueless as to what a bunch of "near-sissies" they were trying to turn into Texas Black Belts. Any review of U.S. Karate history will show that the two instructors did a damn good job. Ritchie states, "I remember well, one evening when Mr. Loven gave me a particularly bad thumping. As Mr. Gary Hestilow was helping me off the floor, Mr. Loven shouted down to me, "I may never make you into my best brown belt, but by God I'll make you the meanest s.o.b. (he didn't abbreviate) in town!" It is said that he kept his word. Ritchie knows he sure tried.
When Ritchie tested for blue belt, the exam board was headed by Tae Kwon Do Grand Master Hong Hi Choi, with Master Jhoon Rhee, Mr. Allen Steen, Mr. Pat Burleson, Mr. Skipper Mullins, and Mr. Mike Steen also present. "How's that for horsepower? No pressure there!" says Ritchie. After the test, Grand Master Choi remarked, "Texans fight harder when playing than Koreans do when they are mad at each other." From what Ritchie saw, he says Grand Master Choi was right."
He made brown belt January 28, 1968. Pat and John Worley were also among those who tested with him that day. Soon after Ritchie received his brown belt, Mr. Hestilow mentioned that Mr. Burleson was looking for someone to run a new karate school he wanted to open. Ritchie asked Mr. Hestilow what he thought Mr. Burleson would charge someone to do that. To Ritchie's surprise, he said it didn't cost anything! In fact, he said Mr. Burleson was willing to pay someone to work there. It would be sort of like a job. Ritchie remembers thinking, "get paid to play karate? That ain't work; that's money for nothing." "Sign me up!" Ritchie said.
Mr. Burleson has a grand sense of humor. For Ritchie's very first karate school, he scouted Fort Worth long and hard to find the perfect place for Ritchie. They needed a place with plenty of drunks to play with. Somewhere with lots of entertainment, like regularly occurring gunfights in the street right outside the front door. Somewhere with friendly motorcycle gangs to practice karate moves with. Well, Burleson found just the place. It was on south Hemphill St. Ritchie started to become ill when he saw the place. But, Burleson said not to fear, all Ritchie had to do was stay alive for only one year and he would get a new karate school anywhere he wanted. No problem.
Things worked out pretty well. He had some great students at that school. Some of them sure could fight, even before they started taking karate. When his year was up, Ritchie sold that school to one of Mr. Burleson's black belts, and moved to the other side of town. Way on the other side of town! His next school was in Hurst, Texas, across the street from the Bell Helicopter plant where he used to work.
Ritchie was soon helping Mr. Burleson run several of his karate schools. Burleson had around five schools then. Burleson was spending time in California, hanging out with Bruce Lee, Chuck Norris, Joe Lewis, and Bob Wall. Ritchie looked after things when he was gone. Ritchie was also a member of the demonstration team, which represented their schools by performing at many functions around Fort Worth. Ritchie was attending Tarrant County Junior College in the mornings, working at the karate schools in the afternoons and evenings, and going to karate tournaments on weekends. Like the man said, "This ain't work; this is money for nothing." Life was good.
One evening in the summer of 1972, a prominent law enforcement official from Tarrant County extended to Ritchie an invitation to leave the county. " By sun up", as Ritchie recalls. Ritchie explained to Mr. Burleson what had happened, and Burleson made a phone call to Mr. George Minshew in Houston. Mr. Minshew owned BLACK BELT ACADEMY. Ritchie had a job waiting for him when I arrived.
Mr. Minshew had two schools under the Black Belt Academy banner, and he wanted to open more. They found a location to their liking, near the intersection of Gessner and Longpoint in Spring Branch. The school grew and quickly became too large for that building. Within one year, they moved to a much larger place on the Katy Freeway. That school remained there for about ten years, and it produced some outstanding students and tournament competitors. Jane Ritchie, Don Mullins, Kevin Scott, Jeff MacRae, Henery Spafford, Chris Klecka and Terry Butler are just a few of the many state and international champions to come from that school. The Houston Hurricanes kickboxing team, of the National Karate League, also trained there.
Ritchie worked for Mr. Minshew and his Black Belt Academy schools for 12 years. During that time, BBA grew to seven schools. In the 1970's and early 1980's, Black Belt Academy students were the dominant force in Texas karate tournaments, winning local, state, national, and international tournaments by the hundreds. Ritchie still feels a lot of pride for the part that his students and he played in making Black Belt Academy the power house it was during those years.
In 1972, while with Black Belt Academy, Ritchie started doing bodyguard and special security work for rock and roll bands. At first, a couple of his students and he provided only personal bodyguard services for the star performers of the rock bands. Within a year, he had taken over all personal protection and private security functions for the rock concerts at the Summit, Sam Houston Coliseum, Music Hall, and all University Of Houston facilities. He was licensed by the State of Texas as a Security Services Contractor and held a Texas handgun commission. They continued providing these services until 1980. Rock concerts were an unbelievable testing ground for martial arts theories, concepts and techniques. They were constantly dealing with drunks, drugies, and psychos. They were always outnumbered, and usually unloved. Anyone who was not there will have a hard time understanding how dangerous it was. Some of the top black belts in Texas worked with Ritchie at these events. Black belts like Mr. Steve Powell from College Station, Mr. Raymond McCallum from Dallas, Mr. John D. York, Mr. Keith Dundas, Mr. David Berlad and Ms. Jane Ritchie from Houston, were part of his crew.
In 1985, Ritchie, along with his black belt staff, decided to leave the Black Belt Academy organization and go out on their own. That was not an easy decision to make. There were a lot of hurt feelings for a long time after that; however, things worked out for the best. Ritchie named the new organization "American Black Belt Academy" to show that we were taking a new path yet still retaining a link to our roots.
Since that time, Ritchie's staff of instructors and Ritchie have continued their efforts to turn out strong martial artists. They have kept their standards high, even while other lower theirs.