Today Americans are remembering 9/11 and the horrific terrorist attacks that not only changed world history, but directly impacted all our lives, including Jim Wagner's. It was this event that ultimately pushed his career into the War on Terrorism. It is a "war" he continues to fight today. Here is Jim's 9/11 story that changed his life forever.
On the morning of September 11, 2001 I was checking out of my hotel room at one of the newest and grandest hotels on Las Vegas Boulevard the Venetian; modeled after the watery center of Venice, Italy. While standing before the opulent checkout desk in the lobby, the young smartly dressed female desk clerk inquired of me,  "I hope you are not flying out this morning."
I thought the statement a bit odd, so I asked, "I drove in. Why?"
She replied, "Because there has been a plane crash, and the airport is completely closed today."
I just assumed she meant that the airport in Las Vegas was closed. The clerk handed me the printed receipt with a smile, thanked me, and then I parted.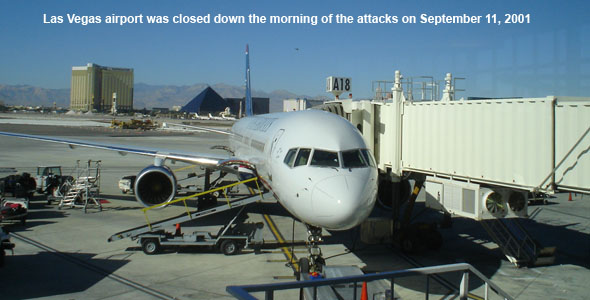 Nothing appeared out of the ordinary as I drove westbound past the row of hotels: Caesar's Palace, Harrah's, Paris with the tall Eiffel Tower in front, New York with its miniature Statue of Liberty, and finally the Luxor hotel with the grand glass pyramid. Then, just outside of the city limits, I turned on the radio to catch up on the morning news since I didn't have a chance to pick up a copy of USA Today, which I habitually do when traveling. The voice of a male reporter drowned out my air conditioner that was on full-blast, "people are dancing in the streets of Nablus and Palestinian store keepers are passing out candies to the passing children." I thought to myself, "Oh no, not another terrorist attack in Israel!" I had just been training with the Israelis the week before, I had witnessed the tail end of a suicide bomber just weeks earlier not far from the outskirts of Jerusalem, and I was a bit numb from it. Although I had lost my shirt in Las Vegas, that is to say, I was not a winner at the 21 table or the slot machines, I was there to forget about such incidents, and my responsibilities for a short night.
I had spent the last three days driving across the country from Tennessee, and only had several more hours to go. My sister, Lee, wanted to move out to California and asked if I would help her drive her Jeep across the vast expanse. I agreed, and we had a fun time doing it. Before I could flip through my personal phone directory to check on some friends in Tel Aviv, the radio reporter went on to say, "To recap, terrorists have flown two passenger planes into the World Trade Center towers and a third has crashed into the Pentagon." Like the rest of America, I was in shock. I just drove along Highway 15 with interchanging emotions of sadness and burning white-hot anger. Lee just sat in the passenger seat and cried for a few minutes.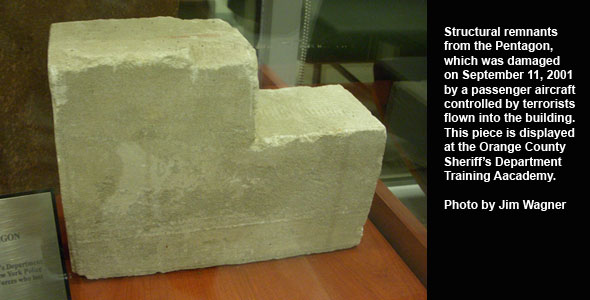 I was now in the middle of the desert an hour and a half from the nearest gas station. When I finally saw one off the side of the road there were several cars at the pump, but nobody inside them. Everyone was inside the small convenience store in a semicircle staring up at the wall-mounted television set. It was eerily silent.
When I looked up at the screen I couldn't believe what I was seeing. They were replaying the clip of a passenger jet going into the side of the World Trade Center. It also showed people leaping out of windows as fire engulfed the upper floors. It was horrible to watch. My sister just sat in the car. She was not ready to see the images yet.
The rest of the drive seemed like an eternity.
Four and a half hours later I was finally home, but not after having passed dozens of half-staff American flags flown by businesses lined along the freeways into Southern California. When I threw the keys down on the counter in my home, and listed to my messages, I was amazed that my department had not called to activate me. I was a Reserve Sergeant with the Orange County Sheriff's Department on the Dignitary Protection Unit. It didn't matter. I needed time to unwind. Then, just an hour later, while I was absorbed with the flickering CNN images on my television, I received the phone call I knew was imminent, "Can you report to the Command Post at the John Wayne airport at 0600 hours?"
The John Wayne Airport, also known as the Orange County Airport is a satellite airport of the greater Los Angeles airspace known as SOCAL. John Wayne Airport is one of the busiest in the country for only two active runways: 19L and 19R.
An hour later I received a call from Atlanta, Georgia. It was a mature female reporter from the Assignment Desk of CNN. She had heard about me from the Los Angeles office, and wanted more insight on how terrorists were able to take over an aircraft with edged weapons. I started the interview, "It's easy."
I had taught countless knife defense courses for a wide variety of police and military units up until that point, and I knew just how lethal a person could be with an edged weapon. With a few terrorists armed with knives and box cutters the passengers didn't have a chance. Not with the first three flights anyway, for the hostage mentality was different then. The world was not used to suicidal terrorists. In the past people expected the plane to land followed by a long drawn out negotiations. Nobody imagined a bunch of fanatics turning aircraft into improvised missiles.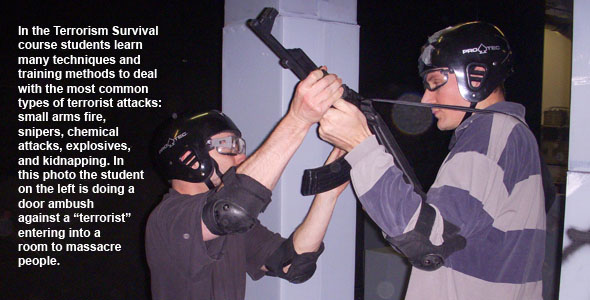 The next morning I found myself sitting in the briefing room of the airport Sheriff's Department sub station crammed with fellow peace officers. I was one of the lucky ones to end up with a chair. The briefing took just over an hour. Topics covered were what badges were authorized, radio frequencies, no mail deliveries, who was posted where, and a bunch of other necessary details. After checking out my radio the Lieutenant in charge of Airport Operations pulled me aside and guided me into a large conference room packed with FAA officials, DEA agents, FBI agents and a dozen airport officials. The "LT" asked me to give a briefing based on what I knew. Being the only person in the room who was just recently in the Middle East, and the only one on duty at the time with anti-terrorism and counter-terrorism training, I gave a short and sweet briefing on knives and box cutters since that happened to be the topic of discussion the moment I happened to walk into the room. I was surprised how completely ignorant some people were of how easy it is to sneak edged weapons aboard an aircraft, and how easy it is to hijack an aircraft with little to no resistance using such a tool. That's just with one suspect. Add a few more terrorists, and they are undefeatable, provided that there are no Federal Air Marshals (FAM) aboard (The Federal Air Marshal Program provides an anti-hijacking capability for U.S. civil aviation, but until recent events they were rarely on domestic flights, and there were very few of them).My little talk definitely alarmed a few people. Then I continued into the second subject of my briefing – Terrorist Profiling. Since I had a little chat the night before with a friend of mine who is in military intelligence, I knew that Southern California had its fair share of Middle Eastern terrorist cells running around.
Once the morning formalities were out of the way I was put in charge of profiling people coming into the airport, and to search incoming vehicles for bombs. This was when the word "profiling" was not a politically correct word. America had just been attacked, and we weren't about to be the "next incident" in the country if we could help it. We went from a country of law and order to practically a police state overnight. I had never searched so many vehicles, and interviewed so many people in one day. Mostly Middle Eastern born cab drivers coming into the airport who had no business coming into the airport anyway since there were no flights coming in or going out. All air travel across America had ceased. Only military planes were crisscrossing the sky.
After my 10-hour shift, ended I was completely exhausted. Once back home I turned on my computer and logged on to pull up my email. Messages of sympathy poured in from all over the world from my buddies in police and military units worldwide. All of them expressed their shock and sorrow. The one email message that hit me the most was from Israel. A counter-terrorist friend of mine, Major Avi Nardia, wrote, "In one hour you (the United States) have lost more lives to terrorism then all of the attacks combined that have been made against us (Israel) since the birth of our nation (1948)."
Ironically, I was scheduled to fly to Vancouver, Canada on September 14th to train local law enforcement agencies, and to start the process of setting up a counter-terrorism course that was to take place at the end of the year. My Canadian air carrier was grounded, and Los Angeles International Airport was operating on a limited bases only. I had to cancel the course, and reschedule my meeting for another time.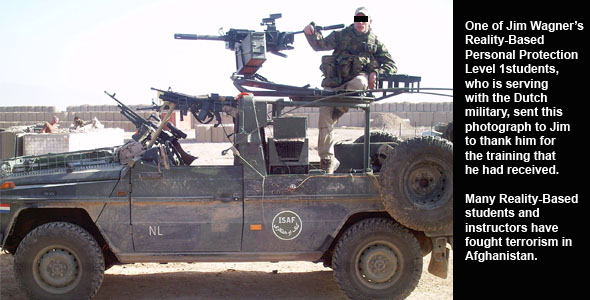 Several months after the attacks on America the United States government hired me as a United States Federal Air Marshal. After counterterrorism school at the Federal Law Enforcement Training center in Artesia, New Mexico I was assigned to the Los Angeles Field Office. I was an active federal agent directly involved in the War on Terrorism.
Although I am proud of my service to my country, another result influenced by 9/11 was the formation of the Reality-Based Personal Protection system in 2003. Prior to 9/11 I rarely taught civilians. For 12 years I had only trained police, corrections, and military personnel. I didn't really trust civilians anymore. The job can do that to a person. Then one of the deputies that had served under me at the Sheriff's Department, Sergeant Johan Lai, suggested that I start teaching a civilian version of my system. He said, "American citizens are now more vulnerable than ever to terrorism, and you have the knowledge and skills to teach people how to protect themselves. Where were the police and military when those planes were taken over? On Flight 93 there were only citizens to fight against the terrorists. Think about it."
Well, I did think about what Sergeant Lai told me and I developed the Terrorism Survival course that 8 years later has been taught to thousands of people around the world; not just Americans, but everyone who may be a possible target of terrorism in the Western World. I've even had people write me an tell me that what I taught them actually saved their life or the life of someone they taught.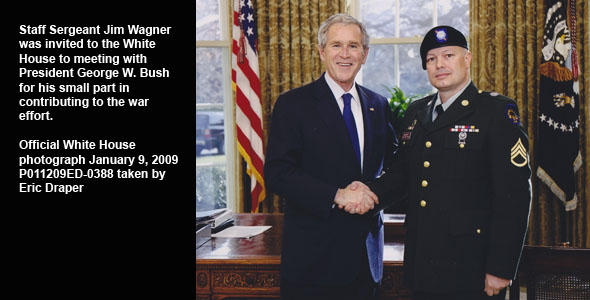 Along side my teaching career, I serve as an American soldier; the California State Military Reserve. Granted, my military police unit will never see a foreign battlefield, but over the past six years I have trained hundreds of Army National Guard soldiers and U.S. Army Reserve soldiers to fight in Iraq, Afghanistan, and Kosovo; not to mention stateside missions in California: riot control, firefighting, disaster management, and antiterrorism. It's my way of contributing to the security of my country.
May God continue to comfort those families and friends who lost a loved one in the attacks of 9/11.