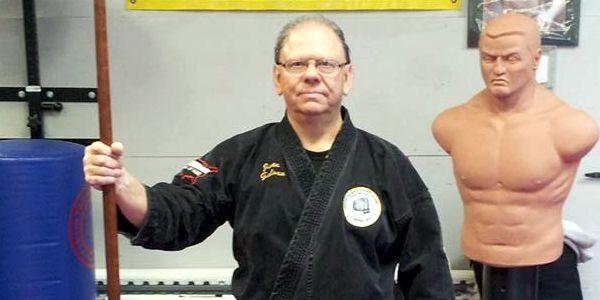 Master Juan Galvan began training in boxing at the age of seven with his father, a boxer in the Army. He started Judo at the age of 9 and Kempo at the age of 12. At the age of 14 he began his training in Tae Kwon Do. Between the ages of 24-26 he trained in Shotokan. In 1979 he began training in the Youn Wha Ryu system of Tae Kwon Do under Master Man Hee Han. In 1999 he began training with Sensei Tom Pisut in the Shorei-Goju Ryu system.
He has attended numerous seminars with Sensei Tom Pisuit, Sensei Joe Lewis, Sensei Fumio Demura, Seiyu Taika Oyata, Hanshi C. Bruce Heilman, Grand Master Han, Grand Master Rorian Gracie, Mr. Royce Gracie, Shihan William Duessel, Hanshi Toby Cooling, Master Rob McQueen, Master Danny Lane, Sensei Paul Talamantez, Master Rick Fyke, Master Bob Cohen, Master Joe Haas, and Master Jim Thompson. Trained extensively in Pressure Point Control Tactics, Simplified Defensive Tactics, Weapons Retrieval, Empty hand against bladed weapons and obtained License Police Self-Defense Instructor status under the Police Self – Defense Instructors International, and was appointed Texas State Director by Major Robert Kutz.
He has owned and operated Master Juan's Karate Academy for over 27 years. In 2008 he became the Chief Referee for the USKA. After having been the Texas State Representative for the United States Karate Alliance for over 12 years, he was promoted to West Central Regional Director at the 2009 USKA Nationals.
Promotions/Accomplishments:
1981 Obtained the rank of Black Belt (May 20)
1982 1st Dan Black Belt (January 9)
1983 2nd Dan Black Belt (March 5)
1985 3rd Dan Black Belt (March 9)
1987 4th Dan Black Belt (January 11)
1991 5th Dan Black Belt (August 15)
1995 6th Dan Black Belt (April 21)
2001 7th Dan Black Belt (August 4)
2009 8th Dan Black Belt (March 28)
Competition/Accomplishments:
United States Karate Alliance Hall of Fame Inductee (joins son as the 3rd father/son pair to be inducted)
2008-2009 USKA National Kata Points Champion
2009 USKA World Kata Champion (Masters Division)
3-Time USKA Instructor of the Year and 2-Time USKA Team of the Year
1984 World Youn Wha Ryu Lightweight Sparring Champion
1985 World Youn Wha Ryu Lightweight Sparring Champion
1986 World Youn Wha Ryu Forms Champion
1987 World Youn Wha Ryu Forms and Sparring Champion
1988 World Youn Wha Ryu Forms Champion
1989 Grand Champion Kumite and 1st Place Weapons at San Antonio International Championships
1990-1991 Joined United States Karate Alliance and won 3rd at the first Texas State Championships
1993 or 1994 2nd Place Team Kumite at USKA World Championships
1995-1999 Competed at Various Local, state, & regional tournaments placing in the Top 3 in Kata, Kumite and weapons
2000 WCMA World Cup 4th Kata (Puerto Plata, Dominican Republic) and Assistant Coach
2001 USKA Jackson Parish Kata Champion
2002 1st Place in Masters Kata at North Texas Open Karate Championships
2003 3rd Place in Masters Kata at Big "D" Nationals
2004 USKA World Championships 3rd Kumite
2006 PKC Internationals Kata Champion
2006 USKA World Championships 3rd Kata and 2nd Team Kata
2007 USKA World Championships 3rd Kata
2007 PKC Internationals 3rd Place Kata
2008 USKA World Championships 3rd Kata and 2nd Weapons
2008-2009 USKA National Points Champion Kata
2008 Eagle Wings Kata Grand Champion
2009 South Central Regional Kata Grand Champion
2009 North Texas Open Kata Grand Champion
2009 USKA National Championships 2nd Kata
2002-2003 1st Place Instructor of The Year and 1st Place Team of the Year
2003-2004 Runner Up Instructor of the Year and 3rd Place Team of the Year
2004-2005 Runner Up Instructor of the Year and Runner Up Team of the Year
2005-2006 1st Place Instructor of the Year and Runner Up Team of the Year
2006-2007 1st Place Instructor of the Year and 1st Place Team of the Year
2007-2008 Runner Up Instructor of the Year and Runner Up Team of the Year
2008-2009 3rd Place Instructor of the Year and 3rd Place Team of the Year