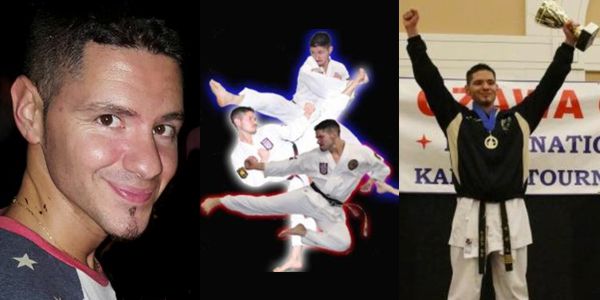 Sensei Adrian Galvan is a 4th Degree Black Belt and head instructor at Master Galvan's Karate Academy. Adrian is the current USKA Kumite Champion, has been inducted into 2 Martial Arts Halls of Fame including the United States Karate Alliance Hall of Fame, and he has been the top ranked fighter for over eight years running.
Adrian started his Martial Arts training in March of 1988 at the young age of 3 under his father Master Juan Galvan. I guess you could say he was born into it; Adrian didn't go to daycare -instead he was at his father's dojo always in the martial arts atmosphere.
While Adrian continues to train under his father & now helps in running the school, he also trains under Sensei Tom Pisut. Adrian also attends seminars & has had the chance to train with Matt Hughes, Joe Lewis, Fumio Demura, George Kotaka, C. Bruce Heilman, Hanshi Toby Cooling, Shihan Duessel, and Paul Talamantez.
Adrian loves tournaments & thanks his dad for the exposure to them at such a young age. Martial Arts – as well as competition – has really helped him grow into the person he is today. Adrian has over 1000 Awards as he has competed throughout the nation as well as internationally.
Accomplishments:
4-Time USKA World Kumite Grand Champion (2004, 2007, 2008, 2010)
Won Over 150 Grand Champion Titles
United States Karate Alliance Hall of Fame Inductee (2006)
2008 & 2009 USKA National Kumite Grand Champion
4-Time PKC International Kumite Grand Champion (2007-2010 4 in a row)
Rated #1 TEXAS FIGHTER on Martial cafe
AAU/USA Karate National Team Member
Team Captain for Team Texas PKC/USKA
2009 & 2010 PKC Interationals Team Sparring Champions (Team Texas)
USKA Team Kumite World Champion (2004, 2005, 2006, 2007, 2008)
8-Time USKA National Kumite Points Champion, 5-Time Kata Points Champion, 2-Time
Weapons Points Champion
2-Time USKA Triple Crown National Points Champion (2004-2005, 2005-2006)
2-Time Instructor of the Year 2005-2006, & 2006-2007
3-Time Alliance All American, 2-Time Alliance Jr. All American
Ultimate Warrior Conference 2009 Sparring Grand Champion
UTA 2008 Dallas Nationals Grand Champion Forms & Sparring
2010 USA-NKF Texas State Kumite Champion
2008 Suzuki Cup Kumite Gold Medalist (USA-NKF)
2009 Honolulu International/50th All Hawaii State Championships Silver Medalist in Kumite
8-Time Medalist AAU Karate Nationals
2-Time Medalist USA-NKF Nationals
2003 USKK Grand Nationals Heavyweight Kumite Champion
2003 USKA World Team Kata Grand Champions
2010 West Central Regionals Triple Crown Grand Champion (Kata, Kumite, Weapons)
7-Time South Central Regionals Kumite Grand Champion (2004-2010)
3-Time Southwest Regionals Kumite Grand Champion (2002, 2004, 2005)
2007 Pacific Regionals Kumite Grand Champion
2006 & 2007 South Central Regionals Kata Grand Champion
9-Time Texas State Kumite Grand Champion (2002-2010)
6-Time Texas State Kata Grand Champion
2009 California State Kata & Kumite Grand Champion
6-Time Louisiana State Kumite Grand Champion (2004, 2005, 2007-2010)
2007 Louisiana State Kata Grand Champion
2005 California State Kumite Grand Champion
2007 Arizona State Kumite Grand Champion
2-Time Colorado State Kumite Grand Champion (2003 & 2004)
2002 New Mexico State Kumite Grand Champion
2004 New Mexico State Kata & Kumite Grand Champion
2010 Oklahoma State Kata & Kumite Grand Champion
30 USKA World Titles
17-Time USKA National Champion
14-Time PKC National Champion