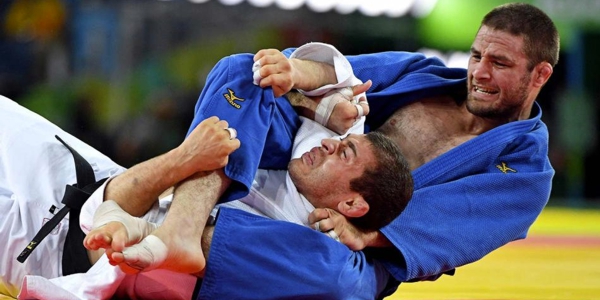 It was Tuesday, August 9, 2016 in Rio De Janeiro that Team USA's judoka Travis Stevens won a historic silver medal. The match took place at Carioca Arena 2 at Barra Olympic Park. It was only one year ago that it was doubtful that Travis would ever compete again.
"It's hard not to break down in tears after everything that I have been through in life," Stevens said. "To be able to put it to the grindstone and have my team behind me to this point means more than the world to me."
On this day Stevens' became the first U.S. men's judo silver medalist in the 81 kg. division to win a silver medal. He was also the first Judoka to almost lose his leg last year at the world championships.
"None of the doctors could figure it out," he said. "We made weight and we fought and came back to the States to find out that if I had made it back a day later, they would've have to cut my leg off."
Almost a year to the day in 2015, Stevens was diagnosed with a bacteria-based skin infection, Methicillin-resistant Staphylococcus aureus (MRSA), cellulitis, and a muscle contusion in his right knee. The infection entered the his bloodstream causing Stevens' leg to swell to twice its size. He was hospitalized and then on home care for two months.
"It was definitely a scary moment and you tend to question what is this moment and time really worth?" he said. "I wasn't even sure I was going to come back to judo after that."
Travis Stevens couldn't give up on Judo, the sport he loved.
"I had a job to do and you always compete," he said.
Travis' coach, Jimmy Pedro, won bronze at the 2004 Olympic Games and Travis made him proud by becoming the first U.S. men's Olympic medalist in judo since 2004. The U.S. men's Judo team have won four silvers and six bronze medals but they never won the gold in judo.
"I can tell you it (silver medal) is worth every sacrifice I ever made," Stevens said.
In passed games, Travis finished ninth at the Beijing 2008 Olympics and fifth at the London 2012 Olympics.
Travis won his first three matches of the 81 kg. Tournament, scoring three consecutive ippons on his way to the final.
His best and toughest match was against judoka Avtandili Tchrikishvili who is number one in the world. Travis beat Tchrikishvili by armbar submission in the closing moments of the match.
"I was definitely looking to get it to the floor," Stevens said. "Every time you stand up and throw with him, he tends to counter with big pickups. The goal was to drop underneath him and bring him down to the mat."
After winning the match, Travis let go a roar that brought the house down. He pointed to the sky, as if this was his only limit and everyone cheered.
"Once I felt it loop under his chin and the ref didn't stop it, I knew I made the Olympic final," he said.
What an incredible moment for Stevens, who said that this win in Rio might be the end to his Olympic journey, but what a finish!!!
"I love Rio and I love the city," said Stevens, 30. "I started my career here and now the 81 kg. division is being hung up here."
In the future Travis said he could transition to the 90 kg. division or he may explore jiu-jitsu. For now, however, he, his family and U.S. Olympic teammates ar enjoying the moment
"The next step is to enjoy the Olympic Games and the Olympic spirit," he said. "Hopefully, I get to watch Team USA win more medals in other sports, especially wrestling."
Source: Jaylon Thompson on Team USA.org