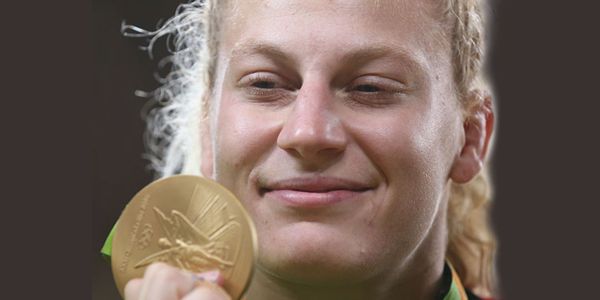 On August 11, 2016, American Kayla Harrison won her second Olympic Gold in Judo and stated, "Winning my first Olympic Gold in 2012, I thought nothing would ever get better, but this is better."
Kayla is the first person in her division, in fact the first American woman to win two Olympic Gold Medals in Judo.
"Like I've said before, what people don't realize is that it is not just today, it's the four years that led up to today. I can't tell you how many times I've drilled all of those situations, thousands and thousands and thousands. I've fought every single girl here a million times. My coaches made me fight in every tournament when I was tired, when I was injured, when I didn't want to fight. That's the reason that I won today, because of them. They made me mentally tough and they made me ready for any situation."
The Gold Medal Match in women's 78kg judo had the top two judoka in the world rankings competing against one another, Team USA's Kayla Harrison and France's Audrey Tcheumeo. Team U.S.A.'s Kayla Harrison took down France's Audrey Tcheumeo, defending her Olympic Gold medal in the women's 78kg judo competition.
Press Conference with Olympic Judo Champion Kayla Harrison and Her Coach Jimmy Pedro
Kayla Harrison Wins Women's Judo -78kg Gold Against Gemma Gibbons – London 2012 Olympics