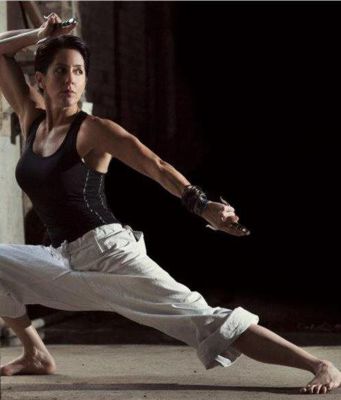 Martial Arts Pioneer Kelly Muir is the Founder of Excel Karate. She has been involved in the Martial Arts for nearly 30 years. She has been training since she was 9 years old. Kelly holds advanced certifications in traditional Shorin-Ryu Karate and Korean Tae Kwon Do. As one of the few women in the professional world of Martial Arts, she has had the opportunity to train under some of the most influential martial art instructors in the World. As an athlete, Kelly Muir received a sponsorship from the United States Olympic Committee that allowed her to live and train at the United States Olympic Training center. After years competing at the World Class level, she retired from competition and began to focus on teaching Martial Arts to others.
In 1994 Kelly Muir became the first women to be contracted by a leading Martial Art Production company, Panther Productions, to produce her own Martial Art training series. She has been featured in Karate/Kung Fu Illustrated, Black Belt Magazine, and highlighted in various industry magazine as a pioneer for women in the Martial Art Industry. Kelly has been a columnist for Black Belt Magazine, writing in the Better Business Column and a contributor to the Personal Defense Network. Kelly Muir was Black Belt Magazines 2012 Woman of the Year.
Her excellence in creating curriculum and establishing mainstream programs for children has won her numerous National Awards. Her Center in California won the distinction of being named one of the "TOP 20" Children's Martial art Centers in the Nation for three years running. She is an active member of the National Association for Professional Martial Artists.
Kelly Muir's desire to teach and educate others about martial arts and personal safety is evident in her filming of instructional aides. She began using video as a tool for teaching in 1996 when she was one of the first women contracted to film an entire instructional DVD series with Panther Productions. At the time, Panther was the leading instructional martial art video training company in the world. In 2011, Kelly was featured in the Personal Defense Networks "Personal Firearm Defense ~ Unarmed Series."
Kelly Muir recognized that some women may not choose to attend a self defense course that requires a large block of their time, so she has worked on additional projects with the Personal Defense Network creating Video self defense "shorts" for the web. These quick clips on safety could be watched easily and shared with friends! These "shorts" will be featured on the Personal Defense Network website.
Fundamentals Of Armed Home Defense For Women