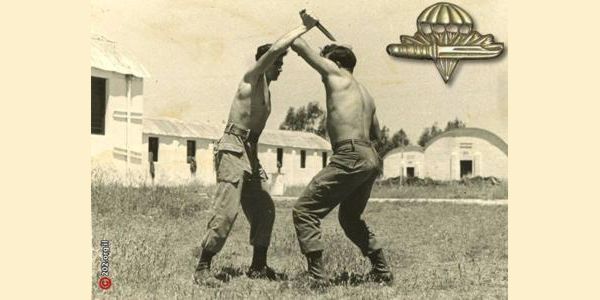 Krav Maga or Q'rabh Magga (lit. "contact combat", "close combat" or "full contact") is an eclectic hand-to-hand combat system developed in Israel that involves wrestling, grappling and striking techniques, mostly known for its extremely efficient and brutal counter-attacks, as it is also taught to elite special forces around the world. It was derived from street-fighting skills developed by Imi Lichtenfeld, who made use of his training as a boxer and wrestler, as a means of defending the Jewish quarter during a period of anti-Semitic activity in Bratislava in the mid- to late-1930s. In the late-1940s, following his immigration to Israel, he began to provide hand-to-hand combat training to what was to become the IDF, developing the techniques that became known as Krav Maga. It has since been refined for both civilian and military applications.
Some refinements include, but are not limited to, the incorporation of elements from traditional Asian martial arts.
Krav Maga has a philosophy emphasizing threat neutralization, simultaneous defensive and offensive maneuvers, and aggression. Krav Maga is used by the IDF Special Forces units and several closely related variations have been developed and adopted by law enforcement and intelligence organizations, Mossad, Shin Bet, FBI, SWAT units of the NYPD and United States Special Operations Forces. There are several organizations teaching variations of Krav Maga internationally.
Basic Principles
The name in Hebrew means "hand-to-hand combat". Krav (
Basic Principles
Generally, there are no rules in Krav Maga, as it is a defense fighting technique which is not regulated, but utilized to keep the user safe and incapacitate the opponent by any means necessary. Men and women generally undergo the same drills. It has no sporting federation, and there are no official uniforms or attire, although some organizations do recognize progress through training with rank badges, different levels, and belts.
General principles include:
Counter attacking as soon as possible (or attacking preemptively).
Targeting attacks to the body's most vulnerable points such as the eyes, jaw, throat, groin, knee etc.
Neutralizing the opponent as quickly as possible by responding with an unbroken stream of counter attacks and if necessary a take down/joint break.
Maintaining awareness of surroundings while dealing with the threat in order to look for escape routes, further attackers, objects that could be used to defend or help attack and so on.
Basic training is a mixed aerobic and anaerobic workout. Protective pads and other personal protection equipment may be used during initial training. Scenarios are used to train personnel for situations typically encountered in street patrol or combat situations. Training scenarios teach students to ignore distractions. Other training methods to increase realism might include blindfolding or exercising trainees to near exhaustion before dealing with a simulated attack, as well as training outdoors on a variety of surfaces and restrictive situations.
Training also covers situational awareness to develop an understanding of one's surroundings and potentially threatening circumstances before an attack occurs. It may also cover ways to deal with potentially violent situations, and physical and verbal methods to avoid violence whenever possible.
History
Krav Maga was developed in Czechoslovakia in the 1930s by Imre Lichtenfeld, also known as Imi Sde-Or (Sde-Or "Light Field" a calque of his surname into Hebrew). He first taught his fighting system in Bratislava in order to help protect the local Jewish community from the Nazi militia. Upon arriving in the British Mandate of Palestine, Lichtenfeld began teaching Kapap to the Haganah, the Jewish underground army. With the establishment of the State of Israel in 1948, Lichtenfeld became the Chief Instructor of Physical Fitness and Krav Maga at the Israel Defense Forces (IDF) School of Combat Fitness. He served in the IDF for 15 years, during which time he continued to develop and refine his hand-to-hand combat method. In 1964 he left the military though continued to supervise the instruction of Krav Maga in both military and law-enforcement contexts, and in addition, worked indefatigably to refine, improve and adapt Krav Maga to meet civilian needs..The first students receiving a black belt 1st Dan were Eli Avikzar, Rafi Elgarisi, Haim Zut, Shmuel Kurzviel, Haim Hakani, Shlomo Avisira, Vicktor Bracha, Yaron Lichtenstein, Avner Hazan and Miki Asulin.
In 1978, Lichtenfeld founded the non-profit Israeli Krav Maga Association with several senior instructors. He died in January 1998 in Netanya, Israel.
Expansion to the USA
Prior to 1980, all experts in Krav Maga lived in Israel and trained under the Israeli Krav Maga Association. That year marks the beginning of contact between Israeli Krav Maga experts and interested students in the United States. In 1981, a group of six Krav Maga instructors traveled to the US to demonstrate their system, primarily to local Jewish Community Centers. The New York field office of the FBI and the FBI's main training center at Quantico, Virginia saw it and expressed interest. The result was a visit by 22 people from the US to Israel in the summer of 1981 to attend a basic Krav Maga instructor course. The graduates from this course returned to the US and began to establish training facilities in their local areas. Additional students traveled to Israel in 1984 and again in 1986 to become instructors. At the same time, instructors from Israel continued to visit the US. Law enforcement training in the US began in 1985.
Krav Maga is currently being taught as a primary hand-to-hand combat technique at some police departments in the United States.
Current Usage
All Israel Defense Forces soldiers, including all Israeli Special Forces units[9], learn Krav Maga as part of their basic training, although most non-Special Forces trainees only spend a small amount of time training in Krav Maga, up to a week of training for a few hours per day. Further, Krav Maga is the defensive tactics system used to train the Israeli Police, Israeli Intelligence and all Security Divisions. Krav Maga is also taught to civilians, military, law enforcement and security agencies around the world. The Swedish Army uses Krav Maga lightly in close combat training for urban warfare. Schools can be found everywhere from Australia and the UK to South Africa. The International Krav Maga Federation in Netanya outside of Israel trains some of the world's top bodyguards, who use Krav Maga as a trade fighting art since it includes several exercises in evacuating a VIP through a hostile crowd. Also, the tactics for dispatching several opponents quickly is vital for personal protection agents.
Avi Nardia distinguish 3 levels of practice: for the army, for the police, and self-defense for civilians. Those 3 levels feature differing techniques due to their specialized applications (i.e. attack, threat-neutralization, or self-defense).
Leadership
There are numerous organizations around the world teaching Krav Maga or variants. Since the death of its founder, differences have arisen, with competing claims to heirship. Some organizations and individuals claim to be the sole heir while others contend it is an "open" art which should not be owned by any person or group.
Despite attempts to trademark Krav Maga, there is no official head-instructor or organization.
Source: Wikipedia