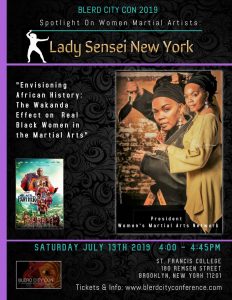 Join Lady Sensei Chisom Gerry at BLERD CITY CON 2019 at St. Francis College, Brooklyn, New York on July 13, 2019 for her presentation:
"Envisioning African History; The Wakanda Effect on Black Women in the Martial Arts"
The powerful images of the strong female Wakanda Warriors proliferated the imagination of many and creates an innovative opportunity to discuss race, gender, and culture through personal knowledge and participation in the martial arts relative to Black Feminist Thought (Collins).
Though an action genre film in a fantasy setting, the epic popularity of the film makes it worthy of further investigation and discussion of how these images impact contemporary Black women in the martial arts.
Q&A will follow the presentation.
Tickets can be purchased here:
Dont miss Lady Sensei Chisom Gerry at BLERD CITY CON 2019!!!
About BLACK & NERDY/BLERD CITY CON 3.0 2019
Blerd City Con 3.0 happening July 12 – 14, 2019 is micro-cosmic explosion taking place over a three-day weekend at St. Francis College and various locations in Brooklyn, NY, which delves into the multidimensional nerd sphere.
Event includes panels and workshops spotlights Comic Artists, Gaming, Afrofuturism Panels and films, VR technology, Science Fiction Writers and Filmmakers with a Teen/Young Adult curated section and a Blerd Jr's (children) area, and any thing celebrating the nerd in you!
This year's theme is BLACK HORROR starting with:
July 12 @ Herbert Von King Park Screening Ganja & Hess, Cult Classic with Juju: A Web Series, a Black witch story
July 13 @ St. Francis College in collaboration with the Center for Crime & Popular Culture VR CAFE presented by ImageNation, Cosplay Lounge, Table Top Games with a Blerdy Spin, and a Harriet Tubman Stamping Station – get your $20s stamped, ( Film Screening) Afrofuturism Films: Zombies, Apcalypse and Dystopias with Aftermath: The Seeds of Armageddon, Danger Word 2013, and Naked Reality, Workshop Code, Write and Sip, Workshop Geek Journalism 101; (Film Screening) Creatively Speaking presents Double Exposure Shorts Program with Where the Water Runs. Dubois Ashong; Give, David de Rozas; Black 14, Darius Clark Monroe; Respect and Love, Angelique Webster; Into the Life, Ivan Huclkova, Sarah Keeling, and Grace Remington; Panel Black In Animation presented by DiverseTooons ; Workshop Sweets for the Sweet: A Candyman Lecture; Feature Celebrity Men In Black Review with Ryan Sands of Marvel's Runaways
July 14 @ St. Francis College in collaboration with the Center for Crime & Popular Culture VR CAFE presented by ImageNation, Cosplay Lounge, Table Top Games with a Blerdy Spin, and a Harriet Tubman Stamping Station – get your $20s stamped; (Film Screening) Civic Mind, Adonis Williams; (Film Screening) We Came To Sweat: The Legend of Starlite, Presentation Black Issues Issues; Children and Adult Cosplay Ball; Workshop Vampire with Sistahs; Closing Ceremony with Keynote Speaker Dr. Jerry "Rashiki" Jenkins author of The Paradox of Blackness in African American Vampire Fiction