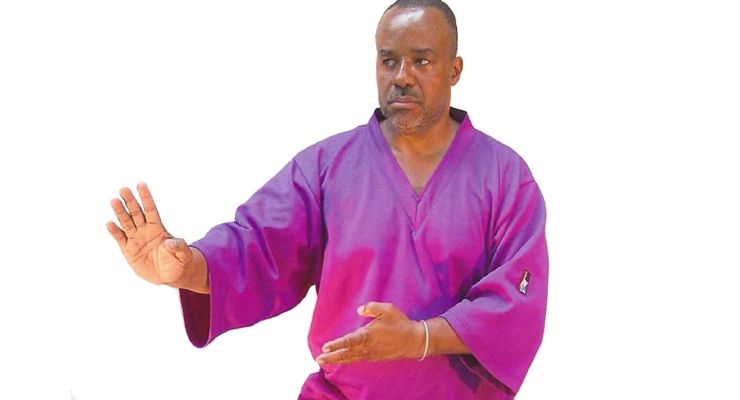 Master Lamarr Thornton is a Martial Arts Master, a Cultural Artist, a producer and director and choreographer, and has been a leader of the community for many years. Grand Master Thornton has a natural magnetism which radiates through his teaching. His organizational skills and creative talents have resulted in the success of numerous cultural events over the past thirty years. His expertise and high tech professionalism are a confirmation that his every existence has been in the way of Karate Do. Grand Master Thornton, best known as Kushinda Lamarr, trains students in tournament fighting, Boxing, Karate Boxing, Kata Weapons, Tai Chi, Street Self Defense, Body Guard and Security Task Forces. He conducts referees clinics and seminars.
Lamarr Thornton has been practicing the Martial Arts for over 44 years. He is a Life Member of USA Karate, RSO USA Karate New York State Committee Officer of Ju Jitsu. He was State Champion of USA Karate in 1992, in the over 35 division. He is the founder of Kushinda Ryu Martial Arts Systems. He is a Ninth (9th) Dan in Shotakan, First (1st) Dan in Yummukwan Korean Karate, First (1st) Dan in kendo, Sixth (6th) Dan in Ju Jitsu, and a Sixth (6th) Dan in Goju Karate. He has been a promoter of major east coast martial arts events for the past 30 years. He was the Chief Instructor of the Harlem YMCA Association for 15 years.
Lamarr Thornton was the Founder of the martial arts newspaper and publication "The Dojo World News". For many he years served as chief instructor of the NCAA National YouthSports Program at City College of New York and he was the Founder and Chariman of New Breed Life Arts Programs.
On March 14, 1992 Kushinda Lamarr Thornton received the All American Karate Hall of Fame Award. This award was presented by Master S. Henry Cho, representative of the World Korean Tae Kwan Do Karate Association. Over the years, Grand Master (Kushinda) Thornton has been inducted into the Halls of Fame of countless other Martial Arts systems, and received awards which serve as certification of recognition as a world renowned Martial Arts Master.