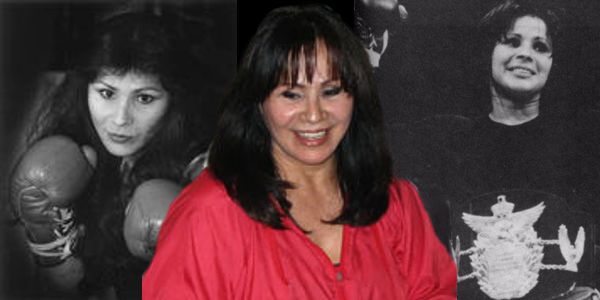 Lilly Rodriguez passed away on January 13, 2007  at UCLA Medical Center of complications relating to an infection. She was 59 years old.
It was Lilly Rodriguez who helped establish kickboxing as a sport for women.
Rodriguez, who owned the Heart of Champions gym near Los Angeles, won women's featherweight boxing and women's featherweight kickboxing titles in the 1970s.
She is the only female boxer in the California Boxing Hall of Fame and one of a handful of women in the Martial Arts History Museum's Hall of Fame.
"Nobody believed in us, or me, at first," Rodriguez told The Times in 2004. "They thought it would be 'foxy boxing.' But I didn't go in there wanting to show anything other than my skills in boxing."
On November 16, 1979, she and William "Blinky" Rodriguez made history as the first husband and wife to box on the same professional card, said Don Fraser, who promoted the fight.
"You have no idea the pressure she put on me," said Blinky Rodriguez, who also became a kickboxing champion. "She went out there and dazzled them."
They both won.
"Female boxing was just sort of starting in the 1970s, and she was one of the first to get into it — and she was good at it," said Mr. Fraser, who is also president of the California Boxing Hall of Fame.
After retiring from competition in the early 1990s, Rodriguez started training other women.
Fighting ran in her family. Lily Rodriguez's mother wrestled professionally under the moniker Crazy Linda. Her father, an amateur boxer, started teaching Rodriguez the sport when she was 6. One of her five brothers, Benny "the Jet" Urquidez, was an early kickboxing superstar.
For her first professional bout in the 1970s, Rodriguez stuffed quarters in her socks and her undergarments to make weight. She was 5-foot-1 and 125 pounds, and her opponent, "Lady Tiger," had 25 pounds on her. Rodriguez lost the fight on a decision.
A Los Angeles native, Lilly Urquidez was seven years older than the 16-year-old Rodriguez when they married in 1971. They had five sons and a daughter.
Their eldest son, David, served 26 years in prison for murder.
When their 16-year-old son, Sonny, was killed in a gang-related drive-by shooting in 1990, the couple dedicated themselves to trying to end gang violence.
Blinky Rodriguez helped broker a peace treaty among 75 gangs in the San Fernando Valley in 1993.
At her gym, Lilly Rodriguez made a point of mentoring at-risk youths.
A memorial service was held at the Church on the Way, East Campus, 14300 Sherman Way, Van Nuys.
Instead of flowers, the family requests donations to a scholarship to help engage youths in boxing and martial arts.