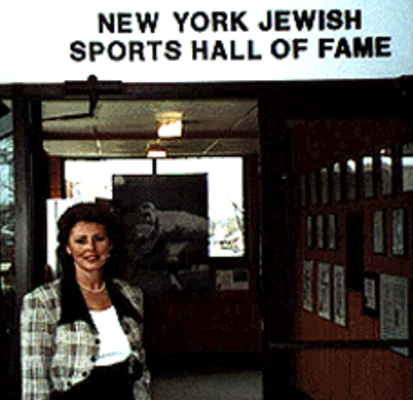 Growing up in the East Bronx in the 1950s, Marilyn Fierro was a self-described "klutz" who certainly had never heard of Hank Greenberg, Moe Berg or Marty Glickman.
But on Sunday, marking more than two decades of achievement, Fierro will join that trio in the New York Jewish Sports Hall of Fame.
The 54 year-old from Kings Park-who with a seventh-degree black belt in Isshinryu karate, the highest-ranking woman in the world -will become the second woman to be honored among the 31 greats who have been enshrined since the hall was founded in 1993. German track star Margaret Lambert, prevented by Hitler from competing in the 1936 Olympics, was named two years ago.
Joining Fierro as inductees will be Bill Mazer, "The Amazing," a TV and radio sportscaster known for his encyclopedic knowledge; Harry Danning, all-star catcher for the New York Giants in the late 1930s; and Red Sarachek, basketball coach at Yeshiva College from 1941 to 1980. All are expected to attend the ceremony. Honored posthumously will be Barney Ross, the first professional boxer to hold lightweight and welterweight crowns simultaneously.
Also being honored is the Scholastic Athlete of the Year, Chad Levitt of Cornell University. Levitt, a running back, was the ECAC Division I-AA Football Player of the Year and the Ivy League Player of the Year.
A panel discussion will be held following the induction ceremonies, and the former St. John's University basketball coach Lou Carnesecca will hold a clinic.
Fierro took up karate when she was about 30, "the age when you want to find out what you're about." She was married with two young children when she began studying tae kwon do, a Korean martial art distinguished by its flying kicks. After that class disbanded, Fierro sought other martial arts classes but was discouraged by many schools because they weren't accustomed to female students.
Then Fierro discovered a teacher of Isshinryu karate willing to accept her. She felt an immediate affinity for the Okinawan-style karate, which encourages comfortable stances and strives to maximize natural body strength. Fierro master's exhibitions here and in Japan.
"It provided a wonderful centering for me, kind of like the high runners get," Fierro recalled. "At the time I began, it was very uncommon for woman to study. I was lucky I found the right teacher."
For 24 years Fierro has studied with that teacher, Nick Adler of Holbrook Karate Academy, even after she opened her own karate school in Smithtown in 1978. She has studied also under Angi Uezu, an Okinawan master. Fierro's school has turned out 13 black belts.
Fierro has been affiliated with the Suffolk Y Jewish Community Center in Commack for more than 15 years, helping start its karate program and bringing a team to the Maccabi Games in 1992.
"That was one of the most thrilling experiences of my life, walking into the stadium under the American flag," Fierro recalls. She is also proud of her achievement in pioneering women's self-defense programs in 11 Long Island high schools.
The Jewish Sports Hall of Fame was created to show young people the rich history of Jews in sports, says Alan Freedman, JCC program director of the Hall of Fame Committee. The hall has received several thousand visitors annually since its opening.
"We really value the educational aspect of the Hall of Fame," said Freedman, who often lectures on Jews in sports. "Too often Jews are stereotyped as non-athletic and we wanted to break down those prejudices."
Since the Sports Hall of Fame opened, inductees have included baseball, basketball and football greats such as Red Auerbach, Ernie Grunfeld, Sandy Koufax and Art Sharnsky, as well as broadcasters Marv Albert and Mel Allen.
Nominations come from across the country, says Freedman. They are evaluated by an in-house committee that includes Newsday sportswriters Steve Jacobson and Stan Isaacs.
When the hall opened, inductees tended to be nationally known figures in popular sports. Nominees now are being proposed in lesser known sports. Honorees receive a plaque that sits in the permanent exhibit alongside a variety of sports memorabilia, including Hank Greenberg's Detroit Tigers jacket.
On hand Sunday will be Neil Keller, exhibiting his collection of trading cards and autographs of famous Jews. With more than 6,000 items, Keller claims his is probably the largest collection of its kind. A silent auction, Art of the Game, featuring sports memorabilia, will also take place.
For Fierro, Sunday's ceremony will highlight a 25-year journey from a non-athletic childhood to the top-ranked woman in the world in Isshinryu.
"Karate gives you all the tools you need to accomplish whatever you want. Once you understand the concept that it is in your hands, you will achieve the balance you need to handle whatever life hands you," she says.
"I've been a minority all my life-as a Jew, as a woman, even in the style of karate I practice. It's wonderful to be recognized for all these things."
The induction ceremony begins at 10 a.m. at the Suffolk Y JCC on Hauppauge Road in Commack. There is a $5 charge; children and seniors are free. Call (516) 462-9800.
By JANE LINKER From the JEWISH WEEK CORRESPONDENT
For more information about Marilyn Fierro and Smithtown Karate Academy visit their website at http://smithtownkarate.com and their listing on the Martial Arts Schools and Businesses Directory by clicking on the image on the left.