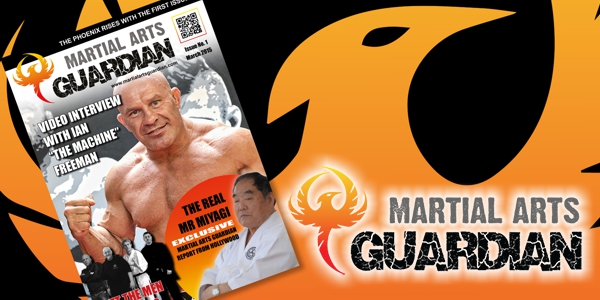 Martial Arts Guardian Magazine is a FREE online martial arts magazine full of interesting news, reports, events and video from the martial arts community discussing the REAL fighting arts from genuine grass roots to today's legends in the martial.
Martial Arts Guardian Magazine is a multi-media magazine for British and International Martial Arts. Headed by the charismatic "Guardians" Steve Rowe, Scott Caldwell, Russ Jarmesty and Simon Keegan, the brief is simple – to put quality martial arts in the spotlight.
The online magazine has featured everyone from UFC stars to Tai Chi masters but only genuine practitioners make the cut. No McDojos and no franchises can buy their way in. The magazine has its own lively social networking following on our Martial Arts Guardian on Facebook, a Martial Arts Guardian YouTube Channel and a growing database of recommended clubs as well as putting on seminars.
The Martial Arts Guardian Magazine is not just a magazine – it's a movement of like minded martial artists. The magazine is around 64 pages every month of multi-media content with magazine quality features, unparalleled historical material and educational videos.
Join the Revolution!
Read Martial Arts Guardian Magazine Issues
Martial Arts Guardian Magazine Website
Martial Arts Guardian Magazine on Facebook