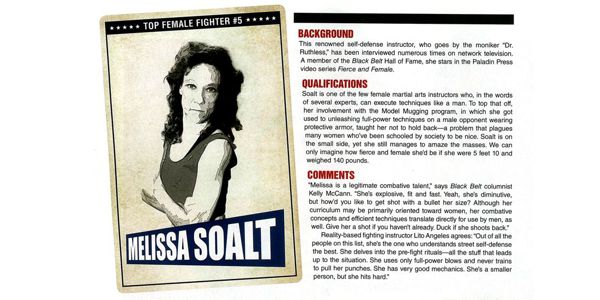 Melissa Soalt aka Dr. Ruthless® is a veteran women's self defense trainer, former psychotherapist, and Black Belt Hall of Famer — named Woman of the Year, 2002. Trainer, writer, and video co-producer, since 1986 she has taught thousands of women how to protect themselves from danger and summon their primal instincts to fight back and survive. Melissa also fended off her own attacks: while on her maiden voyage into the world she was assaulted numerous times. A decade later, after years of training in Aikido, she foiled a would-be attack in a terrifying encounter with a stalker / rapist.
The founder and former owner of Model Mugging of Boston, Inc., in 1987, Melissa Soalt brought Model Mugging's scenario-based, adrenaline-state training method (which employs the use of fully armored mock attackers) to the East Coast. Under her dynamic and professional leadership it emerged as one of the most successful self defense schools nationwide with specialized training's for women, teens and men. Melissa's on-site seminars have been conducted at such notable institutions as Harvard, Polaroid, Hewlett Packard, Reebok, UPS, Procter and Gamble and the Miami Herald. Her no-nonsense methods draw from full-force and "applied self defense" systems, close quarters combat and a host of dirty tricks.
Melissa's media credits include: THE VIEW, NBC Nightly News, Access Hollywood, "To Tell The Truth", TNN, National Public Radio and city wide newscasts. She has been cited and featured in over two dozen publications, including SELF, Woman's Day, The Wall Street Journal, CosmoGirl, Black Belt, BUST, Germany's Stern Magazine and Newsweek Japan. A popular guest on radio shows, Melissa Soalt has also co-hosted FROM FEAR TO POWER- a weekly radio show dedicated to personal safety and self defense which aired in two media markets.
A former columnist for Self Defense for Women Magazine, and currently a consultant for CosmoGIRL! Magazine, Melissa Soalt has written numerous articles and penned a popular "personal safety" newspaper column. Her essay Fierce Love was published in Warriors: On Living with Courage, Discipline and Honor (Paladin Press, 2004) where she was one of the only females asked to contribute. Currently at work on a book, Melissa's Fierce and Female videos have been hailed by law enforcement, seasoned fighters, and feminists alike. A compelling voice in women's self defense– and why women must reclaim the Warrior Spirit and capacity for dangerousness as their own– Melissa Soalt is available to write, consult and speak on matters pertaining to women's safety and self defense. A dynamic presenter she also "gives great TV!"