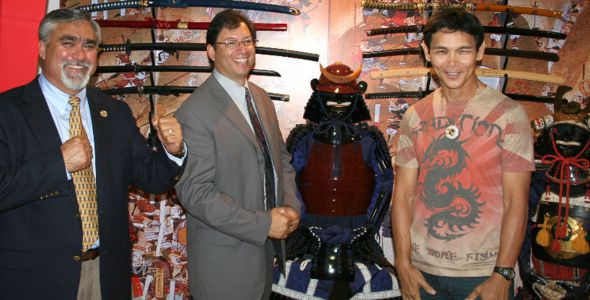 After a decade of war in Iraq our troops are finally coming home. In an effort to show our appreciation for their sacrifices and protecting our great country, the Martial Arts History Museum is hereby proclaiming this January, 2012, as our "Military Appreciation Month." All active military (and dependents) will receive complimentary admission for the entire month.
Since the museum's opening in June of 2011, this is the first of many programs the museum will provide to benefit the community. "It's important to take that extra effort and do something to honor our troops and especially their families who have endured so much. The museum is a unique place in which the whole family can enjoy together and providing complimentary visitation helps assist in the bonding process they will need to begin again with their families," notes museum president Michael Matsuda.
Active-duty personnel need to show valid military ID, which will give free access to up to five additional immediate family members. Active duty National Guard and Reserve members also are eligible.
The Martial Arts History Museum is a fun, educational and cultural facility teaching visitors how Asian history became part of American history through various forms of martial arts. Displays range from historical timelines, samurai armor, Chinese dragons and martial arts in the media. The museum is a non-profit organization and is located at 2319 W. Magnolia Blvd., Burbank, CA. For further information contact 818-478-1722.