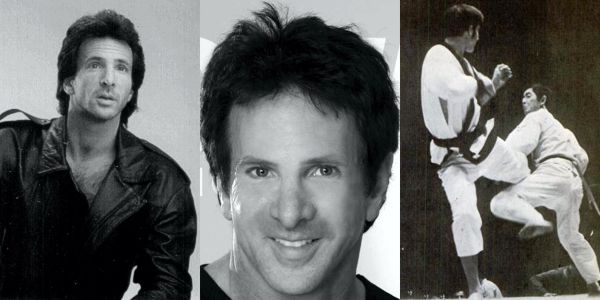 Mitchell Bobrow is a 7th degree Black Belt Master in the Korean art of Tang Soo Do and a 2nd degree Black Belt in Aikido.
In the early 1960's, Mitchell Bobrow began studying martial arts Tang Soo Do Moo Duk Kwan with Master Ki Whang Kim. Bobrow quickly developed into a champion martial arts fighter and Bobrow became Great Grand Master Kim's first Grand Champion student.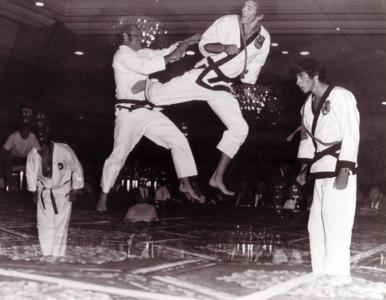 He is well known for his continuous attacks using a unique combinations of kicks, punches and sweeps. His attacks were ruthless and with his trademarked Jump Back Kick, he could score on his opponents with either leg.
Nicknamed the "Boy Wonder" in 1967 by Blackbelt magazine, Bobrow fought during the U.S.'s golden era of martial arts. His opponents included such competitors as Chuck Norris, Joe Lewis, Ron Marchini, Thomas La Puppet, Toyotara Miyazaki, David Moon, Louis Delgado and Bill Wallace, just to name a few. Bobrow was a personal friend of Bruce Lee and Lee was a frequent spectator on the sidelines when Bobrow competed.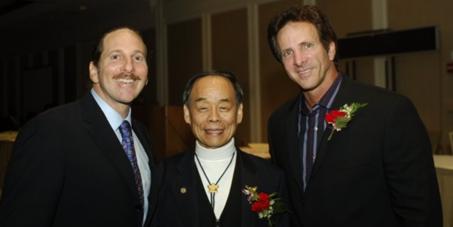 Jack Bobrow, Jhoon Rhee, Mitchell Bobrow at Taekwondo Hall of Fame Induction
Blackbelt magazine yearbook rated Bobrow as one of the top ten fighters in the world throughout the 1960s. Karate Illustrated magazine gave Bobrow the honor of the #1 fighter in 1969, ranking above Chuck Norris, Joe Lewis and Bill "Superfoot" Wallace. Bobrow was inducted into the Inaugural Taekwondo Hall of Fame as Best Fighter of the 60s and honored as the Official Chairman of the event. In 2009, Bobrow was selected as a Technical Advisor for the Taekwondo Hall of Fame.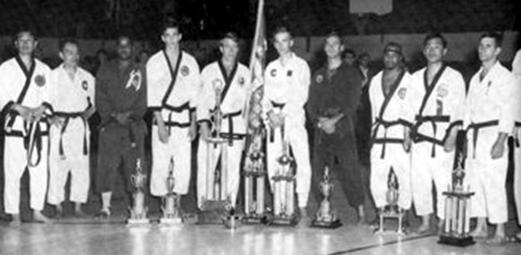 L -R , Ki Whang Kim, Jhoon Rhee, Riley Hawkins, Mitchell Bobrow, Chuck Norris
Skipper Mullins, Robert Maxwell, Furman Marshall, Richard Chun, and Glen Premru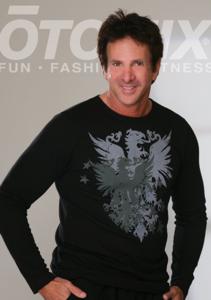 He was a Taekwondo representative team member for the United States in Tokyo, Japan in the first world karate championships, World Karate Federation's WKF Karate World Championships, held at the Budokan. He was Grand Champion in Fighting and Forms at the 1966 Inter-American Championships in Baltimore, Maryland. He was HeavyWeight Champion at Richard Chun's 1968 Universal Championships in New York, All American Open Heavyweight Karate Champion at the 1969 All American Open Championship at Madison Square Garden, Grand Champion at the 1969 American Invitational Tournament of Champions in Washington D.C..and Grand Champion at the 1969 Marine Corps Championships at Quantico, Virginia.
In 1966, at Bethesda Chevy Chase High School, Bobrow founded the first chartered karate club in the United States.
Bobrow is currently the founder and owner of Otomix Martial Arts Gear. Otomix is the official sponsor of the American Taekwondo Association and was the official sponsor of the first UFC mixed martial arts fighting championships.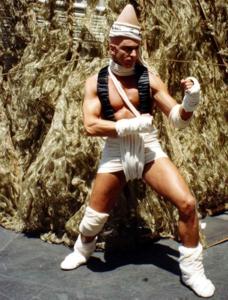 Mitchell Bobrow as Conehead Warrior in Movie "The Coneheads"
Mitchell Bobrow has also appeared in numerous films and on television. In 1993 he played Garthok Combatant in Coneheads. In 1992 he co-starred as Rene in Blackbelt and in 1990 he played Thief in Max Monroe. In 1989 he played Chet in Wild Jack.