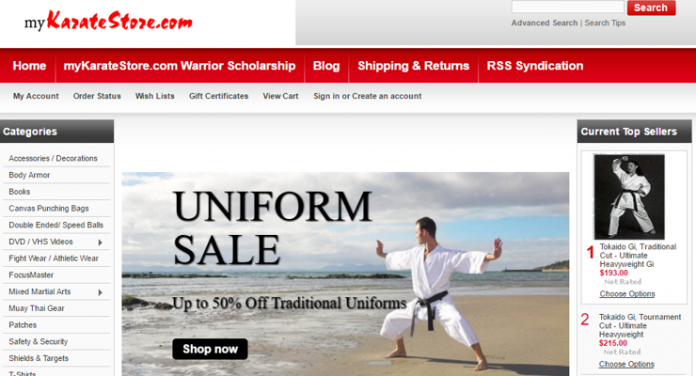 MyKarateStore.com, a martial arts eCommerce destination that carries everything from Tokaido uniforms to Wing Chun Dummies, this week officially announced their Warrior Scholarship for current or incoming students. The scholarship will be distributed annually to cover the rising costs of education, helping to cover educational expenses like books, housing, and school supplies for college students.
We appreciate the power of education and are fully aware of the exceeding expensive price tags that come with tuition and martial arts materials," said Debbie McNutt, Director of Marketing for myKarateStore.com. "As the cost of school admittance continues to rise, covering educational expenses like books, housing, and school supplies can become increasingly difficult. Passionate and talented students of martial arts shouldn't have to turn away from their dreams because of rising costs.
The annual scholarship of $500 will be distributed to provide relief from the added costs that come with pursuing martial arts on top of college expenses. In order to apply, applicants must first submit a 500 to 1,000-word response to the question: What does a Black Belt or Black Sash mean to me?
Eligibility guidelines are open to all martial art styles and require the applicants to be accepted or currently enrolled in a college or university program in the United States. Students must have at least one year of martial arts training, and must be currently enrolled in a martial arts training program. Letters of recommendations from current instructors will be required for fully applying.
"Our scholarship is available to students of any martial arts style background," said McNutt. "It doesn't matter to us which style a student pursues – what is most important is their commitment and dedication they embody in achieving a Black Belt. The winner will be chosen based on the excellence and uniformity of their essay answer, educational track record, and personal recommendation. We look forward to reading about the passions many students of martial arts around the country share."
Additionally, student applicants must have a GPA of 3.0 of above in their current institution. Students are asked to submit their letter of recommendation, unofficial transcript, and essay response altogether. The three components are required to give the reviewers at myKarateStore.com a full picture of the deserving scholarship recipient.
Officially announced this week, applicants have until March 1, 2017 to submit their applications. Members of myKarateStore.com want applicants to take their time compiling the required documents, and of course, drafting their stellar essay answer. The winner will be determined no later than May 30, 2017.
It's no secret we have an immense passion for all things martial arts," said McNutt. "We take the time to research, refine, and obtain the latest gear available. Check out our blog for frequent industry updates and tricks and tips for perfecting martial arts training and styles. We hope our scholarship helps spread awareness for this underrated and underappreciated field. Spread the word and encourage friends and family to pursue this Warrior Scholarship.
MyKarateStore.com is a longtime one-stop-shop for all Karate and martial art purchases. Carrying brands like Tiger Claw, KWON, Century, Tokaido Japan, and AWMA, their platform is committed to providing a large selection of martial arts gear at incredibly affordable prices.
Read more about myKarateStore.com's revolutionary Warrior Scholarship
All interested applicants should send their unofficial transcripts, letters of recommendation, and completed 500 to 1,000-word essay to sales@mykaratestore.com.
About myKarateStore.com
MyKarateStore.com is an eCommerce destination committed to offering the largest and most affordable selection of martial arts gear to students of all ages and experience levels. Carriers of the latest and most quality materials and apparel for martial arts enthusiasts, myKarateStore.com frequently offers discounts and deals on popular uniforms and training products.
Visitors to myKarateStore.com will find martial arts accessories, decorations, Body Armor, Books, Canvas Punching Bags, Speed Balls, informational DVDs and VHS Videos, Fight Wear, Athletic Wear, Mixed Martial Arts Gear, Muay Thai Gear, Patches, Security Accessories, Shields, Targets, T-Shirts, Training Equipment, Uniforms, Belts, Sparring Gear, Weapons, and Gift Certificates.
Dedicated to spreading education and awareness on martial arts, myKarateStore.com's Warrior Scholarship submission is officially open for one year. Applicants can start submitting their application materials today.
###