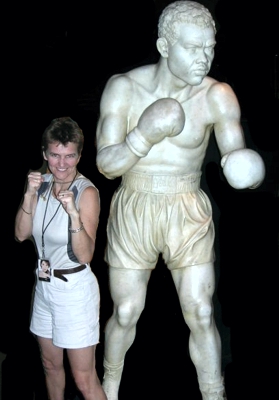 The 5'4″ junior featherweight, Nora Daigle, is a native of Cap Lumiere, New Brunswick, Canada who lives and trains in Québec City. Nora has fought most of her boxing battles far from her New Brunswick home. She has gone from Ottawa to Las Vegas to Mexico in search of title belts, first as a kickboxer (she built a 11-3-1, 6 KO, record and held the WKA North American Featherweight Title) and, since 1995, as a pro boxer.
Nora Daigle's pro boxing debut was a third-round TKO over Debbie Fullerton in Toronto, Ontario.
On August 2, 1997 at the Grand Casino in Biloxi, Mississippi, Nora Daigle, at 124 lbs, faced Tracy Byrd (130 lbs) on the IFBA's second all-female card. Byrd was able to slip under most of Nora's early punches and with 20 seconds left in Round One, Byrd hurt her against the ropes, but Nora made it to the bell on her feet. A clash of heads in Round Two cut Byrd over her left eye, making the Flint, Michigan policewoman even more aggressive! By Round Three both fighters were throwing bombs; Nora did most of the early damage but Byrd came back and again hurt her on the ropes. Nora was hurt yet again in the sixth but by Round Eight the ringside fans were rallying behind her, chanting "Nora!" Round Nine saw Byrd go to to the canvas. It was a slip, but Daigle had thrown a left hook at the same time and the referee thought it was a knockdown. Byrd raced across the ring after taking the standing eight and immediately put Nora on the canvas! Nora got up to find herself again being hammered against the ropes but amazed ringsiders once more with her determination By the end of this grueling fight, Daigle's left eye was swelling badly, and she on the losing end of a 98-93, 99-90, 100-91 decision, but her courage earned her a standing ovation.
On May 12, 1998 at the Corel Centre in Kanata, Canada, Nora Daigle, at 122 lbs, won a six-round majority decision over Katie Burton (120 lbs) from Thunder Bay, Ontario. The win moved Daigle's pro record to 4-1-1 (2 KO's) and dropped Burton to 2-2 (1 KO).
On June 26, 1998 at Bally's Casino in Las Vegas, Nevada, Nora Daigle, at 123 lbs, fought veteran Bonnie Canino (125 lbs) of Fort Lauderdale, Florida, for the IFBA featherweight title. Canino retained the title with a unanimous 10-round decision, moving her own pro record to 10-2 with 4 KO's, while dropping Daigle to 4-2-1.
On August 29, 1998 at the Coliseum in Moncton, New Brunswick, boxing professionally on her home turf for the first time, Nora Daigle decked Maribel Ocasio-Soto of Puerto Rico twice in the third round and knocked her out in the sixth. The fight was a big event for Daigle. "It's in front of my family, it's in my home and it is probably the most important fight of my life, even though it's not a world title fight," she said before the bout. "It is in front of people who have supported me for a long time. They will get a chance to see what I have been doing most of my life. It is very important that I deliver a great fight. I intend on being in the best shape of my life…"
On June 11, 1999 at the Horseshoe Casino in Bossier City, Louisiana, Mary Elizabeth Ortega of Kansas City, Missouri moved to 11-0 with a six-round unanimous (58-56, 60-54, and 60-54) decision over Nora Daigle, who fell to 5-3-1.
On February 29, 2000 at the Centre Pierre Charbonneau in Montréal, Canada, 3000 spectators saw Nora Daigle move her pro boxing record to 6-3-1 with a six-round unanimous decision over a courageous Shirley Prescott of Winnipeg, who fell to 2-5. The Canadian Press described this as a "spirited" bout! Daigle started the fight fast and strong and was able to rock Prescott several times, but Prescott rallied in the fourth and fifth.
In an interview with Canadian sportswriter Kevin Barrett, Nora Daigle said of women's boxing: "A lot of people have their own perspective of what this is. They think I am a beast who likes to hit and get hit," she explained. "That's so far from the truth. I hate getting hit, I am not a vicious person and really, I am a pussy cat outside of the ring. To me, boxing is an art."
"Unfortunately, for women it's like everything else," says Nora Daigle. "You have to work twice as hard to be half as recognized as men. Attitudes are changing but it's a slow process. I was more accepted because of the kick-boxing. But we'll get there."
Nora acknowledges Christy Martin's role in drawing attention to the sport. "When I fought at the Montreal Forum, there were 12,000 fans", she told Toronto Sun sportswriter Jerry Gladman in a 1997 interview. "I've only made in the hundreds for my fights, but now there seems to be more opportunities to make good money on the horizon. That's because of Christy."
Nora Daigle's goal? She tell us: "My goal is to achieve the highest athletic level possible, and maintain that level of fitness for as long as possible! . . . I refuse to grow old! :-)"
Nora Daigle also tells us that she loves other sports: "hockey (in winter), lots of outdoor things in summer, cycle, hiking up mountains, ride my motorcycle . . . stay active! . . . stay fit!"