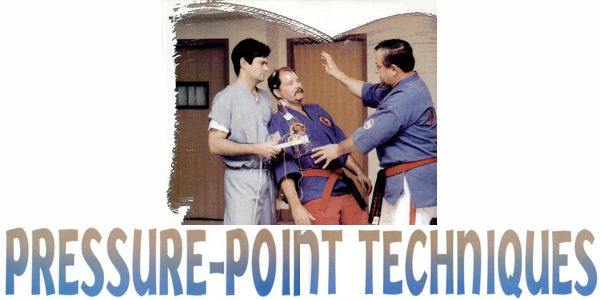 A team of doctors try to find out!
From the time George Dillman began to demonstrate kysho-jitsu (pressure point fighting), which he learned from Hohan Soken and Seiyu Oyata and then spent the past 15 years perfecting, people have criticized him and his students for teaching and performing pressure-point knockouts. The criticism has ranged from simple caution ("Since we do not really understand what is happening, are we certain this is safe?") to outright condemnation ("Pressure point techniques are dangerous, and demonstrating pressure point knockouts is reckless and irredponsible.")
It is clear that some of those who criticize the demonstration of knockouts as "too dangerous" use this as a smoke screen to conceal the fact that they themselves cannot do the techniques. ("Of course I can do these moves, but they are too dangerous for me to demonstrate on you.") However, among legitimate practitioners-and especially the instructors in Dillman Karate International-there exists great concern about this very issue.
People who are knocked out using pressure point techniques seem to be fine after they are revived. This shows that pressure point fighting fighting is actually a humane method of self defense., Dillman insists, because it renders an assailant unconscious without causing any lasting physical damage. But how can anyone say for certain that no harm is caused.
Searching for the Answer
In an effort to examine the relative safety of kyusho jitsu, a team of scientists using state-of-the-art bio-medical monitoring equipment collected data on 17 pressure point knockouts. However, one point should be clearly stated at the outset: It is impossible to conclusively prove a negative, especially when dealing with systems as complex as the human body. In other words, scientists can never prove beyond a shadow of a doubt that pressure point techniques cause no harm. All they can do is look for evidence, the relative safety of the techniques can be reasonably presumed.
Read Original Black Belt Article