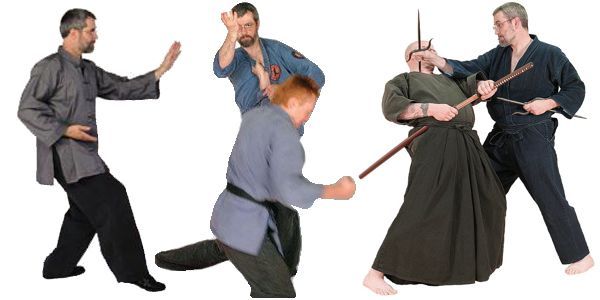 Chris Thomas is a master instructor of self-defense, unarmed combat, and classical fighting methods, who has studied, trained and taught for over 37 years and holds Master ranks in Isshin-ryu and Ryukyu kempo. He has also studied Tai Chi Chuan for over 30 years.
Chris Thomas is a highly regarded teacher capable of easily and clearly demystifying the problem of physical violence and teaching simply and effective methods for addressing it. He is a frequent seminar instructor who teaches throughout the the United States and in Europe. Thomas is also an ordained clergyman with 25 years experience as a parish pastor. This expected combination allows him to deal with both the physical and moral/ethical aspects of self-defense.
Chris Thomas is a senior instructor in Dillman Karate International (DKI) and is a pressure point fighting expert (Kyusho-jitsu) and the co-author, with George Dillman, of a series of books on Pressure Point Fighting. He has also written numerous articles on pressure points and other topics. He has been published in magazines all over the world, including Black Belt Magazine and S.W.A.T. in the United States, Blitz Magazine in Australia, Budoka in Finland, and Combat and Fighting Arts International in the UK.
Chris Thomas is chief instructor for the Kyusho-Jitsu Kenkyukai organization. KJK is a DKI affiliate group which focuses on applying pressure point theory to any art. KJK members are located in Wisconsin, Minnesota, Illinois, Nevada, and Maryland. Among the KJK members are Black Belts, representing many styles (Fu chen kung fu, American kempo, tae kwon do, hapkido, American karate, Ryukyu kempo, Isshin-ryu karate, Shorin-ryu karate). Several are martial arts school owners, others are karate club directors. One is a vice president of the International Combat Hapkido Federation. All of these schools study the Dillman Method of Pressure Point fighting under the instruction of Grand Master Chris Thomas (8th Dan).
Kyusho-Jitsu Kenkyukai schools may not begin under the Dillman Karate schools, but come from a diversified background of styles and martial arts experiences that have all Chris Thomas discovered and embraced the concepts taught by Dillman into their respective arts. These schools have come to embrace the Dillman method for various reasons, but the most common reason given is that this knowledge finally gave understandable meaning to the bunkai of their art and gave their techniques real combat effectiveness. This is were the KJK and GM Thomas make such a difference. In any martial art, coming to a point where the martial artist truly understands the concepts takes time and hours of training. It is not just about understanding the concepts well enough to do the techniques, but it is having the ability to TEACH those techniques that takes time.
KJK and GM Thomas serve these schools by helping the instructors to understand the concepts so that they will correctly teach the Dillman Method in their schools. This system also helps to ensure that when schools become affiliated with Dillman Karate International (DKI) they can provide a level of quality instruction that truly represents what DKI is all about. Instructors at Kyusho-Jitsu Kenkyukai and future Dillman Karate International schools train monthly with GM Thomas and also attend the annual KJK seminar held every spring in Madison, Wisconsin.
To contact Chris Thomas and the Kyusho-Jitsu Kenkyukai organization visit their listing on the Martial Arts Schools & Businesses Directory or FindADojo.com by clicking on the image on the left.