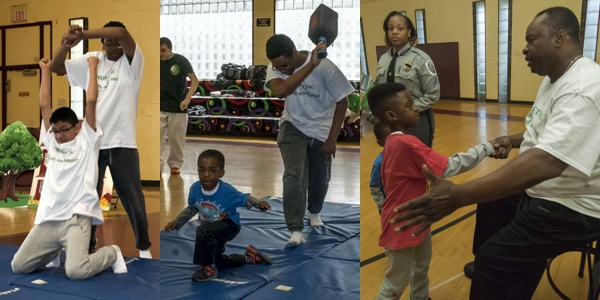 The township of Bladensburg has an advocate who wants to help with preventing child sexual abuse by educating children on how to protect themselves against sexual predators.
On April 4, Dr. Clifford Thomas, CEO, We Lead By Example Inc. – Tae Kwon Do Ramblers Self-Defense Systems, co-hosted, a "Protecting the Young and Innocent: Preventing Child Sexual Abuse Workshop" in partnership with Sharron Dansby, Maximizing God's Woman Inc.; and the People for Change Coalition's Public Safety Committee at the Bladensburg Community Center.
The free event was to educate children on how to protect themselves against sexual predators by the use of street smart observations, self-defense techniques, and code words to increase their chances of survival.
Maximizing God's Woman Inc., a non-profit 501(c)(3) organization that helps women survivors of child sexual abuse, kicked off the program with "Know the Facts and Break the Cycle" information, which featured posters made by children that presented statistics about child sexual abuse to educate audience members.
Approximately 100 local participants attending the day-long event learned how to prevent a nd detect child abuse during Child Abuse Prevention Month and Sexual Assault Awareness Month.
A victim of sexual abuse himself, Thomas wants to equip children with 'street-smart' self defense techniques and tips on spotting uncomfortable situations before they arise.
"Children need to know when to be street smart when someone is trying to snatch or sexually abuse them. They need to learn how to get away or be aware of what's happening before it happens," said Thomas.
"I was sexually abused. It was very rough on me and I know what a lot of people are going through, but it didn't make me bitter. I just wanted to become a person who could make a difference and that's what I'm doing," said Thomas.
"I always tell my younger students they have two seconds to act. The first is when the moment that man or woman grabs you and the second is when they are put into a car," said Thomas. "So we teach them to have family safety code words between them and their parents. So if someone shows up at the school and says your mother or father told me to pick you up, you simply ask them what's the code word? If they don't know the code you go back inside the school and tell someone to call 911 because someone's trying the abduct you."
"I've been in this community for more than 20 years and they welcomed me with open arms. We teach students from age 3 and up."
Thomas noted that he has worked with public schools for several years.
"I and Senator Joanne Benson, District 24, and her coalition are taking my Bully Prevention program into five different elementary schools. That's a great honor for me. And Bladensburg Mayor Walter James has been a great supporter, plus he's one of my students. The Bully Prevention program has been a successful program.
Thomas started his first school in 1970 with the forethought of developing awareness programs for bully prevention and child sexual abuse awareness, domestic violence and senior programs.
"Martial Arts is not just punching and kicking, you got to have some street smarts," said the 10th degree black belt.
During the presentations, Thomas used his students to illustrate the dangers children encounter on a daily basis such as child abduction, over-friendly neighbors and relatives who might be sexual predators.
Thomas also has had hats of authority in respected roles, ranging from law enforcement, fire fighting, sports and religious community roles. He let the parents and children know just because their occupations may be well-respected in the community the individuals wearing those uniforms could still be sexual abusers.
Dr. Thomas began taking martial arts in 1964 as one the first students studying under renowned 'Father of Tae Kwon Do,' Jhoon Rhee. He has studied and mastered several styles of martial arts, including tae kwon do, hapkido; combat fighting, tang soo do, judo, and aikido.
During the afternoon, Maximizing God's Woman Inc. facilitated "Enough is Enough: No excuse for Child Abuse" a session for adults, which provided information, generated discussion, and featured representatives from the Maryland Coalition Against Sexual Assault, law enforcement representatives, and a video and slide presentation.
Among the invited guests were Bladensburg Mayor Walter James; Council Members Walter Ficklin, Beverly Hall, and Jimmy Tarlau, representing District 47; Major Victoria Brock, Prince George's County Police; Bladensburg Police representatives; and activists who came out to support the workshop.
by Bobby Jones – dcmilitary.com April 10, 2015