When I arrived in California from teaching my Reality-Based Personal Protection courses in Germany last week I had a letter waiting for me at my home. Actually it was a thank you card and a gift. The thank you card read:
Dear Jim,
Thank you for your support and help, and love, for the United States military and Project Prayer Flag. Please accept this small give as our thanks.
May God continue to bless you,
Shawn and Angelica Black
The card and gift came on the heels of a Volunteer Service Ribbon I received from the military on May 22, 2012 for my volunteer service to Project Prayer Flag under the Department of Defense.
When I arrived at my military base on August 18, 2012 to report in to my Captain, of the military police unit I serve in, he called me to attention before NCO witnesses. He stood before me and read out loud the Recommendation For Award Order Number PO-12-145-02:
"Staff Sergeant Wagner began his volunteer service with the organization known as 'Project Prayer Flag' in 2005. For the three-year period 22 March 2007 to 21 March 2010, he devoted approximately 180 hours per year (letter from Shawn Black, Founder, dated 23 March 2010). Staff Sergeant Wagner was instrumental in providing material and military liaison communication to hundreds of soldiers. His direct efforts in Research and Development with the organization's support and administration programs were exceptional. In 2009, Staff Sergeant Wagner was honored for his volunteer service (unpaid) and 'tireless' work, for Project Prayer Flag, with an invitation to the Presidential Oval Office, and a personal meeting with then President George W. Bush. President Bush recognized Wagner for training California National Guard troops in various combat skills as well as supplying materials. Staff Sergeant Wagner completed honorable, valued, volunteer service in the California State Military Reserve for three consecutive years (TY-06-10). In accordance with California Army National Guard Regulation 600-8-22, Paragraph 3-10.a Staff Sergeant Wagner has fulfilled all requirements for award of the State Military Reserve Volunteer Service Ribbon. During the period of award, Staff Sergeant Wagner showed exceptional devotion, faithful duty, unparalleled dedication and tireless performance in providing voluntary service to the military community, over and above the required Unit Training Assembly hours during each of the previous three years."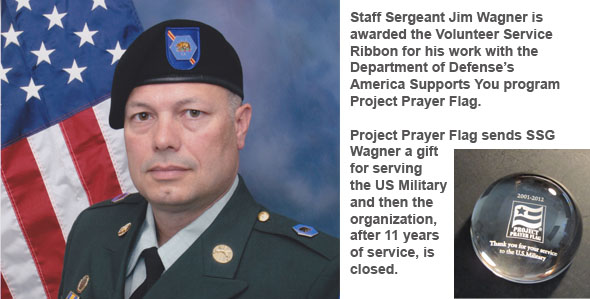 After the reading I was then handed the ribbon that is to be worn on my Dress Blues uniform and a signed copy of the order authenticated by three officers. I then rendered a salute to my Captain and he returned the salute as is the military custom, and then he shook my hand. I have great respect for this Captain, for he has seen me grow within the unit for almost seven years assisting me every step of the way. He was also one of my officers who cleared my name after false accusations were leveled against me a few years ago.
This chapter of my life had come to an end. I was recognized for my volunteer service beyond my normal military duties from the California Military Department, and Project Prayer Flag was "decommissioned" by Founder Shawn Black. The mission of the organization had been fulfilled and had officially ended. This is why I was sent the thank you card and the gift.
When Project Prayer Flag was first created after American troops invaded Afghanistan on October 7, 2001, in response for terrorist attacks on the United States and to dismantle the Taliban government protecting the Al-Qaeda terrorists who were responsible for the atrocities, the initial goal of the organization was to get a small American flag and a prayer from the Bible printed on a card into the pockets of every airman, sailor, marine, and solider going into the war zone to encourage them and to remind the of the support they were getting from the citizens back home. The card read:
"May you carry this flag as a reminder of the support and prayers of the millions of Americans who salute your devotion to freedom. We pray for your safety and honor your sacrifices for the many who hope and reach for the promise of liberty."
Trust in the Lord with all your heart, and lean not on your own understanding; in all your ways acknowledge Him, and He shall direct your paths.  Proverbs 3:5-6
"May we hold faith as our guide, freedom as our charge, and liberty as our light."
I got involved a few years later, after the initial start, when Shawn Black, one of my former partners who I served with in the United States Federal Air Marshals, asked me if I would be the official military liaison for the organization he founded because they were expanding their role beyond sending flags and prayer cards. Knowing that the war would probably last for years the organization started sending "care packages" to our Armed Forces on Christmas. We started sending everything you can think of to ease the financial burden on troops and to give them some of the comforts of home. We sent DVDs, pre-paid phone cards, food, candies, toiletries, cold weather gear, and hundreds of other items. The hundreds of participants turned into thousands.
Not long after that United States Marine units were asking for tactical folders and I had the honor of sending my Boker manufactured Jim Wagner Reality-Based Blade to them overseas. From my own expense I made sure many men serving in combat roles got my knife. I also sent them many of my Reality-Based Personal Protection DVDs and books on self-defense to study. Word had even spread to British units and they requested materials from me. I did not expect any recognition for what I did, I was just happy to be contributing to the war effort through Project Pray Flag on my own time.
Meanwhile I was helping with the war effort in another capacity as well, but I just saw that as my duty. My military unit had me train troops for missions in Kosovo, Iraq, Afghanistan, and State side missions. I was tasked with teaching courses to Army National Guard and Army Reserve units in combatives, Military Operations Urban Terrain, Improvised Explosive Device identification, land navigation, and military police operations. For these responsibilities over the years I was awarded the Training Excellence Ribbon twice and the California Commendation Medal.
As President George W. Bush's second term was coming to an end the president decided that his last week in office would be to invite various groups to the White House and thank them personally for their support of the war effort. He could have done anything he wanted on his last week, but he thought of others instead – what integrity. Out of 300 organizations working under the Department of Defense's initiative, America Supports You, President Bush chose to invite Shawn and Angelica Black to the White House to give his thanks to Project Prayer Flag. The White House gave instructions to the Blacks to bring with them the key leaders within the organization, and I was one of the 13 people chosen out of the thousands who contributed to the organization over the years. I was selected to represent the organization as the Military Liaison.
On January 12, 2009 we fifteen representatives of Project Prayer Flag met with the President of the United States, and for me it was a double privilege to meet with the Commander In Chief as a soldier in a time of war. I may not have served on the front lines, but I contributed by training many of those who did, plus I did my share of security missions on the home front as well.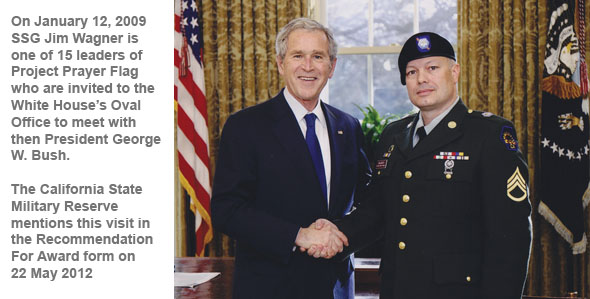 Be A Hard Target.
Related links:
SSG Jim Wagner meets with President George W. Bush
http://www.jimwagnerrealitybased.com/news16jan09dc.html
America Supports You
http://en.wikipedia.org/wiki/America_Supports_You
Letter of Appreciation from Shawn Black
http://www.jimwagnerrealitybased.com/images/letter_Project_Prayer_Flag.pdf