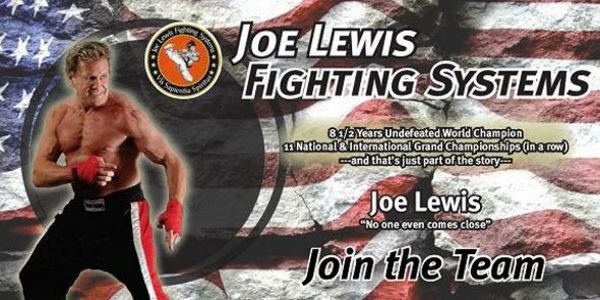 Everyone at Joe Lewis Fighting Systems is working hard to maintain the organizations structure and integrity.
We had 200 people attend the Joe Lewis funeral and 150 dinned with us at the Saturday evening ceremony.  During the Saturday evening reception, 20 speakers took the time to talk about Joe Lewis and how he will always be in our hearts.  The speakers included the JLFS Senior Black Belt Council, JLFS Board of Directors, the JLFS Executive Board, JLFS Senior Mentors, Jeff Smith, John Corchan, Rob Colasanti, Bill Wallace, and Walter Anderson.
We saw many old faces and some new faces attend the funeral. Everyone attending reaffirmed their commitment to continue with the Joe Lewis Fighting Systems.  We had old members that dropped out come back and pledged to support the Joe Lewis Fighting Systems.
Here's what's going on with the Joe Lewis Fighting Systems association.
We have our mission statement and charter: "To promote the JLFS preserve, and enhance the system that Joe Lewis left us with and to be the stewards/caretakers of the rank that we all have worked so hard to earn."
Bill "Supefoot" Wallace was inducted into the JLFS Senior Black Belt Council as an official member.
The JLFS Board of Directors met on Sunday to reaffirm our commitment to continue running the JLFS; in keeping Joe's wishes.
We just contracted with a new company to revamp the JLFS website which will provide our members with more information and access to JLFS: products, training videos, photos, blogs, and a general go-to page for JLFS and upcoming events.
We now have JLFS England, JLFS Canada and many new web domains which will be soon announced.
We now have new people in positions in the JLFS governing body, administration, and combative areas that will contribute their time and effort to promote the JLFS.  These new appointments will be announced as specific duties are designated.
Our new members joining the JLFS such as    Danny Lane, Howard Pechlar,  Steve "Nasty" Anderson, and many more.
We plan to continue promoting the JLFS conference both in June and Oct as before.  We have dates for these events and we plan to get the agreement signed quickly so you can plan to attend.
We are also declaring  "JLFS Day" as March 9 and planning an event to celebrate.
We are now organizing testing dates.  These will include locations where members can pretest and to ensure they meet the qualifications in becoming JLFS Black Belts.
We plan to continue promoting JLFS Black Belt as long as they meet the established criteria set forth in the black belt manual.
Phil Maldonato and Jim Graden are working on the under-belt curriculum which will enhance your students and your program.
Everyone at Joe Lewis Fighting Systems is working hard to maintain the organizations structure and integrity. You have a place, a home, and a family!!  If you have any questions or suggestions, please email John Maynard at:  kickbox2@bellsouth.net
Mike Allen
President JLFS