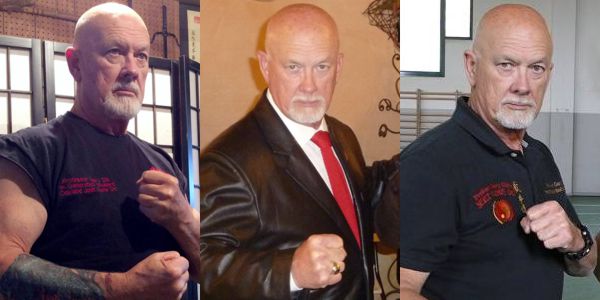 Professor Gary Dill was one of the very few fortunate individuals who actually studied and trained in JKD (Oakland branch school) while Bruce Lee was still alive. He got his JKD training from Sifu James Yimm Lee. James Lee was Bruce's closest friend, his mentor, his confident, his second in command of the JKD clan, and taught the JKD class in Oakland, with Bruce being the Chief Instructor.
Dill has been teaching Jeet Kune Do for over 40 years, and is considered by many to be a nationally known authority in JKD today. He has written numerous articles concerning JKD for "Black Belt,"  "Inside Kung Fu,"  and other martial arts magazines.  He has also authored a JKD training manual, and produced a comprehensive collection of JKD home study training videos. He is currently the Jeet Kune Do Advisor for USAdojo.com.
Professor Dill was a personal JKD student of James Lee at the Oakland School during 1971 and 1972. He was able to train in JKD on a daily basis and keep in-depth notes from each class. After his discharge from the U.S. Navy, Dill returned to Oklahoma in order to continue his college education in September 1972. On December 7, 1972, James Lee wrote a personal letter to Dill giving him permission to pass on his knowledge of JKD and gung fu in small, exclusive classes consisting of hand picked students. This letter was the forerunner of the instructor "certification" which is used today. Lee also sent Dill a two years JKD training outline for him to use in his classes. James Lee died of cancer just two weeks after he had written this letter to Professor Dill.
In 1986 Professor Dill was appointed to the prestigious Board of Directors of the JEET KUNE DO SOCIETY, based upon his legitimate lineage in the JKD clan under James Lee. Dill sat on the board along with Dan Inosanto, Richard Bustillo, Ted Wong, Linda Lee, Herb Jackson, and six others.
Professor Gary Dill is considered to be an international authority on JKD, having written several articles on JKD for "Black Belt" and "Inside Kung Fu" magazines. He has produced in-depth training videos on Jeet Kune Do and related combat arts, as well as authored a comprehensive JKD Association Training Manual.
Professor Gary Dill conducts JKD training seminars and clinics all across the United States on the average of 2-3 each month. He also hosts three JKD training camps every year in Oklahoma (April, June, and October). Private classes are always on his agenda for those who wish to receive exclusive private training in JKD directly from Professor Dill. In addition, Dill publishes a monthly newsletter for his JKD Association members, which keeps them in touch on a regular basis with what is new in JKD and what is going on within the Association.
Professor Gary Dill has spent most of his adult life either in the military or in law enforcement. He served with the U.S. Marine Corps (65-67), U.S. Navy (68-72), and is a Vietnam veteran. In regards to law enforcement he was a Special Agent with Naval Investigative Service (NIS), Office of Naval Intelligence (ONI); Agent with the Oklahoma State Bureau of Investigation (OSBI); and Chief of Police of two cities in Oklahoma. He was also the senior police defensive tactics instructor in Oklahoma; was training coordinator, firearms instructor, and defensive tactics instructors while a federal agent. Dill is now a full time Jeet Kune Do and Martial Arts instructor and administrator.
Professor Gary Dill's Credentials
Original Jeet Kune Do student at Oakland JKD branch school.
Teaching JKD since 1972 (26 years).
Chief Instructor for the Jeet Kune Do Association (founded in 1991).
Founder of Self-Defense Systems / Jeet Kune Do (SDS/JKD) training program (an extended system of "pre-1973" JKD).
Grandmaster (10th Dan) of Bushido Kempo (Combat Karate, Ju-Jitsu, Aiki-jitsu, and weaponry).8th Black Belt from Mainland China . . . (Global Martial Arts Federation).
Martial Arts Hall of Fame Inductee (1989 & 1996).
Member, World Head of Family Soke-ship council (World's Largest Grandmaster's Organization) See picture at right.
Former Board of Director Appointee, Jeet Kune Do Society.
Retired Law Enforcement Officer . Federal Agent; State Criminal Investigator (Oklahoma); Chief of Police.
Former Senior Police Defensive Tactics Instructor; Firearms Instructor & Range Master.
Vietnam Veteran . . . U.S. Navy, U.S. Marine Corps . 10 Years Total Dept of Navy Experience.
General Member, Jun Fan Jeet Kune Do Organization.
Grandmaster Dill's JKD Web Site