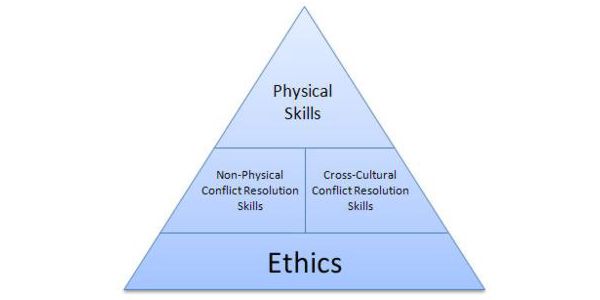 RGI Launches Conflict Resolution Certification Program. Instructors include top law enforcement, military and martial arts conflict resolution specialists.
Spring Lake, N.J., July 20, 2010 – Resolution Group International (RGI) today announced the launch of a conflict resolution certification program Sept. 10-12, 2010. The seminar "designed for military, law enforcement, business and professional leaders" will cover ethics and conflict resolution skills.
The RGI Conflict Resolution course is a three day intensive training experience for protector professionals who want to enhance their ability to resolve physical, verbal and cross-cultural conflict. Top conflict resolution specialists from the law enforcement, military and martial art worlds will facilitate the course.
Seminar: RGI 3-Day Conflict Resolution Certification Course
Instructors:
Jack Hoban, RGI president/U.S. Marine Corps Martial Arts Program (MCMAP)
Craig Gray, Michigan Commission of Law Enforcement Standards (MCOLES) Subject Matter Expert (SME)
Bruce Gourlie, FBI special agent and firearms and general police instructor
Arthur D. Mark, Veteran detective for a major metropolitan police department and "street smart" conflict resolution expert
James Shanahan, veteran detective; conflict resolution specialist
Joseph C. Shusko, U.S. Marine Corps Martial Arts Program (MCMAP) deputy director
Mike Woerner, U.S. Marshals Service defensive tactics instructor
And others (see below for additional background)
Date: Sept. 10, 11 & 12, 2010
Time: 9:00 a.m. to 5:00 p.m. Eastern (each day)
Location: Wesley Hall
4th & Mercer Ave
Spring Lake, NJ 07762
More: Click HERE for more information or go to www.resgroupintl.com/events
Participation in the course results in a Level I certification in RGI Conflict Resolution Skills. The three day certification course utilizes a combination of lectures, group discussion and physical training scenarios. It is a synergistic approach covering the following elements:
1. Ethics – Personal Integrity and Leadership
2. Communication Skills – Non-Physical & Cross-Cultural
3. Physical Skills – Defensive Tactics & Martial Arts
Goals of the program include:
1. Enhancing technical and tactical physical defensive skills across the spectrum of violence.
2. Developing a better understanding of moral values and ethics as they pertain to the participant's life and profession.
3. Understanding the art of keeping the "moral compass" calibrated.
4. Learning to communicate better under stress to resolve conflict.
5. Learning how to deal more effectively with cultural differences regardless of whether or not you "know" the culture.
6. Gaining insight into what to do when cultural differences cannot be reconciled.
Resolution Group International (RGI) is a professional training organization created to address the needs of military, law enforcement, peacekeeping and security organizations, and international corporations. Areas of expertise include: cross-cultural conflict resolution, values & ethics training, military combatives and law enforcement defensive tactics.
Media Contact:
Margarita Tapia
(916) 730-9090
mtapia@resgroupintl.com
* * *
Instructor Biographies
Jack Hoban, a Subject Matter Expert (SME) for the U.S. Marine Corps Martial Arts Program (MCMAP), has led over 500 workshops and seminars around the world. He has addressed the FBI, universities, and other government and private organizations on ethics and martial arts. Hoban is a former U.S. Marine Corps officer and long time practitioner of martial arts. He assisted in the creation of MCMAP and continues to teach the program at the Marine Corps Base in Quantico, Virginia and elsewhere. Hoban is president and founder of Resolution Group International.
Craig Gray is a businessman, speaker, trainer and Subject Matter Expert (SME) for numerous law enforcement agencies, including the West Michigan Criminal Justice Training Consortium, the Allegan County Sheriff's Department, and many others. Gray is responsible for creating the Michigan Commission of Law Enforcement Standards (MCOLES) approved Self Defense for Law Enforcement Training Program. He is an adjunct instructor for hand-to-hand combatives and warrior ethics at the Homeland Security and Protective Services Academy in Grand Rapids, Michigan.
Bruce Gourlie is an FBI special agent who has been certified as both a Firearms and General Police Instructor. His writings on the subject of law enforcement ethics and leadership have been published. Gourlie is a former U.S. Army Infantry officer and a long time practitioner of the martial arts.
Arthur D. Mark is a veteran detective with nearly 20 years experience in a large metropolitan police department. He has numerous awards and citations and served in an elite plainclothes gun unit for many years. Based upon his experiences, Mark has developed an effective street smart communication style that those in the protector professions can utilize to facilitate more peaceful outcomes when dealing with conflict. Mark has also been an avid student and teacher of traditional Japanese martial arts for over 30 years.
James Shanahan is a decorated veteran detective with nearly thirty years of experience. He currently serves as the senior instructor of one of the largest police departments in the country. He holds advanced certification and is a subject matter expert (SME) on teaching the use of force with a specialization in less lethal options, as well as non-physical techniques aimed at resolving conflict. Shanahan teaches Critical Incident Stress Management, Mediation, Criminal Investigation and Hostage Negotiation. He has taught throughout the United States, Canada and the Caribbean including military personnel assigned to Guantanamo Bay Cuba, West Point, Annapolis and other select venues. Shanahan is a member of the adjunct faculty of John Jay College of Criminal Justice. He is an accomplished film, TV and Off-Broadway actor. Additionally, he is a lifelong practitioner of traditional Japanese martial arts.
Joseph C. Shusko is a decorated veteran who served the United States Marine Corps for over 30 years. He is an accomplished aviator who spent the majority of his career flying helicopters. While serving as a White House Liaison Officer (WHLO) at HMX-1, he was designated a Presidential Helicopter Pilot in the Reagan Administration. In August of 2003 he assumed command of the U.S. Marine Corps Martial Arts Center of Excellence and currently serves as deputy director of the Marine Corps Martial Arts Center of Excellence overseeing the Corps Martial Arts Program. He is a Stafford County (Virginia) Sheriff Department volunteer officer. Shusko has taught "Values" throughout the United States and abroad and has been instructing and participating in martial arts and physical fitness programs since the early 1970's.
Mike Woerner is a senior inspector for the U.S. Marshals Service and has led the Fugitive Task force/tactical team in Upstate New York for the last 10 years. He has over thirty years in the Martial Arts, the last 20 in the Bujinkan. Woerner is the lead Defensive Tactics instructor for the US Marshals NY/NJ Regional Fugitive Task force.
# # #
Resolution Group International, LLC
P.O. Box 652,  Spring Lake, NJ 07762
(732) 974-7582
www.resgroupintl.com