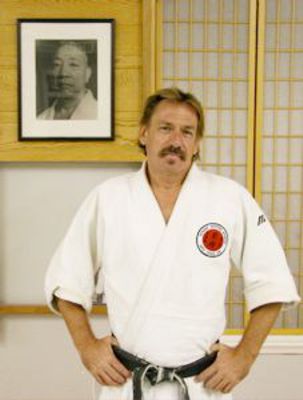 Richard Bunch is a 9th Dan, Kudan and is President of Ju Jitsu America. Professor Bunch has a reputation as a skillful martial artist and scholar and he is highly sought after as an instructor nationally and internationally.
Professor Bunch is recognized worldwide. He has been inducted into numerous halls of fame including the Black Belt Hall of Fame. As an instructor he has produced many National champions.
Professor Richard Bunch's training in Kodenkan Danzan Ryu Jujitsu began in early childhood. He began training with Professor Bill Montero, Sensei Glen Castlio and Professor Ray Law. At the age of 14, he began training with Professor Sig Kufferath. Professor Kufferath was regarded as Soke (head) of the Kodenkan Danzan Ryu style. Shortly afterward, in 1969, Professor Bunch received his Shodan (1st degree black belt) from Professor Kufferath. In 1971, Professor Kufferath honored Professor Bunch by recognizing him as his associate instructor, and later as chief instructor of the school. Over the course of 28 years, Professor. Bunch engaged in constant training and study with Professor Kufferath at Nikko Jujitsu School. Since then, Professor Bunch's rank in Kodenkan Danzan Ryu Jujitsu has been elevated to Hachidan (8th degree black belt). This rank is recognized by Jujitsu America, Kodenkan Yudanshakai, Nihon Budo-In, Nihon Jujitsu Renmel, Kokusai Budo Renmel (IMAF), and other organizations. Professor Bunch has also received high rank from Professor Kufferath.
Over the years, Professor Bunch has been fortunate to study with numerous masters of various martial arts and highly respected elder practitioners of Kodenkan Danzan Ryu Jujitsu who studied directly under Professor Okazaki. This has provided him with a broad perspective of various personal interpretations of this style.
He has studied many other martial arts including Japanese sword, weaponry and armor. Professor Bunch's reputation as both a skillful martial artist and a scholar makes him a highly sought after instructor nationally and internationally. He actively teaches Jujitsu seminars throughout North America, South America, Europe and Asia. He received the 1989 Instructor of the Year award from Jujitsu America.
Currently he is the Head sensei at the Nikko Ju Jitsu School based in San Jose, California.
To contact Richard Bunch and Nikko Jujitsu School visit their listing on the Martial Arts Schools and Businesses Directory by clicking on the image on the left.